'Does a secular nation not believe in its ancestry? The Constitution has a photo of Ram also.'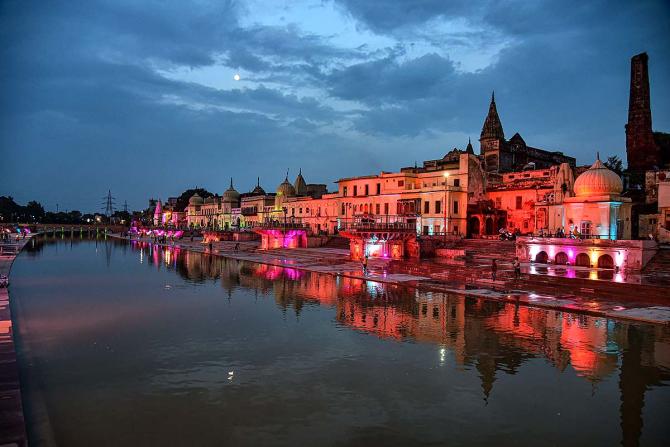 "When have we hidden our opinions? We are not like the Congress who say something and do something else," Bhupender Yadav, a key member of the Bharatiya Janata Party's A-team, tells Senior Rediff.com Contributor Sheela Bhatt in the concluding segment of an exclusive two-part interview.
Can you share the most important points that helped Hindu litigants win the legal case over the Ram temple?
There is evidence that around 1528 Babur's general Mir Baqi, on order of his master Babur, demolished the temple and built a mosque.
No time since then did the Indian people leave that holy place behind.
Continuously they fought to regain the place where Ram was born.
It was proven before the court.
Second, in Mughal times and even in British revenue records this place is mentioned as and registered in the name of the Ram Janambhoomi.
Thirdly, below the structure, evidence of a temple has been found.
So culturally, according to revenue records, according to archeological findings, and according to oral evidence, even according to the statements recorded by the Muslim community in 1947, it is the Ram Janambhoomi.
There are over 100 Masjids in and around Ayodhya, none of them have been contested.
When did the Hindus say that you can't built a masjid in Ayodhya?
When did the Hindus say that you can't build a church in Rameshwaram?
When did the Hindus say that nothing can happen in Puri?
Hindus have never said anything about other religious presences being there in places of religious importance for Hindus.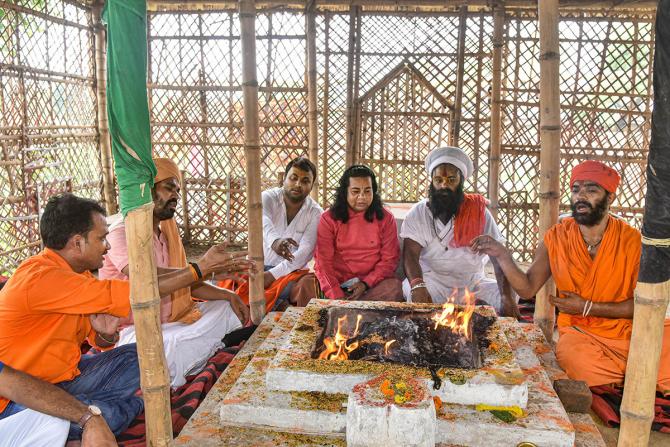 How did you join the movement?
I have been aware about this topic from the start.
When I was in college in Ajmer, I attended the Ram Janambhoomi movement in Ayodhya. Later, I was part of the Liberhan Commission as a lawyer. From 1998 onwards, I was associated with the historic Ayodhya legal case. So I have been part of it for 20 years.
The legal case was challenging.
There were times when there were setbacks.
I know there were some good people like Champat Raiji (secretary, Shri Ram Janmabhoomi Teerth Kshetra Trust) who were continuously associated with it, and therefore now those 20 years feel like just a moment.
I am happy I was a part of that team.
It was a long litigation, there were voluminous documents, there was an archeological specialisation aspect to it, different documents, revenue documents, historical documents, religious documents, cultural documents, history from the time of the Britishers, gazetteers from all the travelers, archeological records and findings, and several judicial interpretations of various subjects.
All of those collectively came to over 150 issues in the Court were raised.
There were five different court cases that had to be consolidated. It was a complex litigation.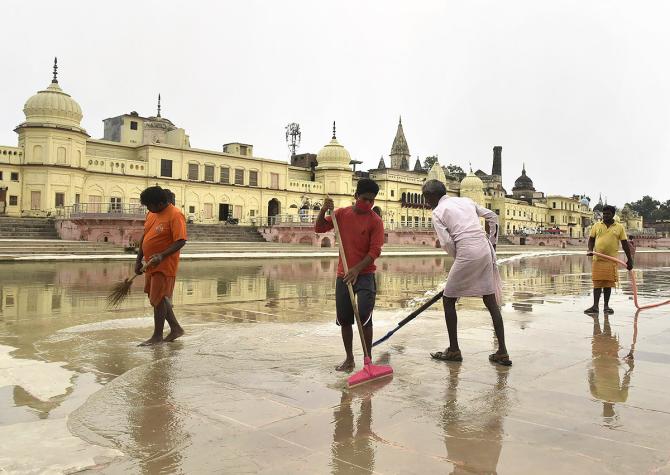 The Ram Janambhoomi temple issue has become a monopoly of the Sangh Parivar. There are enough bhakts in the Congress and other parties too.
This should be asked to the Congress lawyers who went to the Supreme Court and said that this matter should not be decided at the earliest.
If some leader has done it, then Rahul Gandhiji should give a clarification. It is his responsibility.
I took Nirmal Khatri's name, but the Congress as the party never worked towards it.
And you also know that building the Somnath temple was opposed by the Congress prime minister (Jawaharlal Nehru) of the time.
It is on the records.
They have been against a lot of things.
Rajiv Gandhi made a speech against the Mandal Aayog also.
What has the Congress done in favor of the country till date?
The bhoomi puja's political advantage seems certain.
It isn't interlinked.
Some things are in terms of a mission.
If it was for political advantage it would have happened in 1989.
Everything is not politics.
Ram puja is a way of life. When have we hidden our opinions? We are not like the Congress who say something and do something else. Our thoughts are clear.
There is an allegation that in these times of covid, a failing economy, when there are issues with China, you have brought up the Ram Mandir issue as a diversion.
The government has successfully worked on covid.
Compared to the rest of the world, the government has saved India from covid in a huge way.
Our moderate death rate is the evidence of our work.
When there is talk about development for betterment of life, you should develop culture as well for better minds and life.
You should develop music and games that much as well.
You should develop health that much.
You should fight poverty that much. You should instill civic sense in people that much.
There is controversy about the prime minister of a secular country attending the bhoomi puja.
Does a secular nation not believe in its ancestry? The Constitution has a photo of Ram also.
He is our ancestor.
Should we disconnect from our ancestor? This is not just the India of 1947.
It is an India with a long cultural heritage.
What does Ram mean to you personally?
Who inspires the moral values in you, who inspires you to live your life with dedication and responsibly, someone who is your ideal whom you base your life on and work towards community betterment.
Gandhi's Ram is my Ram.
Feature Presentation: Aslam Hunani/Rediff.com