'Ruling Kashmir with fear has its price.'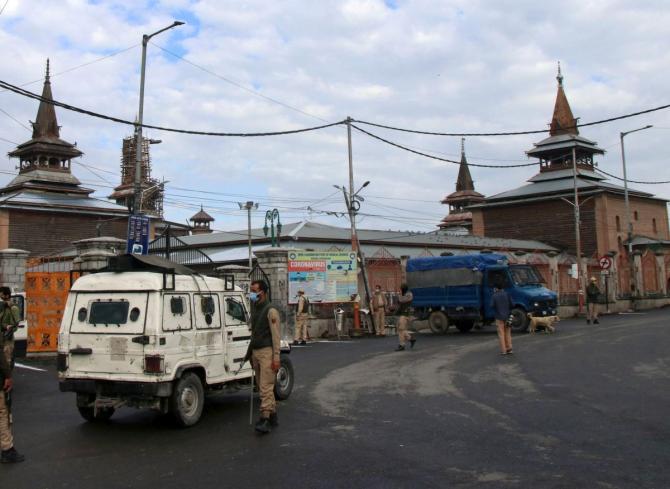 "It would be wrong to presume that the separatist sentiment has gone away," Mohammad Sayeed Malik , below -- doyen of the Kashmiri media -- tells Syed Firdaus Ashraf/Rediff.com. The concluding segment of a two-part interview.
One thing you don't see is the end of militancy in Jammu-Kashmir. Be it Article 370 or no Article 370, militancy does not see any decline in Kashmir.
Militant politics is not directly concerned with Article 370.
They talk of outright secession.
Article 370 had provided additional emotional space for those who were otherwise not happy with the political arrangement. That belief is gone now.
At the moment, on the militant front lately there has been high pressure from the Indian military which also resulted in the near disappearance of separatist politics from the scene.
It certainly would not go off totally, but it is not visible at the moment. However, Pakistan continues to be a factor in this particular context.
One thing that has happened in Kashmir politics is we do not hear anything about the Hurriyat Conference. Has the Hurriyat become insignificant?
If you look at Kashmir's history you will notice that at every crucial juncture Kashmiris have gone by their instinctive choice.
In 1953, Sheikh Abdullah's popular government was dismissed.
For 10 years nothing happened, Bakshi Ghulam Mohammad ruled the state, but in 1964 the theft of the holy relic from Hazratbal brought the regime down in a jiffy.
Kashmiri regimes continued till 1977, but its political non-viability led to the Kashmir accord with Sheikh Abdullah in 1975.
Sheikh Abdullah gave up separatist platform and return to power with Indira Gandhi's support.
After Sheikh Abdullah's death in 1982, Kashmir politics began to disintegrate. His National Conference broke into two.
Mufti (Mohammad Sayeed)'s PDP made it appearance and today there are half a dozen individuals who have their hold on their one constituency.
But where is the Hurriyat Conference? It is nowhere in the picture.
Hurriyat is a reflection of separatist sentiment. It owed its high projection to militancy. That's why the Hurriyat has suddenly become obscure with the falling graph of militancy.
Syed Ali Geelani, who is nearing 100 years of age, was with the Jamaat-e-Islami. He had contested assembly elections earlier taking oath on the Constitution till he with some others like Abdul Ghani Lone created the Hurriyat Conference
The Hurriyat was rising on the crest of militancy. It was born then.
As militancy started ebbing, their (the Hurriyat's) influence started receding.
When people started going to the poll booths the sentiment for the Hurriyat started getting weakened.
It would be wrong to presume that the separatist sentiment has gone away. I won't say it is forgotten.
In what form it emerges later it is difficult to say at this point.
Those who understand Kashmir politics will be cautious to say if and when that sentiment is going to show up again.
To an extent, this politics is also driven by emotional current as in the case of Burhan Wani who was killed in an encounter in 2016.
He became a cult figure after his death. And quite a few Kashmiri youth took up the gun and followed his path.
Kashmir's history tells us that.
Yet another figure in Kashmir politics has been Maqbool Bhat (the Jammu and Kashmiri Liberation Front leader hanged on February 11, 1984).
Such phenomenon keeps cropping in Kashmir politics.
Therefore, the faces of Hurriyat must have gone now, but that sentiment has not gone.
Why don't we see a strong sentiment for pro-India democracy parties among Kashmiris?
By bringing Sheikh Abdullah back in 1975 after 22 years of alienation, Indira Gandhi called it an 'act of faith'. Not surprisingly, Kashmir's first ever free and fair assembly election was held in 1977 which was swept by Sheikh Abdullah who was the tallest among Kashmiri leaders. He was in full command.
After his death in 1982, there was no one to replace him including his successor son, Farooq Abdullah.
In fact, there has been no effort to sustain the goodwill among Kashmiri people by addressing their genuine aspiration. Notably, regarding the state economy. This balance was drastically changed with unilateral abrogation of Article 370.
In Kashmir, nationalist politics is seen as a reflection of the ideology of the party in power in Delhi.
For the last 7 years, there is a clash between these two perceptions. That is why national political sentiment in Kashmir got weaker.
And abrogation of Article 370 has not helped either. If anything it has done it has aggravated matters on the ground.
When you make Kashmiris see India's face as militant and fierce it will not work.
When you are not supposed to say anything on Article 370, and not only that, you are not allowed to say that you are unhappy with the abrogation of Article 370.
Therefore, India is not endearing to Kashmiris.
It is a two-way traffic, isn't it?
The Congress was playing two-way traffic.
If you look at history, what Prime Minister Modi did to Article 370 is peanuts compared to what Nehru did.
He (Nehru) destroyed it one time and made a one-way tunnel that destroyed Kashmir politics. He eroded Kashmir's internal autonomy.
Sheikh Abdullah was a secessionist in 1975. In 1977, he turned pro-India and won elections.
Even Farooq Abdullah, who is a nationalist, won several elections.
It happens, but ruling Kashmir with fear has its price.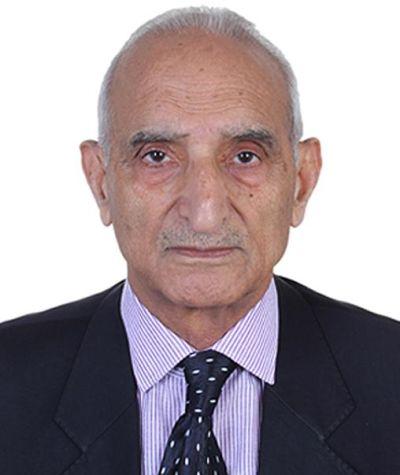 Does the Gupkar Alliance's win in the district elections mean that the people of Jammu-Kashmir want restoration of Article 370?
This election was seen in Kashmir only as and opportunity to break the wall of silence, come out in the open and express resentment against the abrogation of Article 370 and the harsh measures following it.
They are not happy with what happened to Article 370 and what has happened after that.
The government choked Kashmiris.
There is no judicial hearing,
The Supreme Court of India has found no time to hear the petitions of Kashmiris which are pending from last year.
Internet lines were not there.
Even telephone landlines were not working after Article 370 was abrogated.
Quality of life deteriorated so fast.
Feature Presentation: Aslam Hunani/Rediff.com