'I was told to go to the next room and strip -- that's when it really hits you for the first time... that you are a criminal and you are being treated like one.'
'It comes as a shock when, instead of your name, you hear, "Yeh naya Maowadi aaya hai (A new Maoist has arrived)".'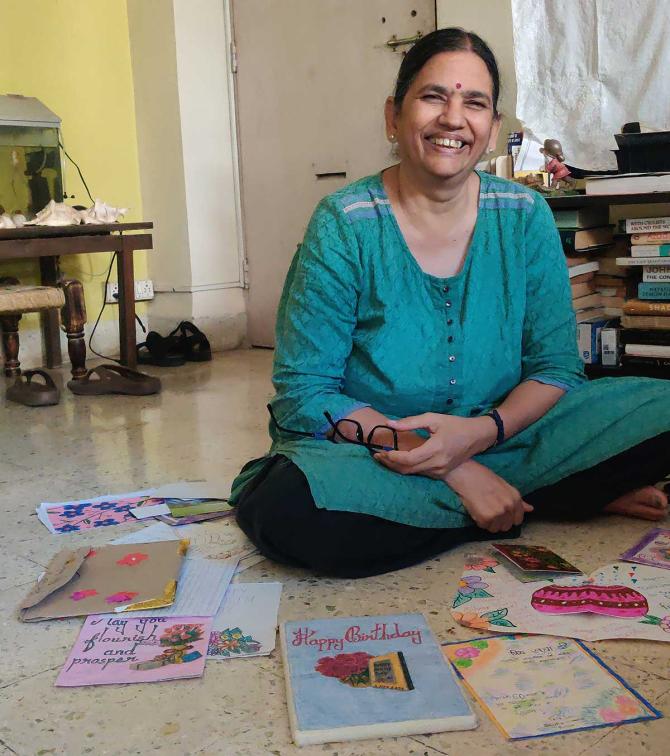 Three years ago, after she was arrested and charged in the *Bhima Koregaon case, Sudha Bharadwaj is out on conditional bail.
A lawyer, an activist and a trade union leader, Sudha -- who was born in Boston and lived in the United States and United Kingdom as a child -- has lived and worked in Chhattisgarh for over three decades.
Her conditional bail means she has to live in Mumbai and start her life all over again there. The silver lining, she says, is that this city respects work.
Sudha Bharadwaj speaks to Rediff.com Senior Contributor Neeta Kolhatkar about her experiences in jail. Considering prisoners are denied basic human rights -- mulaqatein (meetings) with her daughter were tough -- the coping mechanisms adopted by women, she says, are fascinating and have kept her going.
The first of an exclusive four-part interview:
You are out on conditional bail. How free are you, Sudha, realistically speaking?
(Smiles) Well, I don't feel completely free. This (Mumbai) is an alien city for me. Most of my work is in Chhattisgarh; I can't leave or ignore that.
My union is there (Chhattisgarh Mukti Morcha, Mazdoor Karyakarta Committee).
The high court where I used to practise as a lawyer is there.
My daughter is studying in a college there.
I have to begin all over again now. I have to search for a job. I have to find a house.
So, yes, I am beginning life all over again at the age of 60 (laughs). It is a difficult thing.
Sixty is the new young?
(Laughs) I don't feel old, but I don't have the same energy I did at 25 when I went to Chhattisgarh.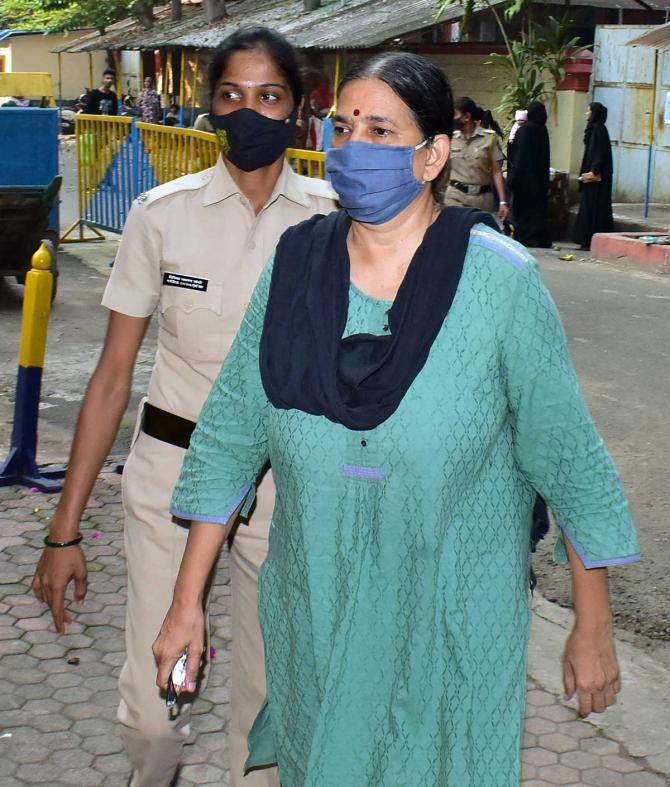 Did your experience and knowledge of the law and of prison (through helping people who were in jail), prepare you for what lay ahead when you were arrested?
Yes, I have been involved in legal aid and have been practicing law for 15 years before I went to jail.
Yet, the initial shock and the indignity of the whole process can traumatise anyone.
I remember arriving at (Pune's) Yerwada Jail at around 8-8.30 pm.
It was dark and dingy. I was told to go to the next room and strip -- that's when it really hits you for the first time... that you are a criminal and you are being treated like one.
They opened my bags and threw everything out saying, "This is not allowed... no t-shirts... no trackpants."
You are given a patti (a strip of dhurrie), ghongri (a woven rough sheet), chaddar (bedsheet) and aluminium vessels like a plate and a mug that remind you of a begging bowl before you are taken to your barracks. (These pattis, ghongris and chaddars are made by prisoners in various jails across India.)
The prisoners who are already there make space for you with great reluctance.
That's how you spend your first night.
Getting up the next morning at 5.30 is difficult, since you have hardly slept.
It's still dark and you shiver in the cold as you sit in a line with the rest of the to be counted.
It comes as a shock when, instead of your name, you hear, "Yeh naya Maowadi aaya hai (A new Maoist has arrived)." They count you by your crime (laughs).
Then, they sent me to a separate cell. Gradually, one gets used to it... not the way you are treated, but the way those around you are treated.
In Byculla jail, the favourite way to address prisoners is thobad (an insulting way of referring to someone's face), which is not a nice way to call to anyone.
It didn't happen to me personally; I was always treated courteously. I presume this was due to my age, name and class. But the general manner of addressing prisoners was, 'Thobad, line mei jao (Get in line).'
Another favourite manner of addressing us was 'bahut chapter hai.' Chapter refers to the CrPC (Code of Criminal Procedure) chapter on maintaining peace, so those who have cases of under Sections 107, 110 and 116 are all 'chapter' cases. You are considered a habitual offender.
Then, you are addressed as 'tu'! (in Marathi or Hindi, that's how the word 'you' is used if you are addressing someone without offering any respect, in which case the manner in which you are speaking is a way of insulting the other person. 'Tu' is also used to address someone you know very well in a casual manner, in which case it is not insulting.)
One has gained enough age and experience to be treated with respect, so facing all this for the first time is akin to a bucket of ice-cold water being flung on your face.
Later, as I become friendly with the prisoners, I realised we are all in the same boat.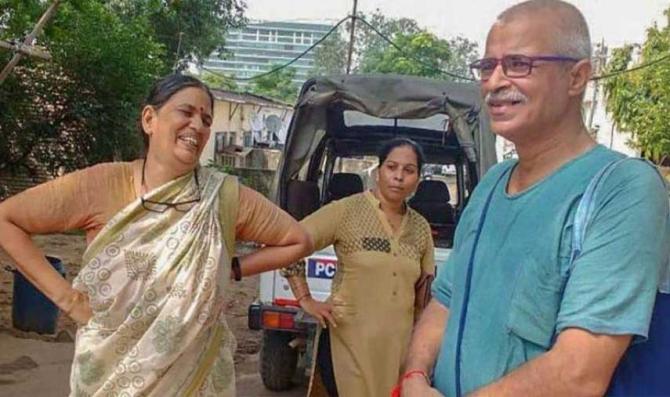 Were you able to interact with women prisoners who have been languishing in jail for many years because they cannot afford money for bail?
In Yerwada, we were not allowed to interact much with other prisoners and other people because Professor Shoma Sen (a co-accused in the same case, she used to head the English department at Nagpur University and is a women's rights activist) and I were imprisoned in the phansi yard (part of the prison reserved for those who have been sentenced to death) along with two other inmates, the Gavit sisters, who had been sentenced to death (Seema Gavit and Renuka Shinde were convicted of kidnapping and murdering five children; the original charge had included 13 cases of kidnapping and nine murders).
Each of us were in separate, adjoining cells.
We were scared of them. They had short tempers and could fly into a rage, probably because they had been in jail for so long.
I am happy to know their death sentence has been commuted. They had already been jail for 25 years before we were sent to the phansi yard. They deserve to be free.
In Byculla, however, we were in the barracks; that's where we met many, many women who are languishing in prison.
Many of these women have been abandoned by their families, especially if they were arrested under the Immoral Traffic (Prevention) Act.
If they have murdered their husbands, they are disowned by both their maternal family and their in-laws.
Then there are those who can't afford a lawyer. And those who come from faraway places, like Bangladesh.
I was one of the fortunate ones (smiles). I have my organisation, my union, my daughter and my friends who were worried about me. I have good lawyers who are fighting for me. Even if it took a long time, I knew they were there.
It's a frightening situation for the women who don't have any support.
They don't know what is happening. During the pandemic, there has been no movement in their cases. No mulaqat (meeting). No visits to the court.
Their level of frustration and helplessness is very high.
What was it like when you contracted the coronavirus in prison?
The first thing everyone needs to understand loud and clear is that social distancing is not possible in Indian jails.
We literally sleep in 3x6 laadi (tiled floor), next to each other.
The first barracks I was sent to in Byculla jail has a capacity for 35 prisoners and there were 56 of us there.
In my medical bail application, the jail authorities clearly told the court that social distancing is possible if the total number of inmates in the barracks in two-thirds of 35.
The reality is that we sleep close to each other, we share common bathrooms, we queue for food.
During the first wave, we were lucky in Byculla. But the second wave proved serious.
Fifty-six people tested positive and they were sent to the BrihanMumbai Municipal Corporation COVID centre, where they slept on beds with mattresses. An NGO provided good quality vegetarian food.
They had gone out crying because they were scared; they didn't know where they were being sent. When they came back, they were happy that they had got a chance to eat good food, including sweet dishes.
A lot of women escaped the virus because of the rapid antigen tests that were administered.
In my barracks, 13 women had tested positive so there were positive inmates on my left, in front of me and to my right.
I got mild fever and diarrhoea, but the doctors now say I did have COVID; it just wasn't detected by the rapid antigen test.
The problem was if we were inside the jail and not positive, we would all be stuck in the quarantine barracks. That meant we were surrounded by sick people. Also, that particular quarantine barracks was a really bad one. Three of the four bathrooms were choked. None of the sweepers were willing to come to clean it. And the women who were inside were too sick do the cleaning themselves.
Our food was thrown to us through the bars. Those one-and-a-half months were horrific!
COVID makes you very weak. Till then, I had been doing barrack duties like sweeping and swabbing. I was washing my own clothes, all that. After I fell ill, I couldn't do any of these.
If you had the means, could you get out of doing these duties?
Yes. The class system is alive and well inside jail. There, the currency is the canteen.
If you have a PPC (personal prison cell) account and have someone on the outside who sends you money, you can purchase things like soap, shampoo, biscuits, chivda, etc, from the canteen. On Sundays, you can avail of special dishes like chicken. When you are in jail, edible food and these kind of luxuries are something you really look forward to.
This had led to a barter system. Those who can afford it get things from the canteen for a poorer person. In return, they take over your barrack duties and your chores.
In a strange irony, cats roam freely in Yerwada jail while human beings are stuck behind bars.
(Laughs) Yes, cats were there in Yerwada, but not in Byculla.
The Gavit sisters, whom I mentioned earlier, have brought up many generations of cats.
Actually, watching the cats was fascinating. Till I was imprisoned, I did not like cats and would not interact with them. As a working woman and a single mother, I barely had enough time to look after myself and my daughter.
But, here, it was beautiful to watch the cats. They would stretch and laze in the sun. The kittens would attempt to climb the trees and get stuck. The prisoners would rush out with bedsheets and hold them below the mewling kitten so that they could fall safely.
These cats were universally adopted in Yerwada.
An old Bhil lady, who had been a prisoner there for many years, would speak to them in her singsong manner and sing Bhilala songs to them. She would share her quota of milk with the kittens.
Maybe, it reminded her of her old life in the village and the forest.
*Where a celebration in January 2018 to mark the 200th anniversary of the Battle for Bhima Koregaon turned violent, resulting in one death and five injured.
Feature Presentation: Ashish Narsale/Rediff.com