Do Uddhav Thackeray, Aditya Thackeray, Sanjay Raut and Sharad Pawar want the deaths of the Bhima Koregaon accused to be associated with their government? asks Jyoti Punwani.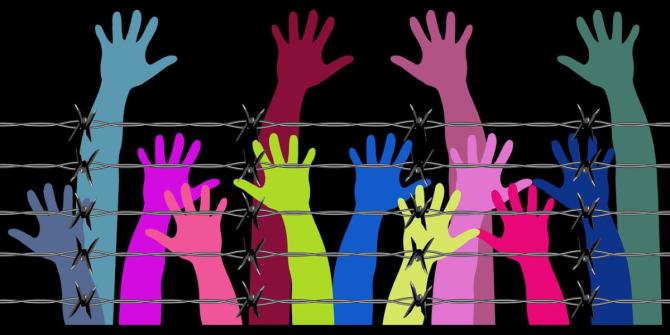 Consider this:
In 2019, Father Stan Swamy, accused in the Bhima Koregaon case, had to undergo an emergency appendicitis operation because he had insisted on working till the very last day. The doctor wondered how the then 82-year-old Jesuit priest had borne the pain so long.
In the seven months that he has spent in Taloja jail, not once has Father Stan complained, except to ask for a straw and a sipper because Parkinson's disease doesn't allow him to have a steady grip on his cup.
Yet, this same man last week told his colleague Father Joe Xavier: 'I am unwell, I feel fragile.' Earlier, he had complained of being treated for his cough and fever with antibiotics by the jail's Ayurvedic doctor, resulting in diarrheoa.
According to news coming in from his inmates, Father Stan takes the trouble to dress up every day in case he gets a phone call, which entails leaving his barrack. But late last week, when someone did call, he sent a fellow inmate to respond. He was too weak to leave his cell.
Taloja Jail has only three Ayurveda doctors and no nursing staff. Inmates double up as attendants. Prisoners are not allowed to get essential equipment in these times from family.
When Monali Raut told the jailor she wanted to send an oximeter, a thermometer and some medicines for her brother Mahesh Raut, also a Bhima Koregaon accused, the jailer refused, citing lockdown rules. Raut had told his sister he had fever and body pain.
Neither Father Stan nor Raut have been tested.
On May 7, a POSCO undertrial from Taloja Jail died in St George Hospital in Mumbai of Covid. His family alleged that though he had complained to them of sore throat, he had not been tested. The delay in treatment cost him his life, they said.
He was just 22.
While 80-year-old poet Varavara Rao recently got bail on medical grounds, the rest of the 16 Bhima Koregaon accused remain inside the overcrowded Taloja and Byculla jails.
Among them are senior citizens Father Stan, Gautam Navlakha, Anand Teltumde, Vernon Gonsalves, Shoma Sen and Sudha Bharadwaj (she will turn 60 in a few months).
On May 8, the Supreme Court ordered decongestion of jails due to the current Covid wave. Eight staffers and another inmate have already tested positive in Taloja, though the accused have told their families the numbers are much higher.
In Byculla jail, 40 inmates have tested positive.
Only four of the Bhima Koregaon accused: Vernon Gonsalves, Gautam Navlakha, Shoma Sen and Sudha Bharadwaj have been vaccinated. Father Stan and Sudhir Dhawale have been told they won't be vaccinated unless they produce their Aadhar card!
On April 30, the Bombay high court asked the state government to find 'a way to bypass this Aadhar issue' to enable vaccination. Earlier, the Maharashtra Prisons department had written to the state government to waive this rule so that foreign prisoners could be vaccinated.
But what about our own citizens?
Father Stan has lost his Aadhar card; Sudhir Dhawale's Aadhar card was confiscated when he was first arrested in 2011, and not returned to him even after he was acquitted in 2014.
Shoma Sen and Sudha Bharadwaj's daughters had to send the Byculla jail authorities a copy of their mothers' Aadhar cards so that they could be vaccinated, even though the originals are in the possession of the jail.
This, of course, could be just red tapism.
But how do you explain the Taloja jailer's rejection of Monali Raut's request to send an oxymeter for her brother; or the authorities' refusal to replace 53-year-old lawyer Surendra Gadling's broken spectacles (just as they had refused to replace 68-year-old Gautam Navlakha's lost spectacles)?
Even the new pair sent by Gadling's wife hasn't been handed over to him. A diabetic with high BP, his sugar and BP levels have not been checked for weeks.
How does one explain the treatment of Professor Hany Babu, whose eye infection was allowed to deteriorate for ten days till his eyeballs started jutting out?
It was only when his family approached the media, and Kerala Chief Minister Pinarayi Vijayan intervened, that he was taken to the J J Hospital. Having tested Covid positive there, he is now in St George's Hospital.
The news from St George isn't cheering either - his eye infection can't be treated till his Covid subsides.
What explains the neglect of Sudha Bharadwaj, who has developed ischemic heart disease and dental problems in jail?
Since her vaccination on April 7, says her daughter, she has been suffering from diarrheoa, fatigue, and lack of taste, but all she has been given are antibiotics to which she has not responded.
The fiercely self-dependent lawyer is now forced to request others to wash her clothes, so weak has she become. But Byculla Jail Superintendent Sadanand Gaikwad described her as 'a big complainer... She is anyway over 60 years old. She is bound to have some aches and pains' (external link).
Does Gaikwad even know that the woman he dismisses so contemptuously was an IIT topper who gave up her US citizenship to live among the mine workers of Dalli Rajhara since the 1980s?
It's bad enough that the families of the accused must cope with the anxiety of knowing their loved ones are in overcrowded jails, devoid of medical care and basic needs - Taloja Jail currently faces a water shortage, so frequent hand washing is a dream.
What makes it worse is the patchy communication with them.
The pandemic and lockdown stopped all visits. But last year, in response to a PUCL petition, the Bombay high court allowed prisoners ten-minute-long phone calls with family members.
But family members allege that the average weekly call lasts five minutes, of which at least one minute goes in just trying to hear each other, so bad is the disturbance on the line.
It is equally difficult for families to talk to the jail authorities. Advocate Yug Chaudhary told the Bombay cigh Court that the Byculla jail warden didn't come on the line even after 18 calls made by Bharadwaj's daughter and friends. Professor Hany Babu's lawyer had to call a dozen times before the Taloja jailer deigned to answer.
Nor do letters written by the accused reach their families on time despite the prisoners paying for Speedpost. A letter written in March by Gautam Navlakha reached his partner Sahba Husain in May; one by Father Stan written on April 10 has not yet reached Father Xavier.
The jail authorities don't just treat these accused with contempt; their contempt extends to court orders related to them too.
Later this week, Byculla Jail authorities are to give Sudha Bharadwaj's health report to the court.
That means nothing: In the past, the same authorities have submitted a medical report for Bharadwaj which was rejected by the court because it was unintelligible. Another time, the report had significant omissions. While it showed that she was taking a drug meant for heart disease, it didn't list heart disease as one of her ailments. 'Osteoarthritis' in her earlier report had been changed to 'bodyache'.
The Taloja jail authorities once submitted two identical reports for Mahesh Raut and Anand Teltumde, then explained that away as a 'copy paste mistake'. Their inhuman neglect of 80-year-old Varavara Rao is now well-documented, it drove the poet and writer, who was fit both physically and mentally when arrested, to dementia and near-death.
***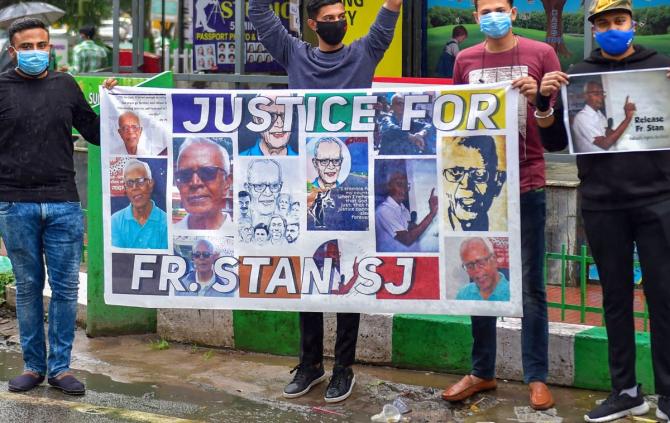 Jail authorities are not known to be sensitive to human rights, specially of political dissenters. But why have courts, which are supposed to uphold citizens' fundamental rights, ignored these violations?
Why have courts repeatedly denied these accused bail despite their health conditions and the life threatening situation inside jails? Not even when Surendra Gadling's mother died last August was he granted temporary bail.
Is it because these dissenters are charged with UAPA?
The anti-terror law makes bail difficult; even while other prisoners were allowed to be released to decongest jails last year, UAPA undertrials were excluded.
Both the Bombay high ocurt and the Supreme Court upheld that exclusion.
It is well known that the Bhima Koregaon accused have all their lives defended the rights of Adivasis, Dalits, workers, and political prisoners. They have fought against human rights abuses of all governments, at the Centre and in the states.
Most importantly, as undertrials, the charges against them have yet to be proven. Till then, they are innocent, and even as prisoners, entitled to fundamental rights.
It can also never be stressed too much that the first FIR filed after the Bhima Koregaon violence of January 1, 2018, held two Hindutva leaders, Sambhaji Bhide and Milind Ekbote, responsible for it.
Victims of that violence testified before the Bhima Koregaon judicial inquiry commission that they were attacked by mobs carrying saffron flags. This reporter has read WhatsApp messages that show that a bandh was organised on January 1, 2018, by supporters of these two Hindutva leaders, in the villages near Bhima Koregaon to oppose the expected congregation of Dalits there on January 1.
Yet, the two accused remain free. Bhide, whom the mrime Minister hailed as his ['Guru' during his 2019 election campaign, and to whom then Bharatiya Janat party chief minister Devendra Fadnavis gave a clean chit, was not even arrested; Ekbote is out on bail.
On the other hand, the only piece of 'evidence' against the Bhima Koregaon accused, a 'letter' supposedly written by Maoists, has been found by a reputed American forensics lab to have been planted on their computers through sophisticated malware.
On such 'evidence', some of these accused have already spent three years in jail, with no trial in sight.
Their families are now asking: "Do citizens cease to be human beings once they are charged under UAPA? Are they to be left to die only because of that? How is that different from passing a death sentence on them without a trial?"
The judiciary, the Maharashtra government and the Centre must answer the question: Do the fundamental rights of prisoners to health, to communicate with families, get suspended because they are charged under UAPA?
In the words of senior lawyer Indira Jaising, "If the State holds a person in custody, the State is obliged to keep him in good health or set him at liberty."
The death of Jayaprakash Narayan will always be linked to the sudden deterioration of his health during his imprisonment under Indira Gandhi's Emergency, even though he died five years later.
Do Uddhav Thackeray, Aditya Thackeray, Sanjay Raut, and Sharad Pawar want the deaths of the Bhima Koregaon accused to be associated with their government?
Feature Presentation: Aslam Hunani/Rediff.com