'We have 25,000 private hospitals participating in this exercise and if each of these hospitals does 200 vaccinations per day, that makes it 50 lakhs.'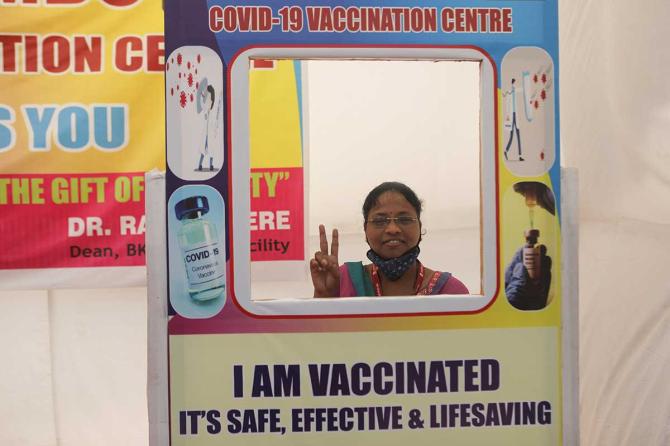 Ram Sewak Sharma, chairman of the Empowered Group on Technology and Data Management on the COVID-19 vaccine, speaks with Rediff.com Senior Contributor Rashme Sehgal about how the technology backbone, that he is in charge of, will help smoothen the vaccination drive.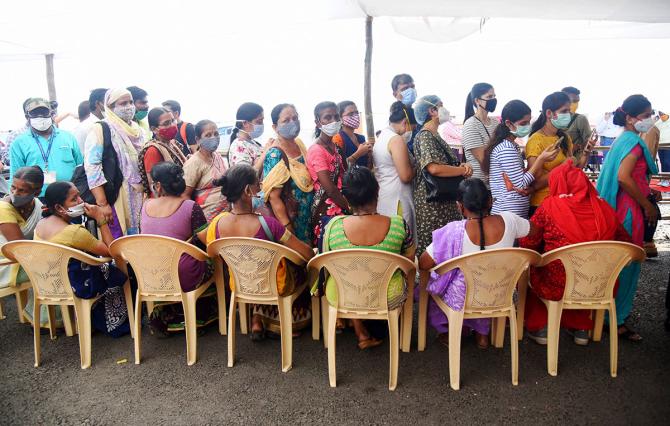 March 1 has been a milestone for India with Prime Minister Modi and senior ministers taking the jab.
Yes, it has been a great achievement with the prime minister leading from the front.
It's a huge achievement and will give a huge boost for the vaccination program.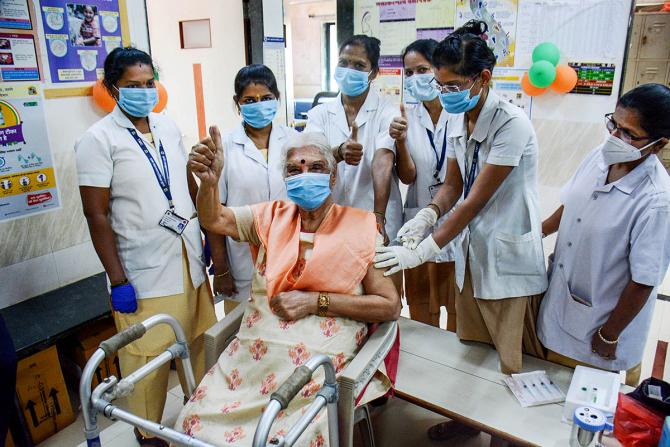 Would you say there was a certain amount of vaccination hesitancy had crept in following the launch of the vaccination drive on January 16?
I do not think so.
There is a fundamental difference between what we were doing prior to March 1 and what we are doing now.
In Phase one, we were reaching out to a select number of health and frontline workers on whom data had been collected data and who were invited to take the vaccine.
It was a supply driven response to a captive group of people.
The audience was pre-fixed.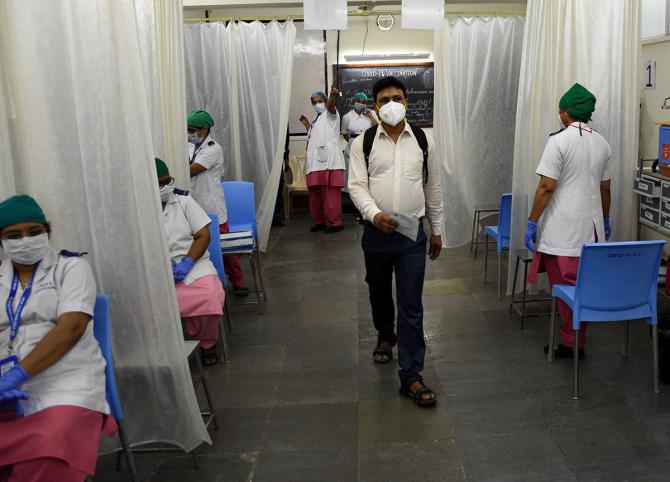 Now we have opened it up to the people.
So March 1 was a milestone because we have set up a demand driven system approach in which we have brought in private hospitals and where a person can opt to go to a place of his choice.
The approach is different.
The audience is different.
Now that we have opened it up, 50 lakh people have got registered on this platform on the first day itself which is a big achievement.
Who so ever wants to come and join it can do so.
It seems we have got over this vaccine hesitancy.
That is a big achievement.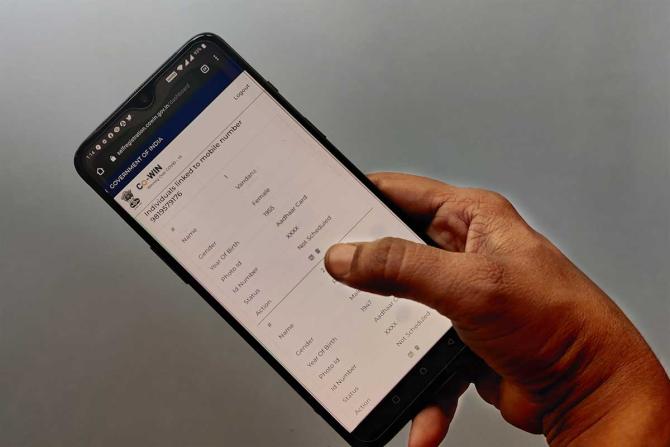 But some glitches did take place on day one in terms of getting registration and so on.
I don't agree with that.
If there had been a large number of glitches, then such a large number of people could not have registered.
People were looking for an app, but we have not developed any app.
Aarogya Setu is an app, but coWIN.gov.in (external link) is a portal on which citizens get connected.
Our software is capable of handling large numbers at this point of time and we have scaled up our system.
Of course, there may be some issues on the SMS gateway, but our infrastructure at the back end can handle things.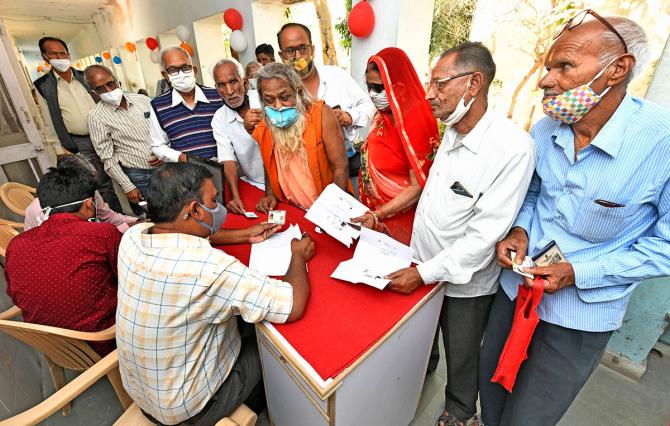 There is a perception that those living in villages and rural India who do not have access to smart phones may not be able to register on coWIN.gov.in
What alternative is being provided for them?
This perception is also incorrect.
We have 1.2 billion phone connections in the country.
Tele-density in India stands at 80 per cent and there are 600 million smart phone users in the country with 700 million internet connections.
Rural people are using their phones to do commerce in a big way.
People across India are using technology in a big way and we should not under estimate their capabilities.
We have allowed four registrations per phone so if there are two elders in the family, then their children can do it for them.
Others can use the Arogya Setu app in which we have created an extension to also do registrations.
Our technology may be sophisticated, but at the same time it is inclusive.
We have provided walk in facilities to those who are not tech savvy.
They can walk in in to these centres provided there are vacancies available.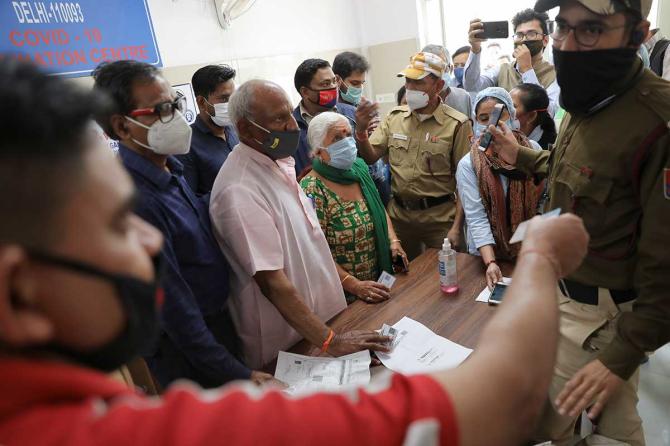 People have complained that they have found it difficult to get a slot.
Are hospitals equipped to deal with such large numbers.
A lot of hospitals have not come up with their schedules and that has created confusion?
When there is a demand, it has to be fulfilled by supply.
The hospitals will have to publish their schedules on this platform.
We are talking to states on this issue that they should use services of private hospitals in full measure to supplement work being done by government hospitals.
The more vaccines they get, the easier it will be to publish their schedules and the more people will get vaccinated.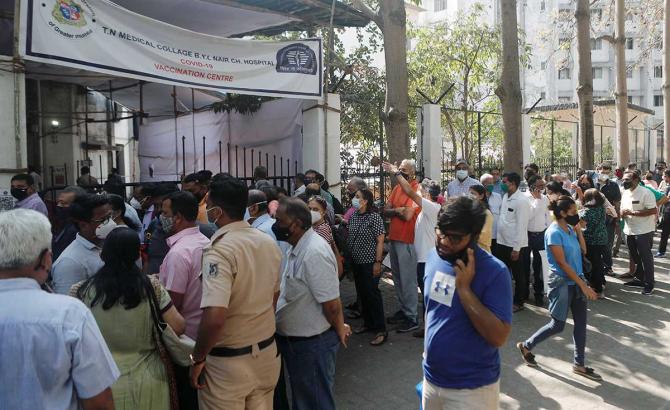 The key question is whether vaccines can be distributed across government and private hospitals according to these schedules.
There was a recent newspaper item that the Serum Institute had manufactured 200 million doses of vaccine and if these were not used by end March, they would go waste?
I am in charge of technology and not in charge of the vaccine delivery system.
I am looking at the technology platform, how to scale it up and make it more accessible.
Of course, I participate in all the discussions that take place about the supply side with my colleagues in the health ministry.
The supply side is also being tackled and the government is working on that.
Once schedules are determined, they will be put up on the platform.
Of course, you cannot work in silos.
The government has to adopt a holistic approach.
We are not working in silos.
Holistic does not mean everybody should be in charge of everything.
The health ministry is in overall in charge of ensuring the people of this country get vaccinated.
Did you face any teething problems while setting up the platform?
No, we faced no problems.
We have made technology quite robust, easy to use and inclusive
But to go back to my earlier point.
Why should there have been a problem about getting slots?
Should this not have been factored in.
People I know approached a hospital in Patparganj and they were told they would have to wait one month to get a jab?
The slots will be available when the vaccines are available.
But these problems will be solved by the health ministry.
But as I said, I am in charge of the technological backbone.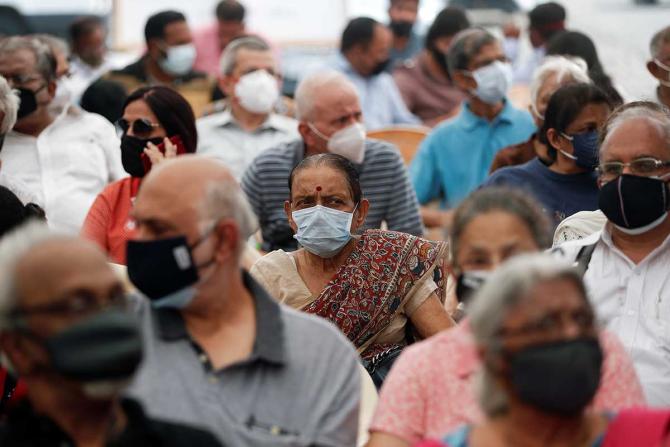 Do you think the target of doing 30 lakh vaccinations a day is do-able?
Absolutely do-able.
We can do 50 lakh (5 million) vaccinations per day.
We have 25,000 private hospitals participating in this exercise and if each of these hospitals does 200 vaccinations per day, that makes it 50 lakhs per day.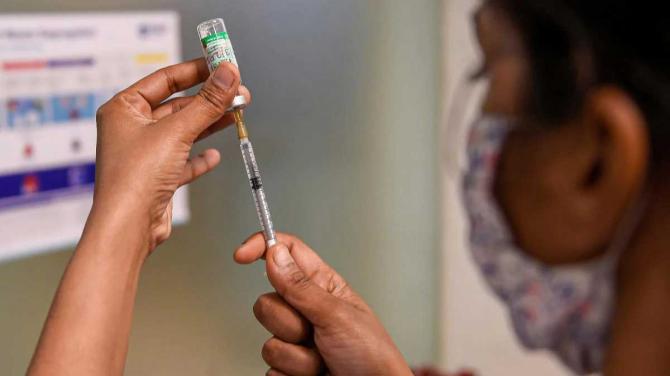 Don't you think the government should have revealed the name of the vaccine which an individual can receive?
No. I have no thoughts on this.
I believe the government is doing the right thing.
Both the vaccines are equally efficacious.
There is this whole issue of data privacy and of leakage of sensitive personal data.
What sensitive data are we seeking?
What private information are we collecting?
All we are asking is for the name, gender and age of a person to register on the portal.
We are not asking for any private or sensitive data.
However, we will ensure that the data that has been provided is protected and remains safe.
Feature Presentation: Ashish Narsale/ Rediff.com