'I want to send a positive message to people that they should not fear the Covid vaccine.'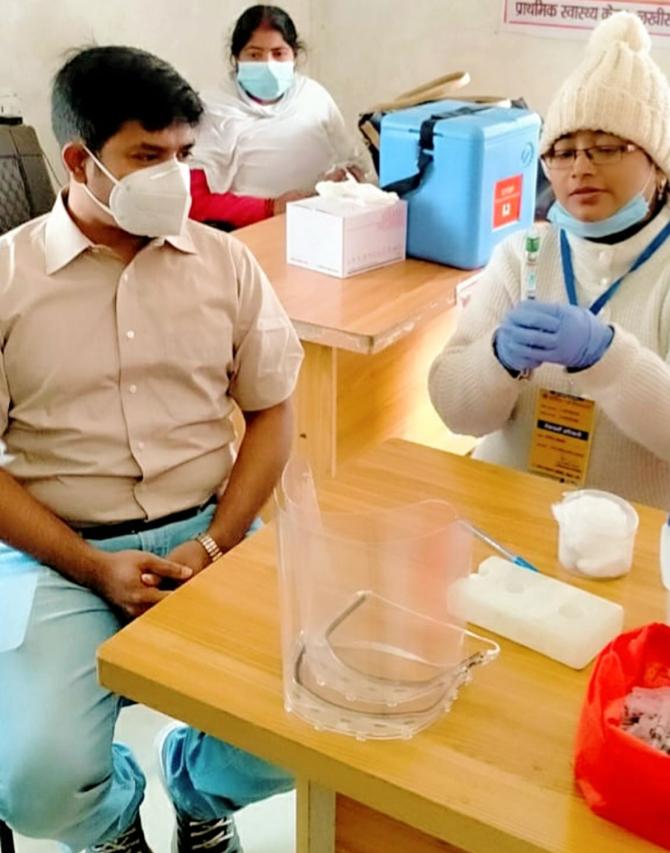 Joel Patric Lal, a health worker, took the first dose of the Covid vaccine last week. He tells Rediff.com's Archana Masih that he is perfectly fine and says people should not fear the vaccine.
A day before I was to get vaccinated, I received a message on my phone that I had to report at the government vaccination centre the next day to receive the Covid vaccine.
All health workers had been registered one month prior and their details had been uploaded on the state government portal. The various districts were allotted schedules for vaccination.
The phone message that I received said that I had to be at the vaccination centre between 10 am - 5 pm.
It was very cold. I wore a half sleeve shirt under a jacket since the immunisation shot has to be taken in the upper arm.
I went to the centre at 2.30 pm the next day. The staff there checked my name and ID.
I had to sit for some time in a waiting area along with others who had also come for the vaccination. There were counsellors present there to address any questions about the vaccine. They were motivating people and telling them not be nervous.
We were called by name -- five at a time -- to queue up at the registration counter. Beneficiaries have to bring the same ID that they had submitted when they registered online for the vaccination.
A thermal scan was done and we were asked if there was any illness. Pregnant women, breast feeding mothers and senior citizens with critical illnesses are exempt.
I was asked if I had eaten breakfast. It was my fast that day and I told them that I had no problem taking the vaccine on an empty stomach.
They gave me a slip with my name and serial number. I then went to another counter where my details were uploaded on the state government site.
I was then directed to the immunisation table. The vaccine is preserved in a vial. 0.5 ml of the vaccine is loaded from the vial into the syringe and administered into the arm.
In less than a minute the nurse loaded the vaccine and injected me. I then sat and waited in the waiting hall for half an hour and that was it!
While giving the shot, the nurse told me that this was the Covid vaccine and it will not cause my body any harm. She told me to continue following social distancing and wearing a mask.
I took the vaccine on an empty stomach and was fine. I only ate at night. I felt the same before and after the vaccine.
In fact, the anxiety that I had before taking the vaccine, disappeared after taking it and I went about my routine work.
It was just like a tetanus injection, nothing more.
A phone number is given to each beneficiary in case any problem arises post vaccination or if there are any questions that a beneficiary may have.
The time of vaccination is recorded in a register and then I had to wait in the post-vaccination hall for half hour. The medical staff observe you to see if fever, rash or any other complication develops.
Beds are kept ready to treat anyone if any such reaction is observed. An ambulance is ready in case of any critical situation and the person is immediately transferred to the nearest district hospital.
I had to travel out of town the next day on work and my only concern was how would I make the journey if there was any side effect. But I did not feel any different after taking the vaccine.
It has been over a week since I took the first dose and I am absolutely fine.
The next dose of the vaccine will be given 28 days after the first dose.
Around 3,500 healthcare workers have been given the vaccine in my area and no one has had any side effect.
There was one lady who complained of nausea. She had come without having any breakfast. She was given tea, biscuit and a paracetamol. She was fine after that went home soon after.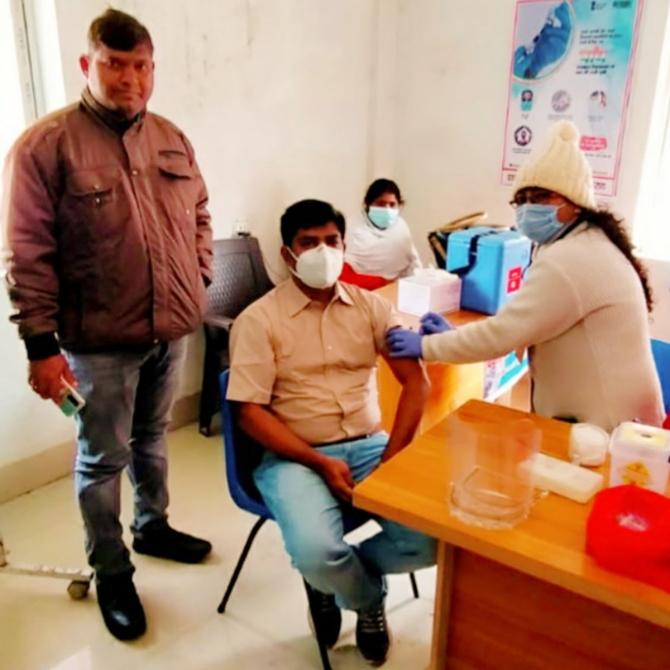 When I came to know that I was to be vaccinated, I did not tell anyone, not even my family.
I am the first in my family to have taken the vaccine and my family and friends are calling me to find out my experience. I sent out photos and put it on social media because I support the vaccine.
I want to send a positive message to the people that they should not fear the Covid vaccine.
We in India believe in word of mouth very much. There are so many who have been vaccinated by now and have had no side effects, but the public doesn't pay attention to them. Instead of focusing on the majority who are fine after taking the vaccine, they are focusing on the handful that have had some side effects.
The Indian majority is preoccupied with the negatives of the vaccine rather than the positives which is causing fear.
Don't fear the vaccine.
Don't believe in rumours and take the vaccine.
It is all in our mindset and we must change our thinking from a negative to a positive one.
Don't get scared even if you may get fever, rash or itch. There is a medical team at hand at the immunisation centre which will treat you at the spot.
Even babies develop a fever when BCG inoculation is given to them. They cry the whole night, but does that mean we should stop immunising them?
Sometimes a lump develops on the side you take a tetanus injection, but then it subsides.
Fever develops because vaccines generates antibodies in the body which raises the body temperature. It is basic as that, but we blame the vaccine.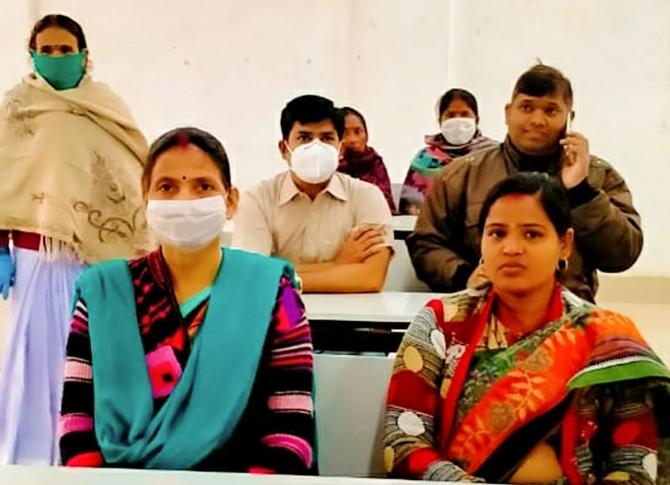 Since it is a new disease and a new vaccine, people are predominantly thinking about the likely complications. We have to focus on the long-term benefits rather than the small complications that arise of all vaccines.
The Covid vaccine is stored at 2-8 degrees Celsius. Some other vaccines like BCG, MMR, tetanus, Hepatitis B are stored at similar temperatures.
The special freezer used for these vaccines does not freeze the liquid, it maintains the temperature.
The government vaccination centres adhere to the rules. Once a vial is opened, it has to be used in 6-8 hours and is destroyed after 8 hours.
Till date, the government has always had a free immunisation programme. The government runs a very well-administered and efficient vaccination programme that we should be proud of.
Our vaccines are top quality, administered efficiently and all the rules are adhered to.
In time to come even if the vaccine is available at private hospitals, I believe people should get vaccinated at a government facility.
The middle class thinks they will pay and get the vaccine at a private hospital because they are not comfortable about queuing up at a government health centre.
But I feel people should take out time, come to the government hospital and get vaccinated.
Feature Presentation: Aslam Hunani/Rediff.com