'Prevention plus vaccination is what is going to take us into better territory by September or October.'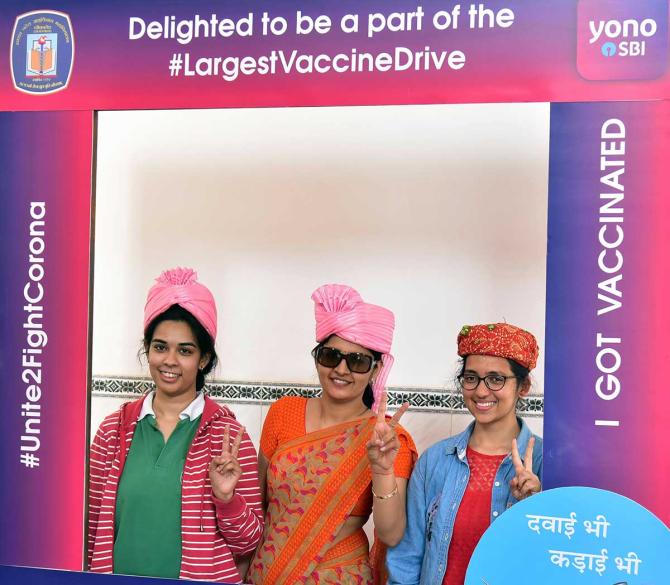 India's vaccination programme has slowly taken off, with the administering of both the Bharat Biotech-ICMR Covaxin and the Oxford-AstraZeneca, Serum Institute of India-produced Covishield on emergency approval use.
India has have millions and millions to vaccinate.
Dr G V S Murthy puts in plain words the choices the government is faced with and the possible rationale behinds its decisions.
The director, public health at the Public Health Foundation of India, Hyderabad, and professor in public health disability with the International Centre for Eye Health at the London School for Hygiene and Tropical Medicine, London, Dr Murthy is an experienced public health professional, having spent over 35 years heading 40 plus community health projects in India, Nigeria, Bhutan, Nepal, Bangladesh and Pakistan.
He provides technical advice on COVID-19 to WHO and offers his expertise as a member of various Indian technical advisory groups.
In Part I of his interview to Vaihayasi Pande Daniel/Rediff.com he made clear why even if we each are administered by mid-year, we may still have to use masks.
In Part II he compares the various types of vaccines available and the science behind them.
Now in Part III he talks about the effect the mutant variant of the COVID-19 virus might have on our lives and why herd immunity is still not an option.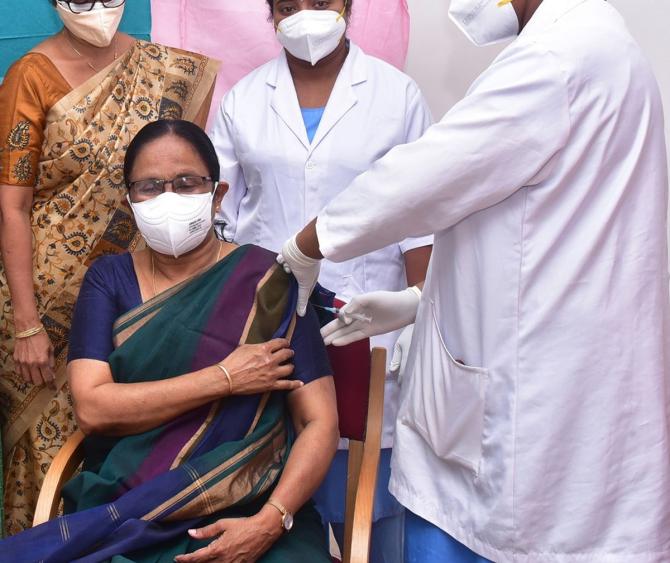 The results of several sero-surveillances have been announced indicating how much of the population has actually been infected by COVID-19.
And there was a report by a Department of Science and Technology panel about how for every one case diagnosed, 90 are missed.
Earlier this year it seemed that herd immunity will take a long time to come to India.
But do you think that a significant amount of herd immunity will come before we all get vaccines next year?
A larger number of people may have gotten infected, but even in the sero-surveillance studies, the maximum that has been seen is between 45 to 55 per cent.
That has been the maximum.
Forty-five to 55 per cent is not going to give you herd immunity, that is the first thing.
You would need in excess of 70 per cent to be working towards herd immunity.
And I don't think anywhere in the country -- even in Delhi or Dharavi (Mumbai) - we have hit 70 per cent.
It is around 40 to 45 per cent.
Dharavi was 35 per cent.
We have not hit that figure which can give us herd immunity.
Second, what is most important is what we're seeing in Europe today.
In UK, you're seeing a new variant, a new mutant of the COVID-19 virus, which is far more infective.
Whether it is equally virulent in terms of death rates, we don't know.
But its infective propensity is far higher.
So, whether the current herd immunity levels, or antibodies provide enough immunity, or whether they can protect against infection with a new variant, because it is so new, we don't have any evidence.
And that new variant is bound to come into India.
You can't stop it.
We should not be complacent, hoping that herd immunity is going to protect us.
That is what the UK thought.
It did not work out.
The variant is making it even worse.
So that's why I said, you should look at both measures being used in conjunction -- prevention plus vaccination is perhaps what is going to take us out into a better territory by about September or October 2021.
Not before that.
You have to continue with the safety measures.
I hope you're using a mask regularly?
Oh, yes, all the time.
And my God, I'm not very popular because I insist on others wearing it all the time too.
Very good.
Don't mind not being popular.
Because I would not talk to you if you were not wearing a mask!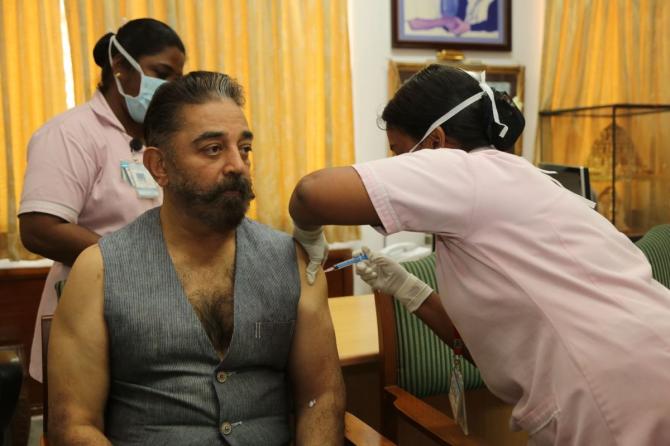 The whole world is gearing up to be vaccinated.
We already have the Moderna and Pfizer/BioNTech vaccines.
And so many hundreds of other vaccines are in the pipeline.
And there's Sputnik V.
Now the mutant variant of the COVID-19 virus has come along, like a fox in the chicken coop, bringing new fears and turmoil.
But one reads that these vaccines can take care of the mutant variant?
Or we don't know yet?
What generally happens is, once you have a mutant variation of a virus, within the first two years -- till it becomes a major mutation -- if it is a minor genetic shift, it will not make much of a difference.
The current vaccines can protect you from it.
But if it is a major shift, it has mutated completely, it has changed its character completely, then obviously you will have to add more to the vaccine.
One strain of the COVID-19 virus is not going to be replacing the other.
Both variants of SARS-CoV-2 will then be available (and can attack).
So, you will have to add something, against the additional mutation, into the vaccine that you deliver.
Like with the flu vaccine, till 2009, you only had protection for three strains of the flu in the vaccine.
In 2009, because of these swine flu outbreak, (protection against this flu) was also added to the influenza vaccine.
So now you have a quadrivalent influenza vaccine available, that is covering against four different variants of the flu.
Something similar will need to be done, if there is a major shift in the variety.
If it is a minor genetic shift, then the current vaccine will be able to cover it.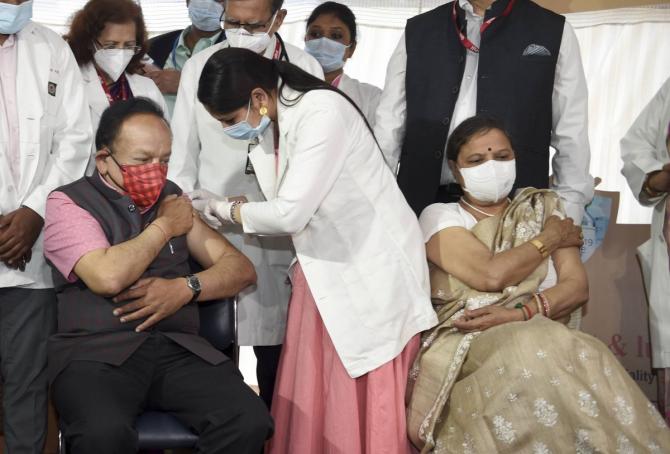 You said earlier that the Indian government is not deciding on what vaccine to use.
From whatever I have understood, they couldn't really decide earlier because they are awaiting the results of the indigenous ones.
And their hands are tied?
Or is it something else?
I wouldn't say their hands are tied over the decision on which vaccine is better.
Their hands are tied, because of two reasons.
One is the politicians, who are leading the country, want the best.
They want what is available in the US.
But what is available in the US cannot be provided to the general population, because of the problems that I mentioned (about India not having the means to circulate a -70 ° C vaccine).
Yes, so that is a confusion.
It's not about what vaccine to actually use in the country, but what vaccine is to be given to whom.
Now, the minute the country comes to know that the political dispensation is getting the American vaccine and the rest of the population is getting the cheaper vaccine, which is a kill vaccine, there is going to be rioting, there is going to be civil strife.
Nobody wants to get a poorer vaccine, compared to somebody else who's getting a better vaccine.
So that's where the confusion is
If the political dispensation has to stand with the people, then the country has to decide, this is we can afford.
So then all of us will go in for the ICMR-Bharat Biotech type of a killed vaccine, and everybody will get that.
It is easy to give.
In our country, we can only give that.
That should be the way the political dialogue should also go.
That: 'Yes we stand with the people, whatever the people get, we also take the same'.
If we have statesmanship like that, then everybody would be willing to take whatever vaccine is available.
Those who want to pay for it, they can go in for the mRNA vaccines* (Pfizer/BioNTech or Moderna).
Nobody prevents them from taking it.
They could go to the big corporate hospital, line up, pay and go into the room where the vaccines are stored, and get the vaccine with payment.
But for the whole population to be immunised with something like that: You won't have a health budget next year!
There were expectations that India would have an approved vaccine by the end of last year.
Perhaps the vaccine makers were hoping for the impossible.
How much longer will it take for the Serum Institute or the ICMR-Bharat Biotech vaccines to reach the general public?
It will happen?
Like I told you, it will not be before the summer of 2021 that our population would have access.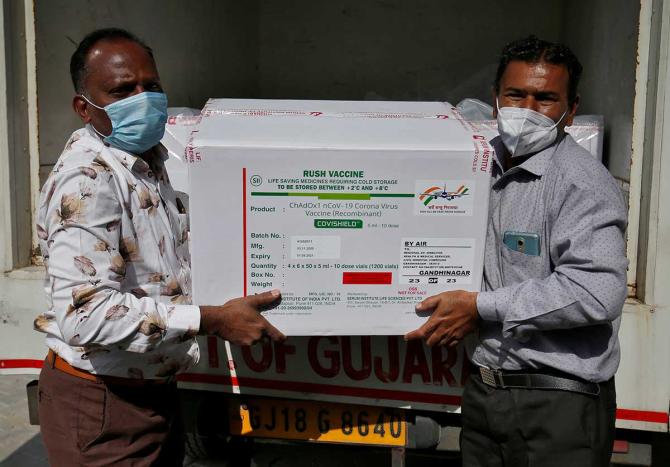 But it will see the light of day?
Yes, yes, it will see.
At the moment, there are at least 200 vaccines which are being tried, of which 30 have moved to an advanced stage, of which about six are being made in our own country itself.
The plans to produce include the use of Serum Institute vaccine.
The Serum Institute one is slightly different.
It is the Oxford-AstraZeneca one, which is not the mRNA variety nor the killed virus kind.
It is an intermediary sort of a protein mix.
But what we have seen, till now, is that there have been more side effects with the Oxford-AstraZeneca vaccine, reported from the UK where the vaccine has been tried out in Phase 3.
So even in the UK, what they are giving to people, over the age of 80, is the Pfizer vaccine.
They are not giving the Oxford-AstraZeneca vaccine one as yet, because it is still under trials.
There are three levels of vaccines.
The Serum Institute vaccine is of one level -- what they are making can also be carried at 0 to 4 degrees C; does not need a deep freezer.
It is more effective than the ICMR Bharat Biotech vaccine for sure.
(Going) with these two vaccines is best for the country and keep insisting on people that you must continue the measures which we are taking at present, in addition to the vaccine.
The vaccine is a supplement and not a replacement for preventive measures.
That is very, very important. Leaders should give that message very clear.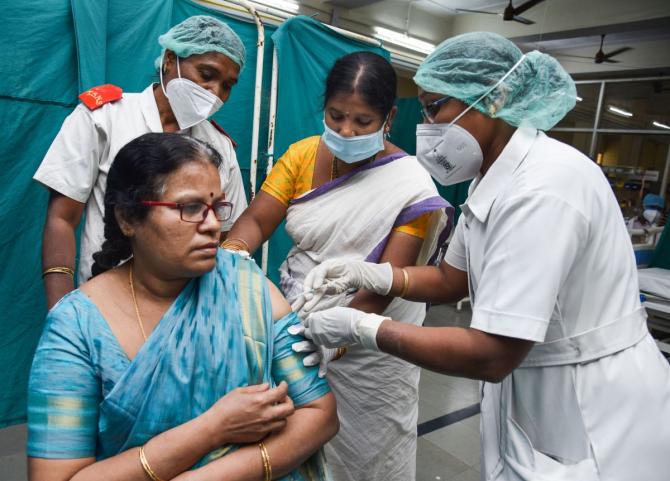 But the leadership announced on December 21 that that taking the vaccine was voluntary.
Why are they saying that?
Very clearly, it's about the amount of money that is required in a complete mandatory exercise, where 1.3 billion plus people have to accept the vaccine.
Take out children below the age of one or two years, then it will be around 1.15 billion people.
The cost for that, if it is mandatory, is going to be 25 times higher than something which is offered voluntarily.
So, the number of people who come up to take a vaccine is going to drop from 1.15 billion to 10 lakhs, 20 lakhs, 60 lakhs -- far lower than the costs for a mandatory vaccination, which means the government can offer the vaccine and still play it safe by not having to commit too much money.
Because once it is voluntary, not everybody will take the vaccine.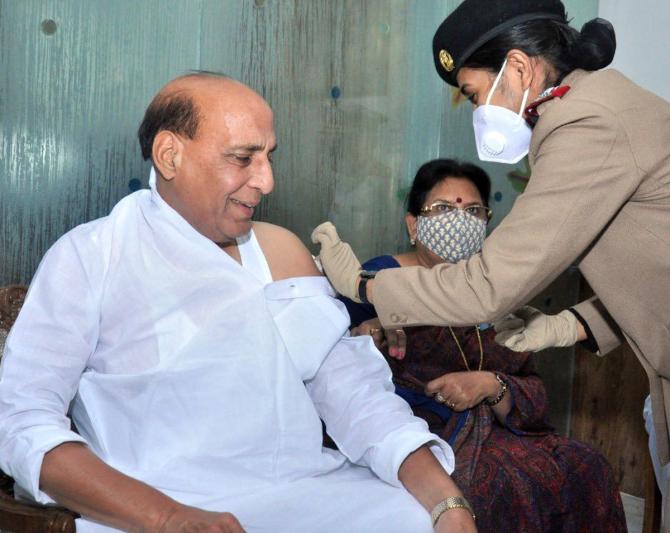 I have a global question to ask: Why is it that the UK and America are going so strongly ahead with the Moderna and the Pfizer/BioNTech vaccine, when actually the Pfizer one was developed by a Turkish couple in Germany.
Why is Germany going ahead more quickly with its vaccinating plans?
And why is China not vaccinating?
Is everybody sort of watching and waiting?
The two countries, you mentioned, both have certain characteristics to their health systems.
The UK has a national health system, the National Health Scheme.
It is universal, everybody has to have free health care.
Tomorrow, if they don't vaccinate in the UK, when they know that a vaccine is available, then the next election is a gone case for Boris (Johnson)!
The only thing which makes a difference in the UK elections is any talk of (messing) with the NHS -- that party is immediately down in the dumps.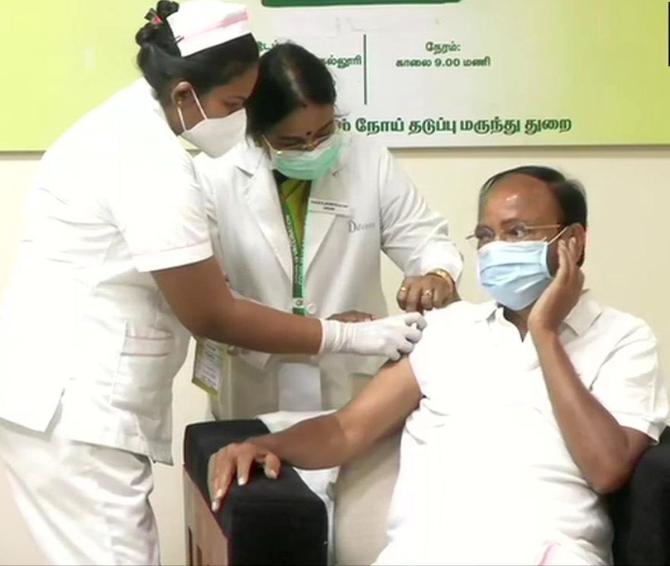 So, there is a political will to do it?
Yes.
In the US, it's completely mediclaim insurance system.
Everything is commercial.
The vaccine also fits into the commercial thing.
You charge.
You make money.
And the companies profit.
The entire philosophy is about commercialism in the US system.
And the entire thing is about the NHS in the UK.
Now Germany has a mix, and Germans will be very careful before they finally get into vaccinating people.
And if you look at China, it has its own three vaccines.
Already clinical trials, Phase 3 trials are going on for two of the Chinese vaccines.
Sputnik V vaccine trials are going on in Russia.
We don't get much information.
But they say that they have been vaccinating.
China and Russia would like to wait for something which is more affordable for their own countries.
Rather than bringing in vaccines like Moderna or Pfizer, which is going to be very steep, even for Russia or China.
They would be very careful.
I'm sure Germany's also going to look at the costing of the vaccine before they finally go ahead.
And the delivery system of -70 ° C is a big challenge.
Therefore, I don't think Moderna or Pfizer -- even if they're developed in Europe -- would find as much traction as an AstraZeneca, or Sputnik V, which may be much cheaper for them to use, as long as safety is proven.
And China will be self-sufficient and come up with something on its own for its own people?
They have two vaccines which are already into Phase 3.
In China, they have been vaccinating quite a large number of people in Phase 3.
So, we will go by their own vaccine.
They are not going to be interested in buying from Pfizer or Moderna excepting for -- between you and me -- the Chinese Communist party leadership.
That goes for all political leadership.
There's even a lot of lobbying happening in America.
One hears that different lobbies are asking that they get the vaccines first.
Some of that will happen in India, too?
Our discrepancies in social standing and our political weight are very different, compared to the US.
There would be more of a dilemma in our situation.
*According to CDC US: 'mRNA vaccines are a new type of vaccine to protect against infectious diseases.
To trigger an immune response, many vaccines put a weakened or inactivated germ into our bodies. Not mRNA vaccines.
Instead, they teach our cells how to make a protein -- or even just a piece of a protein -- that triggers an immune response inside our bodies.
That immune response, which produces antibodies, is what protects us from getting infected if the real virus enters our bodies'.
Feature Presentation: Ashish Narsale/ Rediff.com