At 8 million a month, times two doses, it will take us 17 years to administer the vaccine to our 800 million adults.
The rollout must speed up twenty times, asserts Naushad Forbes.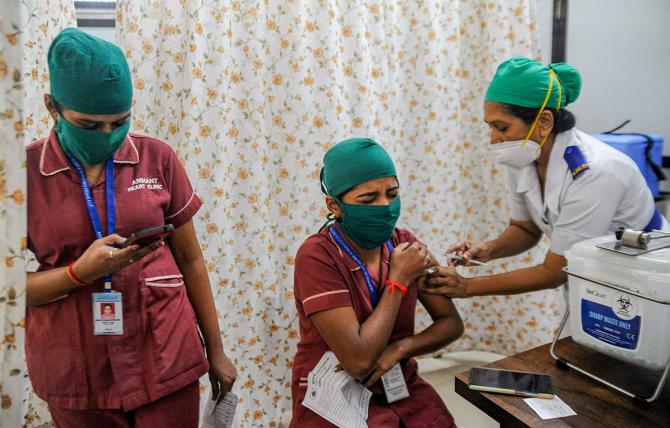 I have long wrestled with the role of the State in India. The state legislative assembly in Bengaluru, Vidhana Soudha, has an inscription running across its top: 'Government work is God's work'. Alternatively, Ronald Reagan said the nine scariest words in the English language were: 'I'm from the government and I'm here to help.'
In the US, I believe a more effective state is needed in providing infrastructure and substantially improved governance, even if it then ends up being larger.
In India, I used to believe that we did not need better government, we needed less government -- indeed, that less government was better government.
I've moved progressively to the view that the Indian State should do fewer things, but do them better.
Covid has said to all countries that the state has an important role to play.
Some leaders (the US, Brazil,) abdicated responsibility, while others (Taiwan, South Korea, Germany, New Zealand, Singapore) responded quickly and effectively.
Countries have paid the price in widely different mortality rates. India responded very promptly. But our initial implementation was erratic and uncoordinated.
Things settled down after the first three months of bumbling and bullying.
Consider, now, the roll-out of the vaccine. We have a unique challenge -- and a unique opportunity.
The challenge is to protect 1.35 billion people by quickly conducting the largest vaccination programme ever.
The prime minister has led from the front, visiting key manufacturers and launching the vaccination programme himself on January 16.
We also laid out the right plan, with Phase I aimed at 10 million health-care workers, then 20 million 'front-line' workers, and then 270 million people over 50 years or with co-morbidities.
All this is right on target. But the way the vaccine has been rolled out for health workers does not foster confidence.
The government tried to control everything. All hospitals had to submit lists of their health workers, and were given 100 doses each day, with a list, at 10 am, of who they could vaccinate that day.
They spent the rest of the day scrambling to get those particular people in to take the vaccine, and usually could not meet their quota.
There has now been some relaxation with hospitals getting a larger quantity to administer to their staff more flexibly.
But even today, hospitals complain of having the capacity to administer 500 and 1,000 vaccines a day, and being given only 200.
If we have the world's most challenging vaccination programme, we also have the world's biggest opportunity.
We have the world's leading vaccine manufacturers. The Serum Institute of India, the world's largest, has had 100 million vaccines in stock for the last month, with no place to store additional doses.
Serum Institute has promised to ramp up production to 100 million each month -- provided it can move vaccines out as fast as it can make them.
Bharat Biotech also has millions in stock. Meanwhile, Dr Reddy's Laboratories and Hetero Pharmaceuticals are in the final stages of testing the Sputnik V vaccine, which may be available next month.
Biological-E has licensed the Johnson and Johnson single-dose vaccine, where US approval is imminent.
Zydus Cadila and Gennova Biopharmaceuticals have their own vaccines under development, and both Serum Institute and Bharat Biotech have additional candidates, both licensed and home-grown, under development.
We can, I think, uniquely claim to be the only large country in the world that is not struggling with vaccine availability. As the new vaccines get approvals, the choice and availability will only grow.
So what is the problem? The government claims, correctly, that we have had the world's fastest launch, getting to one million vaccinations in a week, and eight million in a month.
But at eight million a month, times two doses, it will take us (wait for it!) 17 years to administer the vaccine to our 800 million adults.
The rollout will improve. But it must speed up twenty times. Our target must be to vaccinate 140 million people a month.
Is this possible? Yes, if the private sector and NGOs get into the act in a full-fledged way.
A good friend says their chain of hospitals could administer one million vaccines each day if freed to buy vaccines from our manufacturers and sell them to people who want them.
Encourage the private sector to pay and organise to vaccinate their own staff and their families.
Encourage companies to get together with NGOs to help vaccinate the rest of the city.
Let's get on with the job of vaccinating millions a day instead of trying to control what happens in detail.
In Pune, the president of the Mahratta Chamber has thrown out the challenge of vaccinating the entire adult population of 5 million in one month.
Minute organisation and detailed control is OK if you are Israel (population 9 million) or Singapore (population 6 million).
We have more health workers than Israel and Singapore have population, so we need a different approach.
We can learn from our experience with testing for Covid.
In the first month, the government restricted testing to only those who had symptoms, with all testing done by government laboratories.
Private agencies were keen to test, but prevented from doing so. Infections spread and costs were high.
Private laboratories ramped up capacity as soon as restrictions were removed, with the government goading them into offering very competitive rates.
In Pune, an RT-PCR test is now available for under Rs 1,000, which includes the cost of a skilled, polite individual who comes home, takes the sample, and gives you the result on your mobile within four hours.
Meanwhile, in the UK, you need to drive to a distant testing site, pay Rs 25,000 for the test, and get the result after three days. The US is little better.
We have by far the cheapest and most efficient testing set up anywhere.
For vaccination too, the approach must be decentralised, and not micro-managed.
Having set the rules, the State must step out of the way, and let a thousand flowers bloom. Trust in institutions is critical.
Trust hospitals, NGOs, industry, schools, colleges. Everybody has a role to play.
Working together, we can run the world's largest vaccination programme brilliantly. As with testing, no one else will be able to match us for cost or efficiency.
Naushad Forbes is co-chairman Forbes Marshall, past president CII, chairman of Centre for Technology Innovation and Economic Research and Ananta Aspen Centre
Feature Presentation: Rajesh Alva/Rediff.com