'We are not going to be threatened by China neither are we going to threaten China.'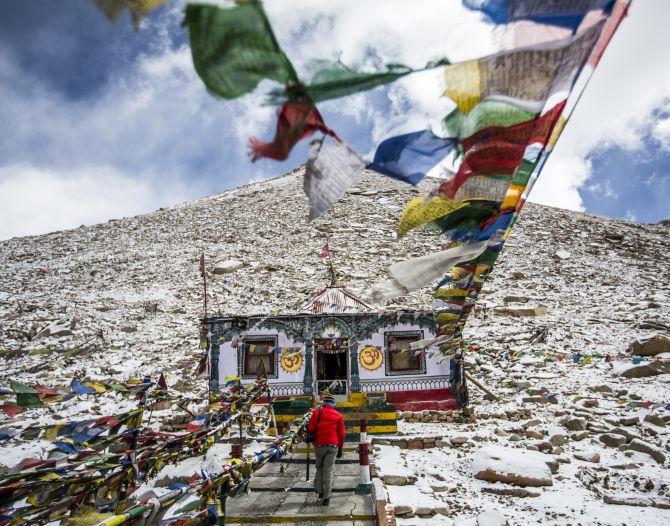 "The Union territory of Ladakh now has a 106 km border with Afghanistan in the Pamir mountains. Gilgit-Baltistan is also a part of Ladakh according to our new map. We should stick to it and push the Chinese out of Aksai Chin," says Ambassador Phunchok Stobdan, scholar and author of The Great Game in the Buddhist Himalayas: India and China's Quest for Strategic Dominance. The diplomat has served as India's ambassador to Kyrgyzstan.
In the concluding part of his interview with Rediff.com's Archana Masih, Professor Stobdan explains the reasons for the longstanding hostility between India and China and how it is different from the hostility with Pakistan.
You have said that China has been taking control of disputed land in Eastern Ladakh since the last 30 years. How did this come about?
The local nomads of Changthang (home to the Changpa nomads and Pashmina goats) say that their local economy has been affected by the Chinese intrusion and also restrictions imposed by our security forces due to security concerns.
The nomads say they cannot move freely. When nomads don't go out to graze their animals, you lose land.
Nomads do natural patrolling of the land. They go into the mountains with their goats, sheep and yak and return every evening. But that has been stopped and they have been reduced to working as labourers in smaller towns of Ladakh.
Meanwhile, the Chinese continue to allow the Tibetan nomads to move around and they continue to hold the ground.
In Ladakh, the nomads are called Changpas. They move from one place to another and live in a Rebo (big tent). The Rebo culture has been affected on our side, while the Chinese could be using it as an instrument of military policy.
The Chinese allow the nomads to go into the pasturelands. The PLA follows their routes and takes control of those lands.
As a result, India has lost a large nomadic area which also served as its border defence.
Do you think Ladakh's status as a Union territory has provoked China's present action?
China said Ladakh's Union territory was unacceptable because India was violating its territorial sovereignty.
China raised the issue of the abrogation of Article 370 at the UN Security Council on August 16, 2019.
India dismissed those claims and said it had no bearing on India's external boundaries with China.
The Chinese kept quiet for some time and now seem to be acting on the ground.
Till August 5, Ladakh was part of J&K and China maintained that Kashmir was a bilateral issue between India and Pakistan.
Now that Ladakh is no longer part of J&K after the removal of Article 370, China may be thinking that it also has a stake.
India unequivocally maintains that China has no business to interfere in Ladakh.
Our own maps show that the whole of Aksai Chin belongs to India, but the Chinese have control of 37,000 square kms and the 500 square kms gifted to them by Pakistan in 1953.
Aksai Chin is a part of Ladakh. India should tell China to get lost.
We have the November 1 , 1962 unanimous parliamentary resolution that India will take back every inch of its territory from China.
China is supporting the Pakistanis in a bigger way. Maybe they are also scared about their connectivity projects getting affected by India's recent moves.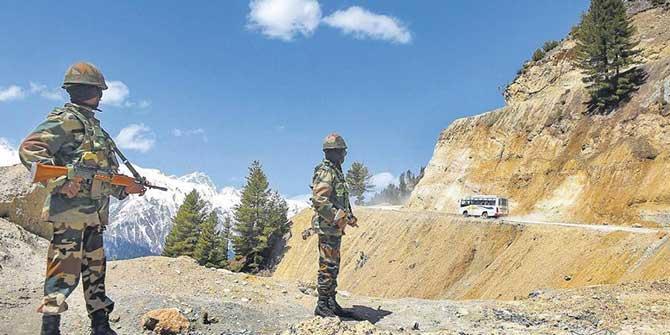 What is the geo-political dimension to the conflict?
According to the new map, the Union territory of Ladakh now has a 106 km border with Afghanistan in the Pamir Mountain.
Gilgit-Baltistan is also a part of Ladakh. Our map has changed. We should stick to it and push the Chinese out of Aksai Chin also.
There is also a 1994 parliamentary resolution about PoK. The foreign secretary said a few months back that we will think about taking physical possession of PoK.
There is also a geo-political dimension.
Our intent to enhance connectivity projects in Ladakh should also have a forward objective to push for trade beyond the Karakoram Pass into the Mazar Valley in Xinjiang province and revive the old Leh-Kashgar Silk Road.
Through Lepulekh, we should be asserting for reopening our traditional pilgrimage and border trade routes with Tibet.
It is ironic that this transgression is happening on the 70th anniversary of the establishment of diplomatic relations between India-China.
Why are there peaks and troughs in this relationship in spite of India investing immense diplomatic efforts with China?
The conflict between India and China is not a conflict of civilisations or ideology; it is a conflict of interests.
We are not going to be threatened by China neither are we going to threaten China, but there is a longstanding hostility between the two countries.
This hostility is different from what we have with Pakistan. There is a logical reason about the hostility between India and Pakistan.
The country was carved out of India after a bloody Partition. There is an ideological war between us, and they use terrorism as a State policy.
Our problems with China are a bit different, especially in terms of our unacceptability of China trying to dominate our region.
Production: Aslam Hunani/Rediff.com