'For the moment in Eastern Ladakh, it is unlikely there will be any more escalation of this conflict,' observes Colonel S Dinny (retd) who served as Commanding Officer of an infantry battalion deployed in the Pangong Tso area.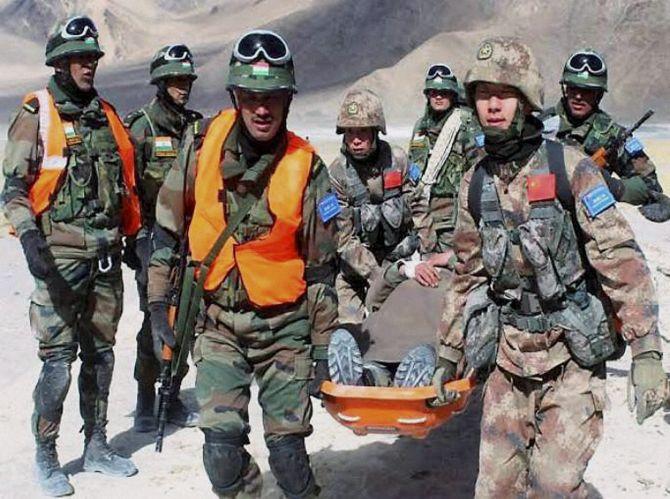 The present border crisis between India and China in Ladakh has once again brought into limelight a peculiar situation generally not seen in modern-day military conflicts between two powerful, nuclear-armed armies.
In this era of real time, there is a complete void of information about the actual situation emanating from both sides of the Line of Actual Control. This information void can be seen in the political, diplomatic and military domain of both countries.
Apart from a statement each from the foreign ministries of both countries and a comment by General Manoj Mukund Naravane, the chief of army staff, there has been virtually no official information on this dispute so far.
Surprisingly, the Chinese media has also chosen to remain silent on this issue except for two articles in Global Times.
However, despite this clear information void, there is a narrative being built in India by some news agencies and 'China experts' that the Chinese are flexing their muscle with a grand strategy in mind.
Some of the perceived reasons attributed to this 'hypothesis' are that China, as in on all its other disputed issues, is asserting itself strongly; China is deflecting worldwide criticism for its role in COVID-19; it wants to reprimand India for closer India-US relations; and finally, this could be a ploy by General Secretary Xi Jinping to strengthen his now perceived vulnerable position within the Chinese Communist Party.
There is also an assumption that the conflict is probably due to Chinese actions to stall the Indian infrastructure development in Eastern Ladakh.
But the issue is that if indeed Chinese had a grand strategy, there are many questions which remain unanswered.
Is this the best timing for such action?
Would China flex its muscles by merely pitching tents on the disputed area?
Would it merely resort to hand to hand scuffles to send across a strategic message?
Do these actions actually have the desired strategic effect on India?
Even after such a 'grave situation', why are the Chinese and Indian governments silent?
The answer for the last question alone is that probably, both governments at the highest level know that there is no strategic intent in these developments.
It is rather a tactical level conflict due to a change of status quo and non-adherence to established procedures by one or both parties, in the disputed areas along the Line of Actual Control.
The fact that all the present conflicts in Eastern Ladakh are happening only to the north of Pangong Tso also indicate that it is a localised one.
Immediately after the 73-day stand-off between the Indian Army and the People's Liberation Army, the highest leadership of both countries met in Wuhan on April 27, 2018, and discussed ways and means to avoid such conflicts along the Line of Actual Control in future.
One of the key issues highlighted was that both the militaries will be given 'trategic guidance', so as to ensure peace and tranquillity along the borders.
The fact that this 'strategic guidance for military' was mentioned by both leaders was a clear indication that the 'intent for lasting peace at the highest level despite the unresolved border issue' was occasionally 'not being understood by tactical level military commanders on both sides'.
Unfortunately, all indicators till now seem to suggest that this could be the trigger for the present conflict in Eastern Ladakh.
The first conflict in Eastern Ladakh started in the North Bank of Pangong Tso, on the night of May 5, 2020.
If indeed it is true, that itself is an indication that established procedures have been violated by both parties, as no night patrols are allowed in these areas according to laid-down protocols.
Also, physical contact between troops leading to scuffles is also a reflection on the military leadership at the tactical level.
During any faceoff, there is a minimum distance to be maintained between the two parties and conversations are only to be carried out by the senior-most officer in the patrol along with an interpreter.
All actions are videographed by both sides.
In case of perceived violations, there is a mechanism in place to lodge protests and hold flag meetings.
Even though there are occasional flare-ups, it is a testimony to the outstanding military leadership from both sides that there has been relative peace across the Line of Actual Control for the past so many years.
For the moment in Eastern Ladakh, it is now unlikely that there will be any more escalation of this conflict, as both parties have taken up semi-permanent positions on the ground.
The usual 'escalation for de-escalation' has already been achieved in this sector.
In all probability, the present conflict will be resolved through established mechanisms, away from the limelight and the media glare, by division-level commanders itself from both sides.
However, conflicts will continue in the future, unless there is an agreement on a 'no patrolling zone' in these disputed areas. Patrolling can be done in these areas by UAV or other aerial assets only by both the armies.
But most importantly, and despite all peace agreements and protocols between the two countries, for lasting peace along the disputed areas along the Line of Actual Control, some of the Indian officers should realise that they are not serving at the Line of Control against Pakistan, and some of the Chinese officers should remember that this is not 1962!
---
Colonel S Dinny (retd) took voluntary retirement from the Indian Army on October 1, 2019 after serving as an infantry officer for about 22 years in which time he was the Commanding Officer of an infantry battalion deployed in the area of Pangong Tso, apart from multiple tenures in the Kashmir Valley, the north east and along the Line of Actual Control.
He has also served as a military observer with the United Nations in Congo.