'This is not the country certainly that my parents came to -- right? -- that they have made their home.'
'Many of the people who were detained for hours on end were people like my family, right?'
'You would never treat your own mother, never treat your own aunt, the way people were being treated.'
Nisha Agarwal, commissioner of the New York mayor's Office of Immigrant Affairs and the daughter of Indian immigrants, discusses Donald Trump's executive order on immigration with Rediff.com's Vaihayasi Pande Daniel.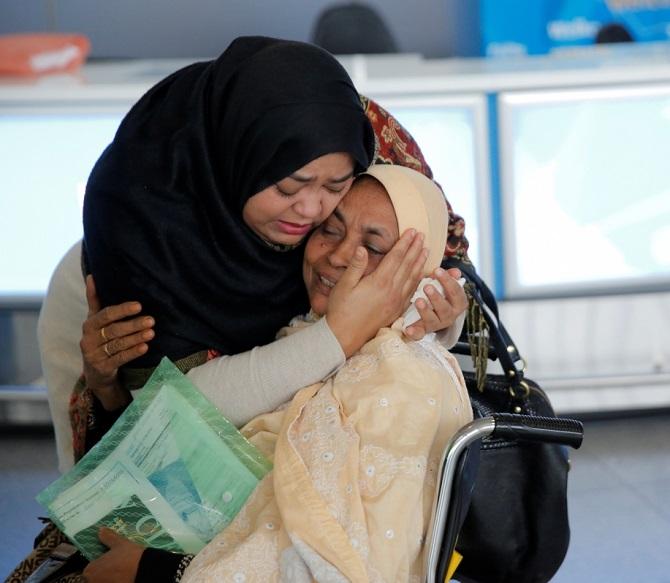 IMAGE: Scenes like this greeted volunteers and officials =t the John F Kennedy International Airport in New York City, January 28, 2017, the day after Donald Trump issued his executive order on immigration. Photograph: Andrew Kelly/Reuters
In New York City, one of the people standing between President Donald Trump's January 27 executive order on immigration and the travellers and immigrants from seven Middle Eastern and African countries is a feisty Indian-American attorney.
Nisha Agarwal, commissioner of the New York nayor's Office of Immigrant Affairs.
Once a public interest lawyer and advocator for immigrant reform, she now works with Mayor Bill de Blasio.
The weekend starting January 27, after the American president signed the 'Muslim ban' was immensely hectic for Agarwal, along with so many New York lawyers, interpreters, social workers, judges, activists, even pizza delivery men.
The morning after Trump issued his diktat, she rushed to the John F Kennedy airport, the busiest passenger entry point into the United States, to see what she and her office could do to help the unfortunate folks who had arrived in New York, but had been held by America's Customs and Border Patrol, CBP.
Being the mayor's representative, she quickly became a liaison between the volunteering lawyers, the despondent and anxious families missing an arriving relative, and JFK's immigration and customs enforcement agents.
At that point, any scrap of information on the location of an elderly parent, a young nephew/niece or spouse brought enormous relief.
She also coordinated to have New York's members of Congress visit the airport to offer assistance.
As the number of protestors steadily multiplied, along with eager volunteers, it was a heady moment to have witnessed, in spite of the bleak and tense circumstances.
Moments that will probably go down in the country's history.
For Agarwal, who lives in Brooklyn and is the daughter of first generation immigrant parents (Father: A nuclear scientist; mother: A human resources executive, from Fayetteville, upstate New York), Trump's executive order was a wrenching blow to everything this commissioner stands for.
The granddaughter of an Indian freedom fighter, who followed Gandhi and for whom a road is named in New Delhi, Agarwal, after graduating summa cum laude from Harvard, doing her JD -- also from Harvard -- and studying as a Marshall Scholar at Oxford, devoted her career to working for social justice.
Apart from her noteworthy successes at de Blasio's MOIA, she also helped Judge Robert A Katzmann set up the Immigrant Justice Corps, that offers pro bono legal representation to immigrants.
Her Twitter feed, since January 27, is an indication of the battle presently in progress.
In this lucky hiatus from the effect of the president's official announcement, it's important that all immigrants from these seven countries return lickety split to JFK.
She sends out tweets to Singapore Airlines, Alitalia, Lufthansa and other reluctant airlines, asking them to accept and fly passengers with valid documentation from the banned seven nations to America.
She keeps retweeting the New York message of inclusion, #AlwaysNewYork via articles and more.
The road ahead is undefined for Nisha Agarwal and Mayor de Blasio & Co, struggling to contain the damage of orders emanating from the White House, in New York, a quintessentially immigrant city.
She recalls to Rediff.com, with both anguish and elation, the events of the last fortnight.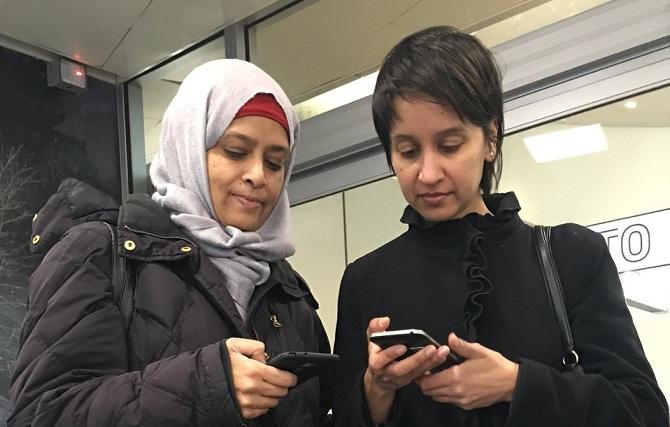 Before I ask what happened that Friday, January 27, let me ask about the latest situation. What has been the reaction locally to Judge James Robart's ruling?
What is your view as the commissioner?
We are pleased with Judge Robart's ruling in terms of both stopping the Muslim ban executive order and also for (bringing) some order, frankly to our airports, where there was really quite a chaotic situation, with family members and passengers kind of not knowing what was happening with them.
Now there is the regular flow of traffic, the way we have always had, without the major interruptions and confusion (that came after) the executive order.
On the ground -- as well as on the legal merits -- we are very happy with Judge Robart's ruling, recognising, of course, it is temporary and will still have to be further litigated.
Robart's ruling has chances of being overturned. There might be a continuous flip flop on how matters go further. How has that emotionally affected New York's immigrant families, especially recent ones? How much fear is there really?
We have seen an incredible response in New York.
On the one hand, I think, it is really quite devastating.
The stories of folks whose parents were travelling to visit them, because their daughter was having a baby, they were stopped at the airport and detained for 24 to 36 hours.
We heard some terrible stories that had a huge impact on folks living in New York and the New York area.
That really comes from the executive order itself and the restrictions it placed for people from certain countries.
On top of that, New Yorkers responded the way we tend to respond, which is we had lots of people come out to protest against the (order) and support the people coming in, or trying to come in, as well lawyers who were volunteering.
Many, many lawyers set up shop at JFK airport to help passengers and families, as they were trying to enter the country.
Around the city we have seen just so many people step up and want to be helpful.
I certainly think there is a tremendous lot of fear.
It's caused a lot of problems for New York's immigrant and refugee community. But at the same time, New Yorkers, as a whole, are coming together to speak out against this.
One really powerful action, that happened last week, was that we had... bodega (small grocery store) owners, people who own small delis here in New York... on a day-long strike.
It was just a beautiful event, in front of Brooklyn borough hall -- very peaceful kind of commentary on the impact that this executive order is having on New York and on the country.
What was your role on that fateful Friday? I believe it was stellar. That was evident on Twitter too.
What was the emotional take away of that day?
It has been a crazy 7 to 10 days for you. As you just said, things were so negative.
At the same time it was positive, too. Was the positive part very emotional too?
It was emotional and exhausting for everyone involved.
We went to JFK last Saturday (the day after the executive order was issued) from the morning onwards... I was there along with other members of the mayor's team.
There were about three dozen protestors initially. Inside the airport there were a handful of lawyers, who were there to help.
Our role was really one. To support the lawyers, who were so busy figuring out: Who was detained and who can we help. Helping to work with them, to coordinate.
Most importantly, we are the mayor's office and we were able to actively work with members of Congress to get them to come in person to the airport...
The Senator from New York Chuck Schumer?
Yes, Chuck Schumer. Yvette Clark, Jerrold Nadler, most of our Congressional delegation came at one point or another to JFK...
The role that we played was essentially to say: 'We are here from the mayor's office, with representatives from Congress. We would like to talk to folks at JFK airport, senior officials from border patrol, from the airport to (ask): What's happening? This family is saying their mother, their father, whomever, may be detained. What's happening with them? Are you putting them on a plane back to their home country? What are you doing?'
Just that very basic information people weren't even getting.
We were able to help get that information and share it back out with their family, share it back out with their lawyers and really be able to be a bridge, during the very confusing and very hectic initial day of the executive order being in place.
I am sure it is one of the most important historic moments for you in your life, as a child of immigrants. Nothing like this has happened in decades in America.
What was the emotional takeaway for you?
Look, I will be honest. I'll say (that) Friday evening when (the) executive order was signed I was in tears (a lot of emotion in her voice).
This is not the country certainly that my parents came to -- right? -- that they have made their home.
It's an embarrassment, honestly, and then watching how it played out. I have never seen anything like this.
I have been in the immigrant rights world for my whole career. I think there was a lot of emotion associated with that.
Many of the people who were detained for hours on end, were people like my family, right?
You would never treat your own mother, never treat your own aunt, the way people were being treated, under the argument that these are folks who are a danger to society.
I was very disappointed... This was certainly not the country that I believe in and take pride in being part of.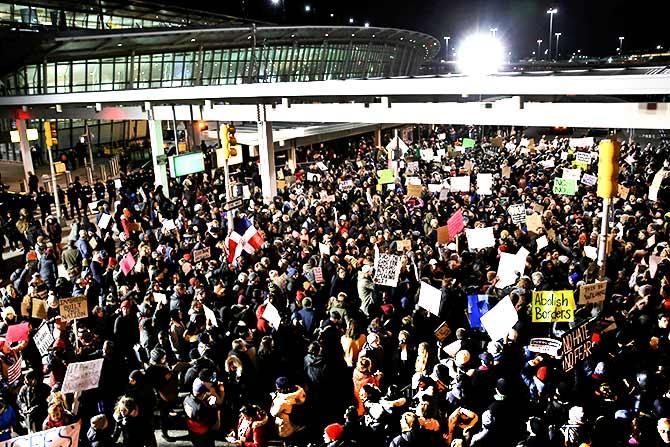 IMAGE: JFK airport became a key venue of protest against Donald Trump's travel ban. Photograph: Andrew Kelly/Reuters
As disappointing as this was, hasn't the positivity that has risen from so many people coming forward been a wonderful thing too?
It's amazing.
It's been absolutely amazing to see how folks across the borders are coming together and speaking out about this.
This isn't just an immigration issue. This isn't a New York City rights issue.
Even nationally we have seen huge marches, huge protests, people really participating in our democracy in a really deep way.
That's very, very inspiring.
At JFK that protest group, from three dozen people (became) 3,000 people. There were folks ordering pizza (laughs).
There was a really kind of positive attitude even while people were very angry about what was happening.
It was one of the best, certainly, actions like that, that I have had the opportunity to participate in.
And really, in some ways, unifying about what it is that we believe in as a city.
As you talk about it right now to me, is it still very emotional and raw for you?
Yes.
I think we have a lot of work to do.
At the same time I feel really reassured by the fact that there are so many people who are feeling the same way and want to make sure we work together to make bad situations like this (better) to resolve them.
We also continue building the kind of city and country that we want to have.
So, your heart has to be in it as much as your mind.
Now because of the relaxation on the ban, after the ruling passed by Judge Robart, you must be having to deal with a different set of problems.
People must be trying to rush into America as fast as they can. Faster than they had planned...
We will see what happens.
We are monitoring it very closely -- what happens on the ground, at JFK, but in general how that legal back and forth will impact people.
It is hard to say now. My understanding is that at the moment we don't have anybody who is detained at JFK and things are moving along there.
That said, the volunteer lawyers continue to be organised. They have contact information for people who may have concerns, who think their family members are detained.
And we are just going to keep monitoring it in real time to make sure we can respond again, if we need to.
At all American airports, including JFK, which is a leading airport, there must be much higher traffic, right?
We'll see what ends up happening. I don't think we have seen that yet.
Really we have to just wait and see if the numbers go up, because people are trying to travel before the ban goes back into place, if it goes back into place.
It may only be a seven country ban at the moment. But Indians are equally anxious. Anyone travelling to America is worried.
How does it affect Indians coming into America on a visit?
How does it affect the local Indian community in New York, especially in terms of changes in immigration policy?
Here it is a matter of looking much more broadly, than just at this particular executive order.
There is a lot that is happening or could happen with regard to immigration policy, that is I think of significant concern for both immigrant communities here, as well as their family members abroad, who may want to travel.
That's what we need to monitor very carefully.
There has been some discussion that maybe there might be some executive order on employment visas.
So, there will be other ways to restrict who is able to come to the United States.
Those are the kinds of policy changes we have to keep a very close eye on.
There will be an impact on H-1B visas.
There will be an impact on other kinds of immigration benefits, that certainly people from India are part of, and really use. Like student visas.
Plenty of the people were impacted by this Muslim ban are students -- they were researchers, they were people who were studying in our universities and were stopped right there.
It is hard to predict what will happen in the future. But we have to be really vigilant.
IMAGE: A coalition of volunteer attorneys at Terminal 4 at JFK airport, January 30, 2017. Photograph: Shannon Stapleton/Reuters
And average Indians who are just visiting and coming through JFK -- do they need to be worried?
I am sure Indian Muslims will definitely be worried. Or do you think that's just over-anxiety.
I don't think they need to be too worried about it.
I do think they need to just be prepared and be thoughtful.
Unfortunately, (one has) heard some stories of from people, whose countries were not on the list, being impacted. Those are not the vast majority of people.
Just follow what's happening in the news. But right now, I don't think there is need to be overly concerned.
We haven't heard of any problems like that on the ground, certainly (not at) JFK.
Any tips you can offer people entering America through New York? If they are stopped what should they do?
The advice the lawyers have been giving is if you get stopped or detained, and you (have a visa) or are a green card holder and you get asked to sign some forms, don't do anything, without talking to a lawyer.
Be very smart and thoughtful about what you are saying.
If you are detained you have no access to the outside world. Now, I am not saying this is going to happen to folks.
Be smart about asking to be able to speak to other people.
Ask if you can talk to a lawyer.
Don't sign away paperwork if you don't know what it is or you don't understand what the implications are. That's the most important thing.
There might be other kinds of fallouts since the signing of this executive order. Won't it bring in its wake racist incidents, hate crimes?
There have already been a few incidents in different places in the country.
How is your office preparing for this prospect? How can people safeguard themselves?
We have seen an uptick, unfortunately, of hate crimes across the board, for a variety of communities, in the last several months.
We have a New York City Commission on Human Rights. They have a tip line you can call, if you are experiencing discrimination, if you want to file a complaint, or want to take action on that.
We really encourage people to do that, if that's what they are experiencing. Or they know someone who is experiencing that.
Of course, if you are a victim of a hate crime or you are witnessing a hate crime happening in action, NYPD has a hate crime unit you can call.
Call 911 and inform (them) that you are seeing that this is happening right now.
We are really, really encouraging New Yorkers to step forward and share that information.
How is that message is getting across? Via social media?

The mayor has repeated it many times when he has spoken. We have put that information out through social media.
We have created a one-page document that basically summarises all of the rights and services that immigrant New Yorkers have access to.
None of that's changed (with) any of these federal policy changes. In that we also list phone numbers you can call around bias and discrimination issues.
Since this situation started on January 27, can you sum up the two or three main strategies your office is doing to proactively fight this?
I understand it is an evolving situation and very hard to plan for. But what is your day-to-day action plan or is it changing every day?
Basically, we have a plan in place. Some things will have to evolve based on what happens.
One of our first strategies is to reassure immigrant New Yorkers. Many of them who feel fearful may not realise that what is happening at a federal level does not necessarily directly... impact what the city is planning to do.
Just sending this message, through a hashtag or a slogan, which we use, which is Always New York.
We will always be committed to immigrant communities.
We don't ask for your immigration status when you use public services, education, health care.
All these things are still available to you regardless of immigration (status).
That message cannot be said more. We just have to keep repeating that.
Making sure that we are making the city feels safe and inclusive.
Immediately, there is the importance of legal services. We saw that at JFK. But that's across the board.
In the last few years, under Mayor De Blasio's leadership, the city has made a huge investment in legal services for immigrants, whether you want to become a citizen or you may have a more complex case and you are looking to get some kind of benefit or you are undocumented... it is really very important.
Those are two of the key areas that we are going to be continued to be focused on.
Then finally, just being a source of good information about what's actually happening.
What did the executive order actually say? How much of it is in effect now? How much of it is: We will have to wait and see what happens.
Showing that the city is willing to take action, if bad things come out of these various policies or other subtle actions.
Those are the three prongs of our strategy. Then it will start to shift, based on what actually happens.
IMAGE: Nisha Agarwal, right, applauds Mayor Bill de Blasio's remarks at a Manhattan rally to end the refugee and Muslim ban, January 29, 2017. Photograph: Ed Reed/Mayoral Photography Office
Trump is talking about vetting. Maybe he is going about it entirely in the wrong way, but vetting is important because 9/11 did happen.
India's 26/11 was also the result of poor vetting.
What is your take on it? How can vetting improve and what has not been done as far as vetting goes?
The reality is that some of the groups that we are talking about extreme vetting for, like refugees, are extremely vetted (laughs).
The US government has a tremendously high degree of vetting.
It often takes some refugees a year, two years, just to be allowed entry in, because they are going through FBI checks, they are going through a number of hoops to be able to be vetted.
The number of people, who have slipped through, is not even worth having a conversation about, because the system has been so vigorous in terms of who is allowed through.
Some of it is looking critically at that rhetoric about extreme vetting.
Certainly, the people who were coming through JFK -- a 70-year-old mother of somebody who is an active duty military officer, a four-month-old girl who needed a heart transplant... They have been vetted first of all.
When they actually show up at JFK airport further vetting doesn't really add to anything.
All it did was cause them to be detained. Or be kept from their families, in not very good conditions for a long period of time.
I think that's reality. That our system (vetting) has been pretty strong.
In New York, we deeply care about public safety issues and making sure the residents of our city are safe. We also don't think safety comes at the expense of being inclusive and being able to be a city that serves our many diverse communities.
We think those two things go hand in hand.
You sort of see that in the numbers, right?
In the last few years, we have had historic lows in crime. We have been really fortunate, because we have a great police department thinking both about: How do police officials interact with communities in a way that is acceptable and at the same time keep everybody safe.
I heard a Trump voter say on television that America is a land of immigrants, so we have to protect the original immigrants as well. That's even more so for New York. Would you agree with that?
Certainly, we want to protect all New Yorkers. Right?
Whether their families arrived a 100 years ago or arrived a 100 days ago. The idea is that safety and inclusion work hand in hand.
Immigrant New Yorkers, no matter when they came, have to feel comfortable talking to the police, reporting crime, sharing if they are a victim of a crime, so the police can do their job. The officers are also committed to keeping everyone safe.
The point of our local policy is to make that happen...
Is there any one incident since January 27 that is stuck in your mind and shows how these individual stories are playing out?
How is it going to affect the fabric of New York? Any one thing that shows that something has changed?
I feel the response that New York has had -- really coming to support folks during this time -- is very much a part of New York's character. It was really wonderful to see that happening.
My view: That hasn't changed. It was just put into relief during the last weekend at JFK.
The stories of people who were detained or who were stopped at JFK are really powerful.
The mother of an active duty military officer, a Muslim American, who is serving his own country and this is how his family members are treated (Iraqi-origin American soldier, Ali, who was stationed in South Carolina, had to fly to New York to rescue his detained mother. She was held for 36 hours and handcuffed for a time. His mother and father have US visas to come and visit Ali, but there was a delay after his father died)?!
Amazingly, her response, when she was finally released from detention, was to share sweets! (Laughs heartily.)
My mother would have done the same thing!. (Still laughing).
That's also what's powerful, seeing the kind of stories that we are talking about. Those people's family members. They are stories we can relate to.
This is not how we treat American families.
I do think that's changed fundamentally at a national level, but people are pushing back against it.
When this first happened on January 27 I read about all kinds of situations. There were tweets about how this order had caused people's lives to suddenly get suspended.
There were folks who had parked their cars in airport parking. Or had jury duty coming up. Or an apartment on lease. Or were green card holders who owned property. Suddenly, they were not being allowed to go home!
In the future, if and when this federal order gets revived, what can the New York City government do for these people whose lives might get suspended in this way? They didn't know even who to call...
One of the things that has happened since in JFK -- and in many of the airports around the country -- is that now there are groups of people.
There is contact information, so if you are in a kind of situation, you can reach out to them. Or if there is a family member, maybe already in the country, who can reach out to them and find (out what to do).
What we want to be able to do is not just have a spontaneous response system, but really figure out what's our best way to respond to any of these emergency situations in the future.
So, people know where to go and how to get information. That's the important work that is ahead of us.
It must be great to work for someone like Mayor De Blasio. He is right there, saying what needs to be said…
I feel very lucky to have this job (laughs)!
It is wonderful to be under his leadership. No questions asked, this is what we are about as New Yorkers, and (these) are the values that we hold. Act on those values.
Certainly, the mayor's office of immigrant affairs follows his lead and that mission for his administration, he has really set.