An Indian-origin teacher has been suspended after a video of a controversial classroom stunt that shows her firing a water gun at an image of President Donald Trump and yelling "die" went viral online.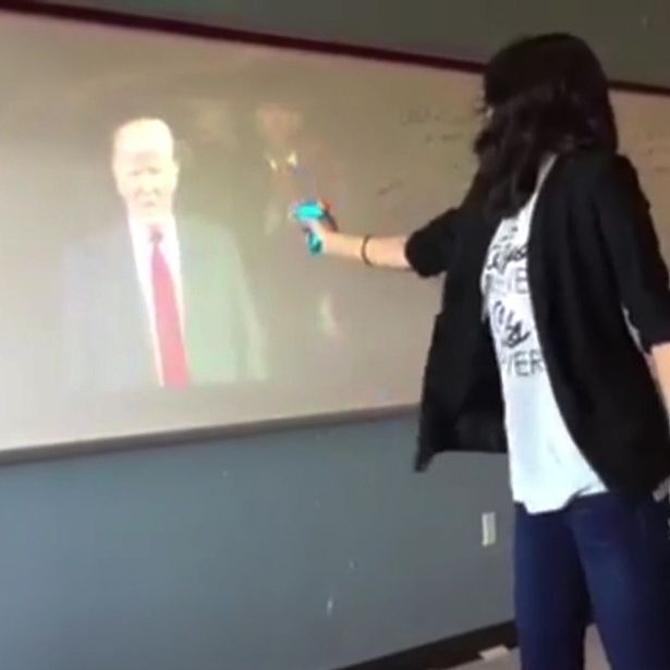 Payal Modi, an art teacher at Adamson High School in Dallas, Texas, was caught on camera shooting a squirt gun as a video of President Trump at his Inauguration ceremony projected onto a whiteboard.
An eight-second video was posted to a personal Instagram account on January 20, the date of Trump's inauguration, showing Modi holding a water gun, pointing it at an image of Trump projected onto a whiteboard, and yelling "Die!" as she shoots the gun.
Tens of thousands of people have seen the video since it was posted online Wednesday, prompting an investigation from officials at the Dallas Independent School District.
Dallas Independent School District (DISD) Spokeswoman Robyn Harris was quoted by the Dallas Morning News as saying that Modi was placed on leave. However, she said DISD would not comment as it investigates the incident.
"Today, we were made aware of a social media posting being circulated involving a teacher at W H Adamson High School. The teacher has been placed on administrative leave and the district has opened an investigation. This is a personnel matter and, as such, we cannot comment," the statement said.
However, that has not stopped parents from voicing their concerns.
"Five of my grandchildren go to Dallas ISD schools... do you have a venue where concerned voices can be heard?" one Facebook user asked.
Some students admit Modi's actions were inappropriate, but ultimately, the majority believe the teacher was just making a joke, CBS News reported.
"Although her actions didn't display that she was a good role model, she's always there and supports my classmates, my peers," Briana Castillo, a senior at the school, was quoted as saying.
Adamson High School junior Leslie Jaimes said she was in Modi's second-period class when the teacher pulled out a squirt gun she had taken earlier from a student.
"Trump came out and she shot at him, but like, it was just a water gun," Jaimes said. "It's no big deal".
Churches, synagogue offer own houses to burnt mosque members
Meanwhile, in a demonstration of solidarity, four churches and a synagogue have offered the use of their own houses of worship for the displaced members of a mosque that was gutted by fire in Victoria in the US state of Texas.
The Islamic Center of Victoria was destroyed in early morning fire on Saturday when nobody was in the building in Victoria city, about 185-km southwest of Houston.
The mosque, built in 2000, was the victim of a burglary on January 21 and in July 2013, a man admitted painting H8 - short hand for hate - on one of the mosque's outside walls.
The Islamic center's president, Shahid Hashmi, refused to speculate about whether it was arson, but said the building was burglarised a week ago.
The incident occurred within hours of President Donald Trump announcing a ban on citizens from seven Muslim majority countries entering the United States.
Although Hashmi, a surgeon, said the mosque was uninsured, he took comfort in a deluge of funds donated from across the internet to a gofundme.com page created to help the group rebuild, Victoria Advocate newspaper reported.
So far, more than $360,855 had been given, it said.
"Closer to home, at least four Victoria churches and a synagogue offered the use of their own houses of worship for the displaced members of the mosque," it said.
One woman donated a handmade prayer rug. "A guy who has a truck said, 'I will come and haul dirt for you,'" said Abe Ajrami, a mosque member.
"When our peaceful norm is interrupted like this, I think it unites the community," said Gary Branfman, a member of Temple B'nai Israel.
Mayor Paul Polasek said he was hardly surprised by the Victoria community's ability to rally around their own.
"I grew up here, and I know how people are," he said. "We take care of each other, and we are self-reliant. I'm very pleased by it, but not necessarily surprised."
Leigh Ann Grant, whose grandfather founded Christ's Kitchen, said when her father Allan Crouch was hired to build the now-destroyed mosque, she began to appreciate the value of respect.
"Dr Hashmi was very kind and respectful to us," she said in a written statement. "It was a beautiful building, too. It's a shame it burned down."