Hundreds of thousands of people gathered at airports across the US to protest the ban announced by President Donald Trump on immigrants from seven Muslim-majority countries, extending solidarity to those affected as chaos and fear gripped individuals trying to enter the country.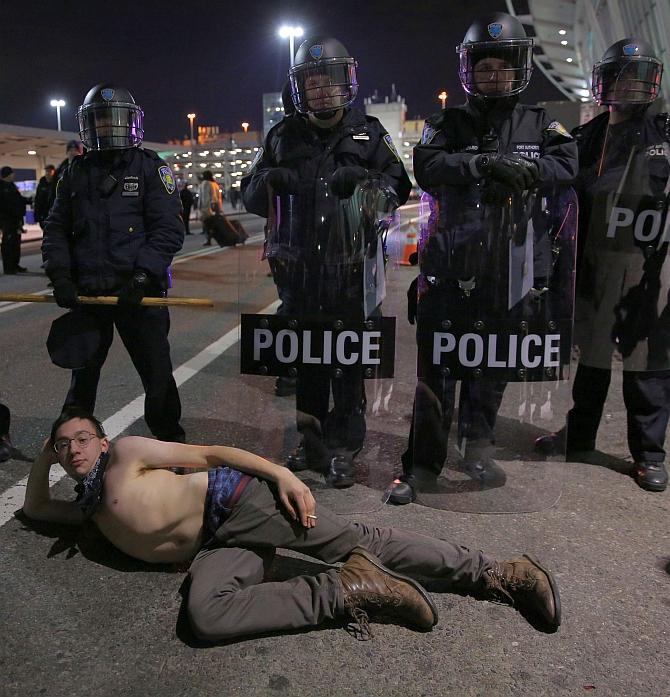 Image: Protesters gather outside Terminal 4 at JFK airport in opposition to US president Donald Trump's proposed ban on immigration in Queens, New York City, US. Photograph: Stephen Yang/Reuters
As news of immigrants, even those holding green cards, being held and banned from flying into the US and entering the country spread, people started gathering at nation's airports, holding banners opposing Trump's action.
For hours, the crowds stood outside the arrival terminal of city's busiest John F Kennedy international airport, raising slogans blasting Trump's order suspending entry of all refugees to the US for 120 days, barring Syrian refugees indefinitely and blocking entry into the country for 90 days for citizens of seven Muslim-majority countries: Iran, Iraq, Libya, Somalia, Sudan, Syria and Yemen.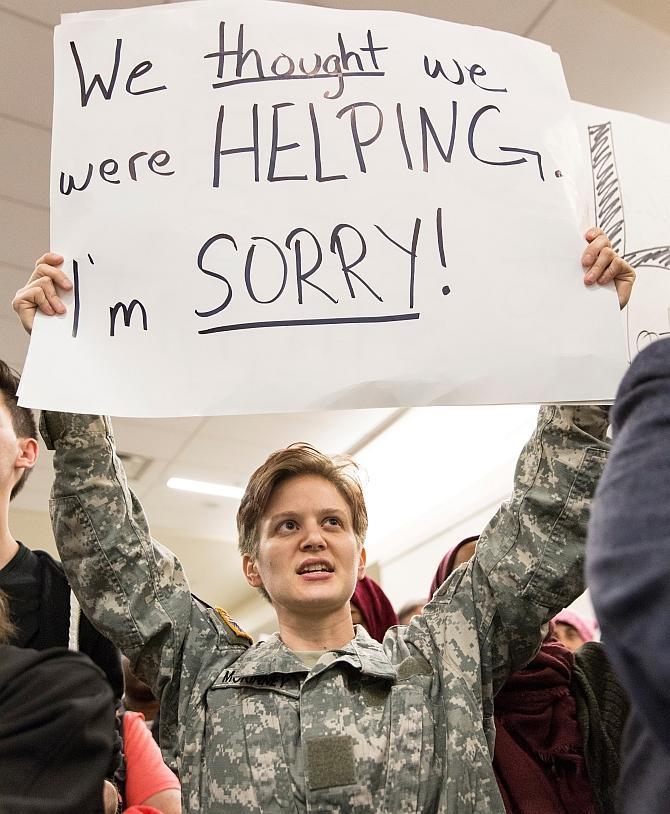 Image: A female veteran holds a sign as people protest against the travel ban, at Dallas/Fort Worth International Airport in Dallas, Texas. Photograph: Laura Buckman/Reuters
The ban impacted several individuals, who had valid US visas and green cards and who had travelled abroad for work or on personal visits. Similar scenes of chaos and protests quickly poured in from other key ports of entry in Boston, Los Angeles and in Houston.
Hapless individuals, whose family members were stuck at airports or were not allowed to board flights to the US took to social media to vent their anger and frustration.
"Three weeks ago my wife and my newborn daughter went to Iran so that she can visit her grandparents for the first time. It is not clear they can come back to the US. And this feeling eats me alive," an individual Amin Karbasi, who one person pointed out was a professor at Yale University, wrote on Twitter.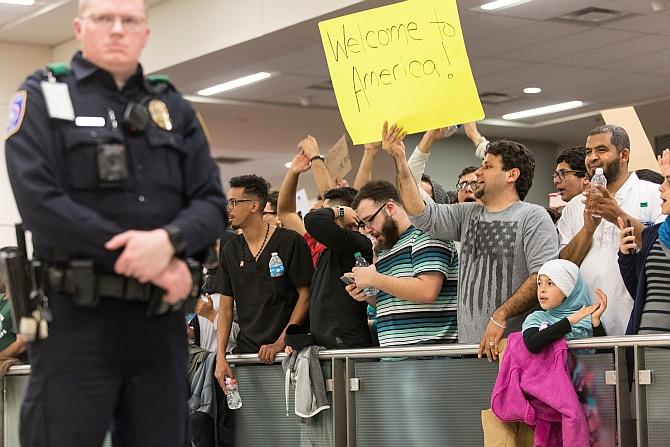 Image: A man holds a sign as people protest against the travel ban imposed by Trump's executive order, at Dallas/Fort Worth International Airport in Dallas, Texas. Photograph: Laura Buckman/Reuters
Lawyers soon began to throng the country's airports, offering to provide legal assistance to individuals and families who were detained at the airports. Volunteer lawyers, sitting on the floor at airport terminals, worked pro-bono on a preparing habeas corpus petitions for detainees at JFK.
American Civil Liberties Union National said on Twitter that "lawyers are stationed at airports across US. If you know someone entering country, tell them not to sign anything before talking to lawyer."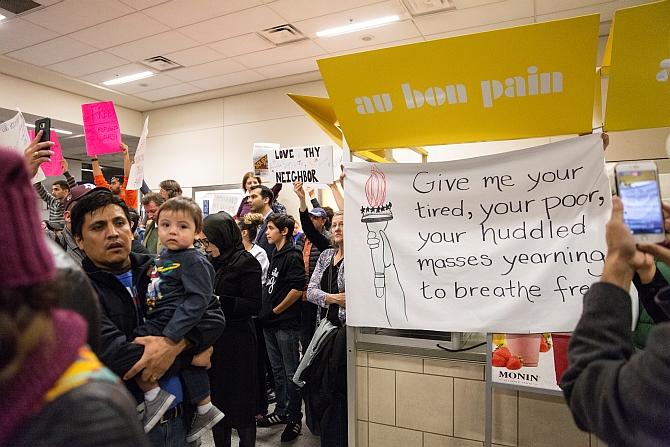 Image: A protest sign hangs from a vendor both as people gather to protest against the travel ban. Photograph: Laura Buckman/Reuters
Partial relief to those detained at airports or in transit came as US judge Ann Donnelly in an order temporarily halted removal of individuals detained in the country.
The ruling by the federal judge in New York came after the ACLU filed a petition on behalf of two Iraqi men, detained at the JFK International Airport.
In the ruling, the judge said government could not remove "individuals with refugee applications approved by US Citizenship and Immigration Services as part of the US Refugee Admissions Programme, holders of valid immigrant and non-immigrant visas, and other individuals from Iraq, Syria, Iran, Sudan, Libya, Somalia and Yemen legally authorized to enter the US."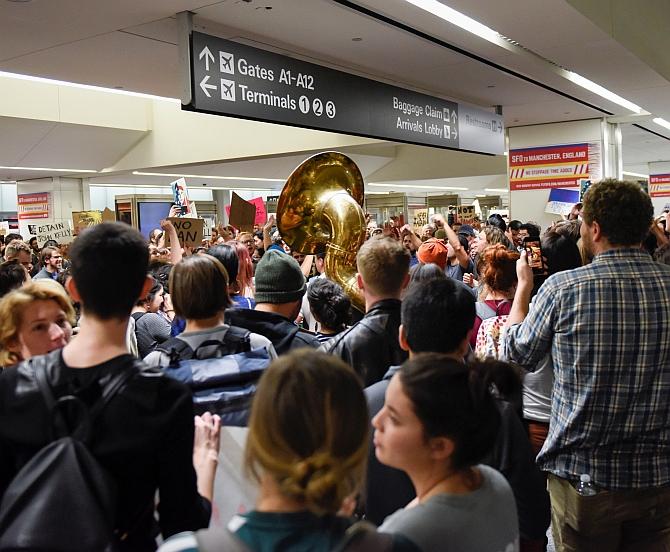 Image: Demonstrators yell slogans during anti-Donald Trump immigration ban protests inside Terminal 4 at San Francisco International Airport in San Francisco, California. Photograph: Kate Munsch
New York Attorney General Eric Schneiderman applauded the stay ordered, saying Trump's executive action is "unconstitutional and in clear violation" of federal law.
"I will do everything within my power to help lead the fight to permanently strike it down. I will not allow voiceless refugees, and all those targeted by this reckless action, to be victimized by an unlawful, unconstitutional, and fundamentally un-American decree from the President," he said.
The protesters held banners that read 'No ban, no wall', 'Christians against the Muslim ban', 'Say it loud and clear, refugees are welcome here', 'No human is illegal', 'Immigrants, refugees welcome'.
Extending their solidarity with the protest against the ban on Muslims arriving in the country, cabdrivers at JFK said they will stop work and not ferry travelers for an hour.
"NYTWA drivers call for one hour work stoppage @ JFK airport today 6 PM to 7 PM to protest #nobannowall," the New York Taxi workers union said on Twitter.
"We cannot be silent. We go to work to welcome people to land that once welcomed us. We will not be divided," they said.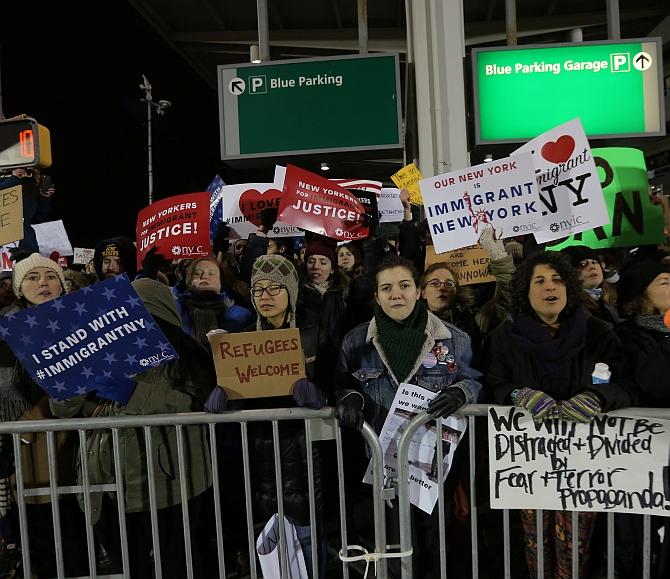 Image: Protesters gather outside Terminal 4 at JFK airport. Photograph: Stephen Yang/Reuters
Unfazed by growing criticism, President Trump defended his controversial immigration order that bans travellers from seven Muslim-majority countries, asserting that it is working "very nicely" even as he maintained that it is not a ban on Muslims.
"It's working out very nicely. You see it at the airports, you see it all over," Trump told reporters even as the sweeping immigration order caused chaos and confusion at airports across the country, triggering widespread protests.
He, however, denied that barring refugees from several predominantly Muslim nations amounted to a ban on Muslims.
"It's not a Muslim ban, but we are totally prepared," Trump told media persons after he signed three more executive orders related to lobbying ban, plan to defeat ISIS and reorganisation of National Security Council.