'The middle class needs to be made aware of the migrants's plight.'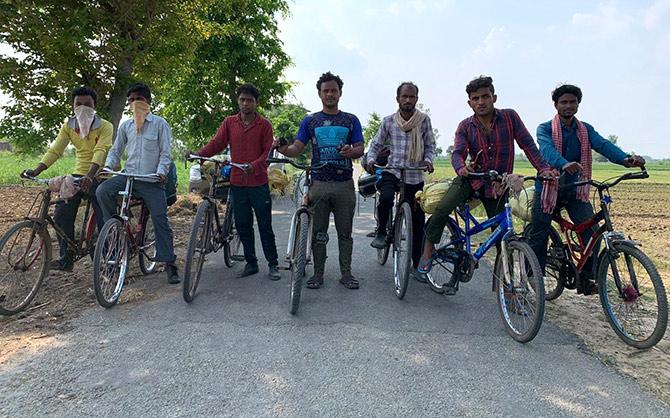 Thirty migrants -- in the 22 to 32 age group -- cycled 1,232 km from Delhi to reach their homes in Bihar's Saharsa district.
Vinod Kapri, who directed the feature film Pihu about a child stuck home alone, followed their journey.
It is now a documentary, 1,232 kilometres.
How did Vinod's journey begin?
"This journey is a manifestation of my own guilt and remorse," the film-maker tells Subhash K Jha.
"From Day 1, on March 25 when the lockdown was announced, I was constantly following the stories and movements of migrant labourers. On March 26, I met this lady who walked all the way from Delhi to her hometown in Kanpur with her three daughters. They were a group of nine people.
I followed her journey until we reached Aligarh at 2.30 am. She wanted to rest for a few hours, but when I joined them again at 5.45 am, she was nowhere to be seen. I was guilt-stricken for having left her for a few hours."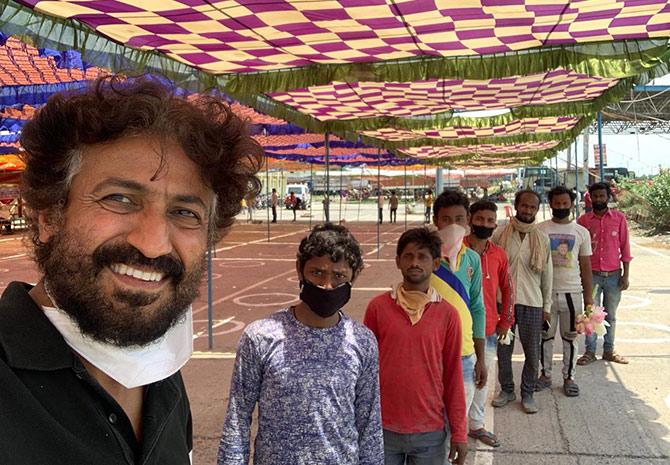 I read a tweet on April 13 about these migrant labourers from Bihar who were hungry for four days. There was a phone number, so I called them and helped them get food. After that, they started calling me regularly.
When food supplies dried up, I put some money in their account. They said they wanted to return home.
On April 28, when some people reached their place of residence in Delhi with food, they were not there.
I called again, and the migrants told me they had left for their home in Saharsa, Bihar, as they were fed up of scrounging for food.
I was shocked. I asked how did they leave. They told me they had asked for some money -- Rs 1,200, Rs 1,500 -- from their homes to buy second-hand bicycles.
They were cycling home. They were calling from Hapur, 70 miles from Delhi.
I told them I was heading out to meet them. I caught up with them in Moradabad. They were 30 of them, and badly beaten in Mukhteshwar by the cops.
So they split up in three groups. I accompanied a group of seven migrant labourers all the way to their village in Saharsa, a total of 1,232 km on their rickety bicycles.
It took seven days. I met their families, their parents, wives and children.
They had done the impossible."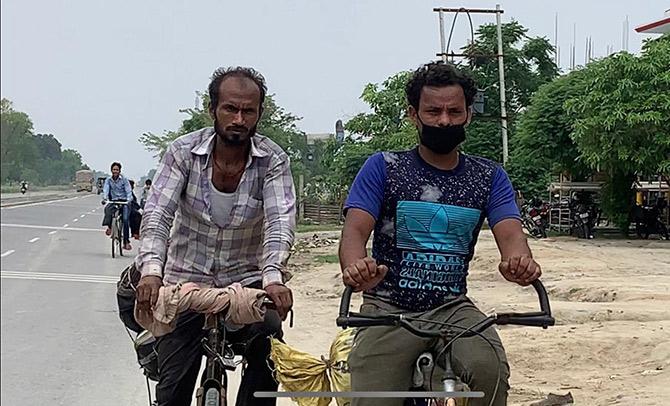 Vinod's documentary on the cycling migrants is almost ready.
"These migrant labourers are now part of my extended family. They video call me in the evenings and show me how comfortable they are in their isolation centre. These labourers do not exist for the government."
Several streaming platforms have shown a keen interest in his documentary.
"The middle class needs to be made aware of the migrants's plight because these labourers have lost all faith in the government."
"When pilgrims are fed and sheltered by the public during their journey to teerth spots, why not these migrants?"
"What can be a greater punya than feeding these hungry migrants?"
"Don't come in physical contact with them, but, at least, leave food packets for them."