'The pandemic basically started with Maharashtra.'
'And then it spread across to the rest of India.'
'Now it is again Maharashtra.'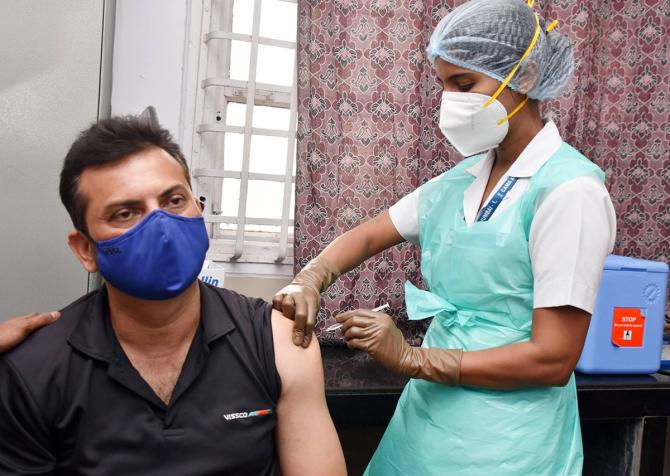 Dr Rahul Pandit saw his first case of COVID-19, in Mumbai, in the second week of March 2020 at the Fortis hospital, Mulund, northeast Mumbai, he remembers.
Clearly.
The patient was presenting symptoms of acute respiratory distress syndrome.
A year -- that we all want to forget -- has flown past since that day.
It's déjà vu.
India is experiencing a second peak (which Dr Pandit explains in Part I of this interview) and as COVID-19 caseloads rise, the battle has begun again, the Second Indian War against That Virus, with some heartening differences.
In Part I Dr Pandit explained that the challenges are slightly less because more cases have been discovered to be asymptomatic or mild, in Mumbai at least.
And senior doctors, like himself, who are spearheading efforts to stamp out COVID-19, know much, much more about the disease.
But in an update, he tells Vaihayasi Pande Daniel/Rediff.com that as of March 19 -- as numbers climb, especially in Thane, Kalyan and Dharavi, Mumbai recorded 3,062* and Maharashtra 25,681** new cases, while there were 70* deaths in the state -- his ICU at Mulund is full too.
The Australia and Mumbai-trained critical care physician, who is the director of critical care for Mumbai's Fortis Hospitals, a member of the Maharashtra task force and a COVID-19 survivor, in Part II instructs everyone to take the vaccine as soon as they can, in case they haven't.
"Le lo!" jaldi, jaldi," instructs Dr Pandit:
The London variant when it came, or came into being, in the United Kingdom, it was very harmful.
It killed lots more people.
But in India, the variants -- like this E484Q which arose in Maharashtra last year -- aren't as virulent?
It's not.
It's not.
It isn't as virulent.
And how did it happen to come out of Amravati in Vidarbha?
Is there any reason?
Very difficult question to answer.
Honestly, I have no idea -- why it is in, of all the places, Amravati and Akola.
And not in Mumbai or Pune, which is what one would have expected.
But I have no idea about that.
I think an epidemiologist would actually be the right person to answer that.
Clinically, I would have no idea why it happened in a rural place.
Again, about Maharashtra: Why Maharashtra?
Why has Maharashtra shouldered the largest burden of COVID-19 cases always and now too?
You said that that has been so, right from the beginning, that Maharashtra has had a bigger problem, not just because of its larger cities.
The pandemic basically started with Maharashtra.
And then it spread across to the rest of India.
Now it is again Maharashtra.
And really Maharashtra has never been able to say: We have zero cases.
We have always had a few spurts of cases going on here or there.
It is difficult to answer that question -- to give a good answer is very difficult.
Could it be, as a leading epidemiologist told me, the more developed and industrialised a state is, the better the communication links?
Maharashtra, for instance, is a very developed state.
Developed countries are suffering much more in this pandemic because good communication links allow the disease to spread faster.
Yes. Yes, correct.
Possibly.
Has Maharashtra encountered difficulties in getting enough stock of both vaccines or in vaccinating enough?
What is the situation on that?
No, we've not had any problems.
The vaccine supply has been pretty good for us.
We would love it to be more.
We would love it to be opened up to everyone.
But at the moment, whatever programme we have running, I think there is enough stock.
We've never had a day when we've been told that the stocks are not there.
At least up to now.
Everybody, who may know you, must be asking you: 'Doctor Sahib, kaun sa vaccine le le or which vaccine to take?
Should I take it now or later?'
What do you say?
Le lo! Take the vaccine, whichever comes your way!
Every vaccine is safe right now.
Both the vaccines are safe right now.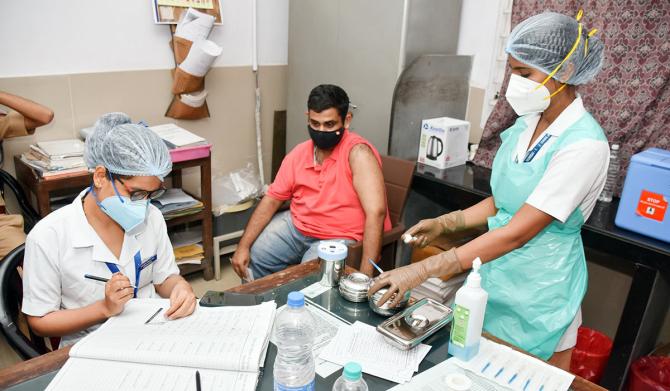 People are worried about clotting, after this became a problem in Europe with the vaccine.
Folks are anxious that if they possibly have a family history of deep vein thrombosis (tendency for blood clots to form in deeply seated-veins and can cut loose and lodge elsewhere), they should not take it yet?
No, just go ahead and take it.
The risk is very, very, low.
The risk of actually contracting COVID-19 and having a life-threatening complication from COVID-19 is much higher.
In the last interview I did with in September 2020, you spoke a lot about the aftereffects of COVID-19.
Is there anything new you are seeing in terms of afte-reffects in people who've had this viral disease?
A lot of mental health issues.
People are seeking a lot of counseling, but they are not coming to me, obviously.
I'm referring them to a counsellor.
More mental health issues than physiological ones for those who suffered COVID-19?
Correct. That's what I believe.
You were already fighting the pandemic from mid-March. Then you were sick.
And after your illness you went back to looking after your COVID-19 patients through very difficult days.
That was a year ago and again cases have risen and the burden has increased. How tiring it must be for you?
It is very tiring.
Indeed, very tiring.
There are some days where even 24 hours is less, is what I feel.
But where do we go right now.
We have to just put our chins up and get back to the whole business of looking after patients.
There is nothing else we can do right now.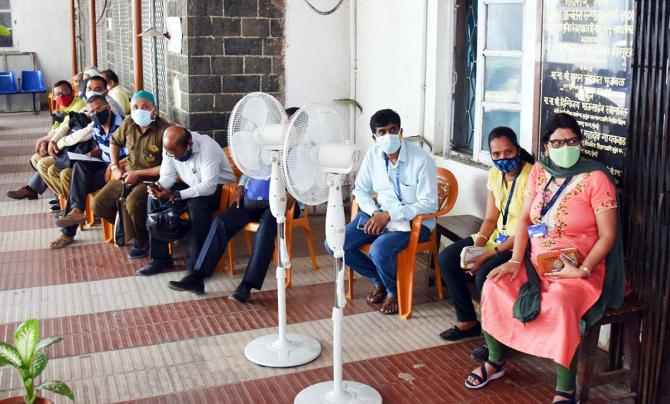 But how do you go on -- people like you and all the healthcare workers running your hospitals?
It must be like a mountain you can never climb over finally?
It is.
I agree with you.
It's a very steep mountain to even attempt to climb.
But then everywhere in the world this is happening.
It is not unique for Mumbai.
The US has been battered all along.
We've never seen any real respite in the US.
The UK. France just announced, this morning (March 17), that they are looking at the possibility of a third wave coming as well.
It is happening all across the world.
But do you see a lot of stress amongst your hospital staff and doctors?
There is pandemic fatigue within the healthcare system.
Hundred per cent there is -- no question about that.
And it is natural.
To say that nobody is pandemically fatigued is not possible.
I have not had a holiday in the last 12 months.
I've been out with my wife and family for two days -- we went out of Mumbai.
That's all.
I see, gosh.
And do you get any breaks?
No, even on Sundays I do a round
The two days when I actually took leave was when we decided to go out of Mumbai.
We were just so tired.
We sat in a hotel and just chatted -- all of us family members.
Played some cards.
Spent some time with ourselves.
That was in October-November.
In the last four months I have not had any leave after that.
*According to Mumbai Mirror online.
**According to Press Information Bureau.
Feature Presentation: Ashish Narsale/Rediff.com