'Our religion had some important philosophies regarding trans people that cannot be ignored.'
'Contemporary India is refusing and ignoring transgender people.'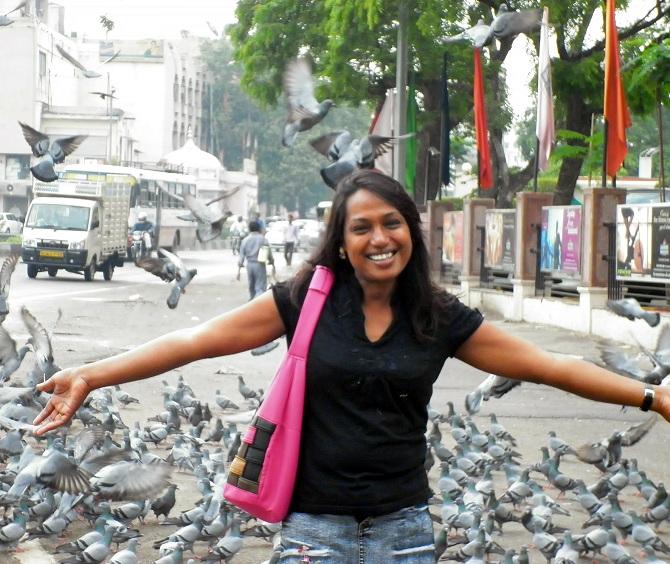 IMAGE: Kalki Subramaniam believes family rejection is the root cause of the transgender community's problems not only in India but around the world.
'When they are rejected and pushed out of their homes, they are forced to run away in search of their identity,' she says.
Photograph: Kind courtesy Kalki Subramaniam
She is an inspirational speaker.
She is a painter.
She is a poet and an author.
She is an actor.
She is an activist.
She holds two master's degrees -- one in journalism and mass communication and another in international relations.
On this day two years ago -- March 8, 2015 -- Facebook chose her as one of the 12 inspiring women of the world who use Facebook as a platform for community development and empowerment.
And last month, she was invited by students at the Harvard Kennedy School and the Harvard Business School to speak at the India Conference 2017, which focussed on 'India -- The Global Growth Engine'.
She is Kalki Subramaniam.
In this interview with Rediff.com's Shobha Warrier, Kalki, who is a transgender, speaks about the challenges and hopes of the transgender and LGBT community in India.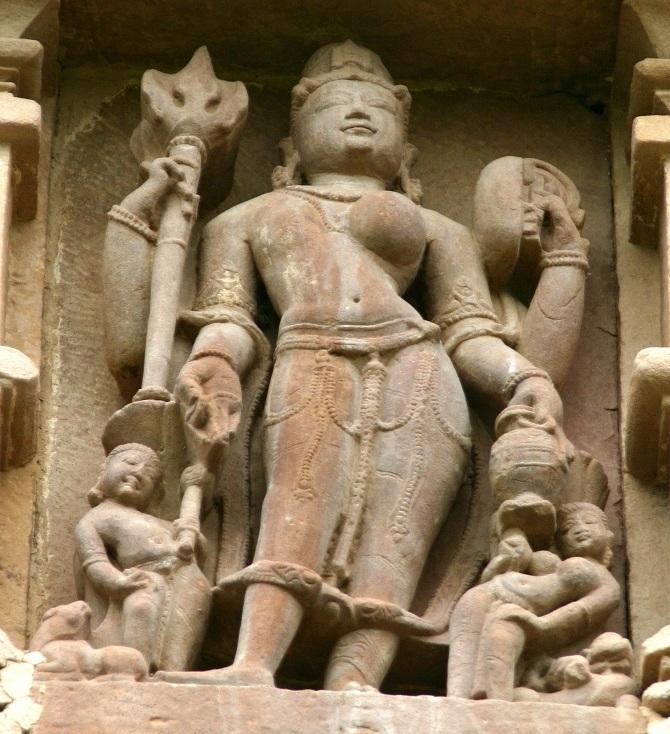 IMAGE: An Ardhanarishvara sculpture in Khajuraho.
'What does arthanaari (ardhanaari) mean?,' asks Kalki Subramaniam.
'It is one power with both male and female together; it is the oneness of male and female.'
'Transgender people are the symbol of that oneness and balancing.'
Photograph: Kind courtesy Wikimedia Commons
You have been speaking at various platforms on transgender rights and issues. How important was it for you to speak at a global platform like Harvard University?
It was very important; I was speaking at a global platform along with prominent personalities like (lawmaker) Omar Abdullah, (actor-filmmaker) Pawan Kalyan, (filmmaker) Deepa Mehta, (actor) R Madhavan, etc.
I wanted the world to listen to the concerns of my community and the issues we face. I spoke on the first day under the 'Inspired' series.
You said somewhere that the transgender movement in India had a spiritual context and that was why it differed from the global movement. Can you elaborate on this?
We have references and evidence in our scriptures that transgender people existed in ancient India.
Being gender non-conforming was okay then; being a different gender was okay then.
Our religion also had some important philosophies regarding trans people that cannot be ignored.
What does arthanaari (ardhanaari) mean?
It is one power with both male and female together; it is the oneness of male and female. Transgender people are the symbol of that oneness and balancing.
Because we are not common, society and family reject us.
This is against our culture, which worshipped such oneness.
Everything has changed drastically. Contemporary India has completely forgotten history and is refusing and ignoring transgender people.
It all started after the arrival of the British and them introducing the Criminal Tribes Act.
Do you feel the Western world is more accepting of the third gender than India where family and society are reluctant to accept them?
At present, India and America are going in different directions when it comes to LGBT rights.
While the Indian government and policymakers are more accepting, understanding and more broadminded to give us the place we deserve in society, it is not a happy one in the US right now.
I am talking about the atmosphere after (Donald) Trump came to power. For example, the Bathroom Bill is being reversed.
A lot of hate arising against LGBT community is indeed saddening.
In India, the day is not too far for gay and lesbian people to live with dignity.
But in the US, things are stalling right now. In fact, it is going in a reverse gear.
In India, even today family and society are not ready to accept a transgender child or a gay or a lesbian...
Indian society may be ready to accept a transgender person, but not a gay or a lesbian person, and that is because our religion, culture and history are linked to transgender people, which makes people more aware of us.
We are also trying so hard to sensitise the lawmakers, academicians and society. Today, people are trying to give us a space. But there is a long way to go.
It is said that rejection of a transgender person starts from the parents, then relatives and society.
Because they are rejected by family and ridiculed by children in school, most of them run away and don't get any education and they end up as beggars or sex workers. Is it not true?
It is hundred percent true.
Family rejection is the root cause for all the problems for transgender community not only in India but around the world.
When they are rejected and pushed out of their homes, they are forced to run away in search of their identity.
The major thing we lose is the support of parents and then education.
When we lose the opportunity to study, it completely changes our lives.
Think of how it will be for a non-educated person who is a transgender. Getting a job is difficult and surviving too.
How did you overcome rejection? You are one of the few educated people from the transgender community.
It took years for me to convince them, but they never rejected me. They wanted to understand me better and help me. I had to earn that respect from my family.
Also, I had to earn money to do my own transition as a woman.
If we are accepted by our family, all of those who are begging on the streets would have studied and had a life of their own.
What happens is we are on the street, ridiculed, persecuted, raped and attacked.
Even after accomplishing so much, were there instances when you were discriminated?
I don't allow anybody to discriminate against me.
Recently, I have not faced any situation where I was discriminated. That is because I have control of myself and the situation around me.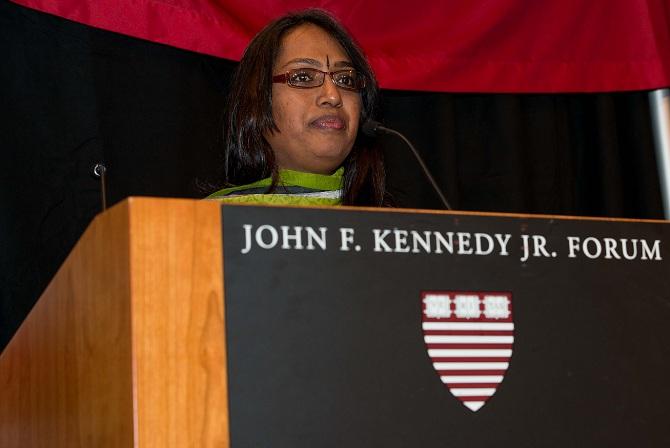 IMAGE: Kalki Subramaniam addresses the India Conference 2017 at Harvard University. Photograph: Kind courtesy Kalki Subramaniam
Do you have to try more than the others to prove to people that you are an achiever?
Yes, I have to because there is this high stereotype of a transgender person.
To break it, I had to achieve more than the others.
I have to break the stereotypical image of a transgender and for that I have to show the world that I am an achiever.
I will design my own life and will not let others decide for me.
Is it because society is not accepting of transgender people that they are aggressive outside?
Is aggression a defence mechanism to a society that is hostile to them?
A lot of people say transgender people are aggressive. I can also say that men are aggressive and some women are also aggressive.
Transgender people are aggressive for their survival and for their needs.
In fact, I would say society is aggressive to transgender people.
But I would say that Indian society is changing slowly. Schools also will change for the better.
As an activist, what do you do to sensitise parents, school and college children and society?
I have been an activist for 10 years and in these 10 years, I have met more than a million students in various parts of India and I have provided them with knowledge about gender inclusion.
I continue to meet thousands of students at various academic institutions and universities every month.
I am sure they will pass on this knowledge to their children, and their children and their children.
I think I am changing a generation and I am doing my work as a change maker in this society, breaking trans-phobia and shattering homo-phobia.
I teach them what is not in the text book; I enlighten them on gender and sexuality.
You founded Sahodari. In what way do you help children and people from your community through Sahodari?
We at Sahodari use art, literature and films and creating material to sensitise community.
Personally, I sell my painting for Rs 2 lakhs and 60 per cent of what I get is used to educate children.
You said the government is trying to help the transgender and LGBT community through laws while on the other side, we have a film certification board that refuses to give certificate to a film that is about gays...
The problem with our censor board is that some of the members are not at all sensitised. They have no idea about gender, sexuality, gender equality, etc.
Films like Udta Punjab, Lipstick Under My Burqa, Ka Bodyscapes, etc are having so much trouble with the censor board.
These are very important films that have to be seen by the public. While the censor board allows sex, violence against women, they are blind to such core issues.
In 2011, my film Nartaki also faced the same problem. There was no sex or violence in the film, but they gave an A certificate because there was a scene where the transgender person screams when the operation was conducted.
Mind you, we didn't show the operation; just the person screaming.
While there is some understanding of the transgender community now, the LGBT community is being discriminated against.
Which state in India is more accepting of the transgender people and which is not?
I would say Tamil Nadu and Maharashtra are the two states that are very accepting of trans people.
Till recently, Kerala was one of the highest trans-phobic state, but it is changing.
North and east of India are quite difficult for trans people.
---
ALSO READ: They are changing the way India looks at transgender people