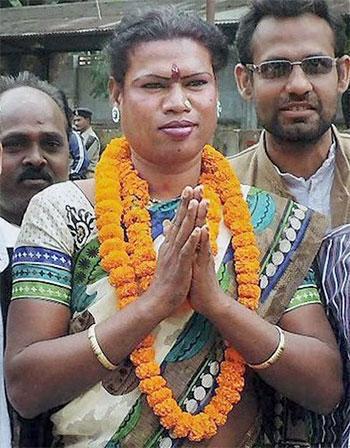 'We got inspiration from Shabhnam Mausi in Madhya Pradesh'
'All the young girls and boys of Raigarh voted for me'
Madhu Kinnar, newly-elected mayor of Raigarh in Chhattisgarh, speaks to Vaihayasi Pande Daniel/Rediff.com.
It's a deep, gravelly voice on the other end of the telephone.
'Is this Madhu Kinnar?' you ask, momentarily flummoxed, hastily abandoning the Mr or Ms prefix.
"Yes, it is she." Kinnar uses the female tense, even if it is at odds with the baritone on the phone. Yes, she can speak to you but she is a "little busy" because she has many visitors and asks you to call back.
Kinnar, 37, grew up in Raigarh in eastern Chattisgarh, and lives in the city's Mithumura area, she tells you later, matter-factly, filling in the bare-bone details of her life. She hails from an "SC" (Scheduled Caste) background and both her parents were farm labourers. She was born Naresh Chauhan.
At 15 or 16 she decided to become a kinnar (transgender) along with a group of like-minded friends. Her parents disapproved. So she left home. "There was a group of boys with whom I liked to ghoomna-khalna-kudna (wander, play, jump around whatever) right from when I was small. I started hanging out with them. My group used to go out and beg (as hijras) and so I went along. Agar tu kinnar banegi toh hamare saath mat rahna (if you want to become a kinnar then don't be with us). So I told them I don't want to stay at home. That I want to leave home. So they said: Leave."
She began to earn money -- Kinnar refers to begging as a means of earning or kamai -- on the trains into and out of Raigarh, which is on the main Mumbai-Howrah rail line, and innumerable expresses whoosh through this town of 150,000 or more (as per 2011 census). "Passenger ko parishan karte the. Jo de diye theek hai. Nahin toh aage nikal jaate the (We used to bother the passengers for money. If they gave, fine. If not we went ahead). "
She and the group of mates earned Rs 400 to Rs 500 a day. It was a shared income and she says it rarely fell short. Nor did they go hungry. "I don't know what we earned in a month. We only counted by the day. Among four or five of us we earned Rs 400-500 all together. I liked the work. We all hung together and we wandered here and there and came back. It was not difficult work," she laughs.
Were there days when the going was quite tough? She says, with considerable simplicity: "I never thought about it like that. We would always meet some bhai or another and they would feed us. Often we would get off at a station and someone would offer us food -- so we would eat."
They preferred begging on passenger trains because there was less police to obstruct their movements. "Express gaadi mein police rahte hai. Woh bahut parishan karte the (Express trains has policemen on them. They would bother us a lot)."
After 13-14 years of riding the trains that chugged on the Raigarh line, begging, she and her group decided to switch "jobs". They opted to beg from home to home. To be present at shaadis and births in the Raigarh area.
"Mazaa nahin aata tha (we lost interest in working the trains). People started calling us to their homes for events, weddings. So we started going from house to house for the last three or four years."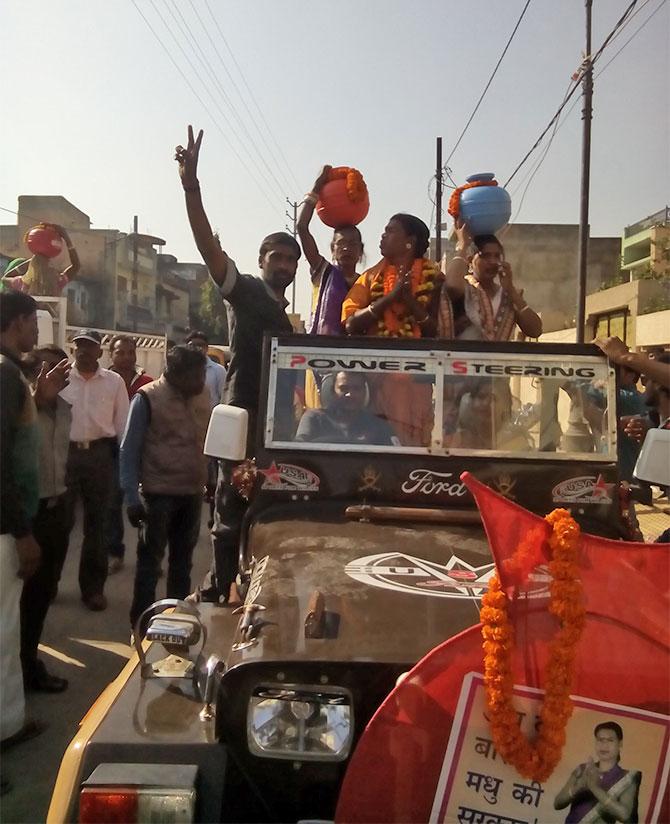 Madhu Kinnar on the campaign trail. Photograph: Courtesy Madhu Kinnar
That was when the idea of politics grew on Kinnar. "I used to see the way the BJP and Congress worked. My groupwallahs said Raigarh is a good seat. We got inspiration from Shabhnam Mausi who was a state legislator (probably the first eunuch in politics in modern times and won a seat to the Madhya Pradesh Vidhan Sabha in 2009) from Shahdol (eastern MP). So we said we will also join rajneeti (politics). We have no party. We are party-less. We have the Matka chhap (earthen pot symbol)."
Kinnar caught the imagination of young people. She appeared as a new option and an unusual choice who might offer a new way, agrees the newly-minted mayor. "All the young girls and boys of Raigarh voted for me. Wherever I went these young people would join and campaign.
"Whoever we went to, to ask for alms, they on their own would give us money for campaigning. When I started to campaign there were only four-five people. Just the people of my group. I would start campaigning at 8 am. When we left home there would be just five of us. When finished campaigning there would be 600 or 700 people with us. They wouldn't let us go home. They would want us to come to their home. It was then that I felt that my victory is a definite. My naara (slogan) is that I will give you dua (blessing) and you give me your vote."
She defeated the BJP's Mahaveer Guruji by 4,537 votes.
What are her priorities? She wants to start off cleaning the nullahs (drains) because they are apparently in a bad shape in Raigarh. Road development is another priority, Kinnar feels. And making sure every home in the city has a water connection.
"I want to do full vikas (development). Whichever vikas plans are on hold we want to complete those."
Being voted in by the younger folks of Raigarh has made Madhu Kinnar realise that she has taken on an enormous commitment. She feels she cannot afford to let down her young following.
"From the younger generations I have thousands supporting me. It is a bahut badi bhoj (heavy obligation). I want to do complete vikas (development)."
Top image: Madhu Kinnar, after being elected mayor. Photograph: PTI Photo.