'There is no animosity among us. We are one family.'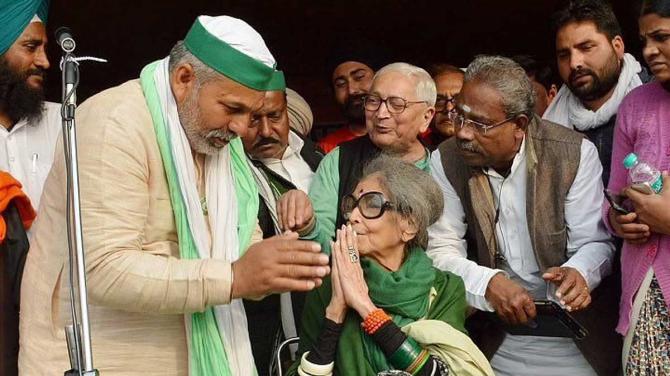 Sanjeev Balyan, Union minister for agriculture in Modi 1.0 and animal husbandry, fisheries and dairy in Modi 2.0, is the chief apostle of the Bharatiya Janata Party's farm laws.
After facing stiff resistance in his hometown, Muzaffarnagar, Balyan talks to Nitin Kumar about the problems in hand and what the government is doing about them.
On the instruction of the central leadership, you have reached out to khaps to make them aware of the benefits of the farm laws. Why are khap leaders refusing to meet you?
I have not been asked by the central leadership to do this. As minister and people's representative, I am responsible for taking government schemes and policies to farmers and making them aware of their benefits.
There is no special strategy. I will visit the people and explain to them the advantages of the new laws.
With khap leaders boycotting the Bharatiya Janata Party delegation, how does the party plan to defuse their anger?
This is a farmers' protest and people are participating in the agitation in their personal capacity.
Khaps raise only social issues. We should not add khaps to politics.
After the recent incident of violence in Sauram (Muzaffarnagar), you met BJP President J P Nadda. Did you discuss the matter with him?
It was just a local issue. It was a planned move in which the top leadership of the Rashtriya Lok Dal was involved.
They did this in my village to insult me.
Opposition parties are trying to cash in on this crisis. They are trying to create divisions in society, which is not good for the RLD and Samajwadi Party.
Nobody said a word to Ajit Chaudhary (Ajit Singh, the RLD leader) when he went to Sauram a day after that incident. Don't we have supporters there? I have also got votes from there in elections.
Would it look good to publicly upbraid him? I don't do such politics.
Farmer unions are calling for a social boycott of BJP leaders in Punjab, Haryana, UP, and Rajasthan. Will this not weaken the BJP in the Hindi heartland?
No, it will not. It is not even an issue here, especially in this part of the state.
In fact, UP doesn't even have mandis. We are already into contract farming. For instance, there are contracts between farmers and sugar mills.
It's an emotional matter, which will be resolved.
In the 11th round of talks between farmers and the government on January 22, it was said the prime minister was just a phone call away. Why has the government not made that call yet?
Maybe farmer leaders are not picking up the phone. Only the members of the government committee can clarify this.
But Agriculture Minister Narendra Singh Tomar told me that a proposal had been sent to the farmers and their response was awaited.
Why do you think the farmer leaders are not interested in talking to the government?
I think farmers' leaders are very busy conducting rallies. They might get time after the rallies reduce.
The protest has turned into a political battle...
Definitely. If the RLD, the Congress, and the SP are doing rallies across districts, it is a political battle.
They are sharing the stage. They want to profit from the crisis.
You went to Rakesh Tikait's house after getting the Lok Sabha election ticket. Then why are you not able to convince him to resolve this matter?
No, there is no animosity among us. We are one family.
I have been to his home on both occasions: Before the 2014 and 2019 Lok Sabha elections.
I will go again if I get the party ticket. I seek his blessings, not political support.
This time our roles are different. I tried, but could not convince him on the farmers' issue.
Your government promised a state-advised price for sugarcane farmers and assured them payment in 14 days. Why was it not implemented?
It was not a BJP promise. It was part of the Sugarcane Control Act, 1966.
Not only the BJP, no ruling party in the past 54 years has been able to implement this.
I accept farmers are not getting timely payments despite my efforts.
Will the protests hurt the BJP's prospects in the UP assembly polls?
That only the chief minister can say. I don't think it would.
Do you have any request for the protesting farmers and the government?
I request farmers to heed Baba Mahendra Tikait's words of negotiation with the government.
He advocated accepting 25 paise for a demand of 1 rupee and to start preparing for the next.
As a farmer, I want the farmers to go home happy and with dignity. As a minister, I will say what I think is beneficial in the three laws.
But I am ready for a change if needed. But for that, the farmers should reply first.
The government is ready to talk to them.