''This government will end after five years, but farmers will not end after five years.'
'This is the source of our confidence.''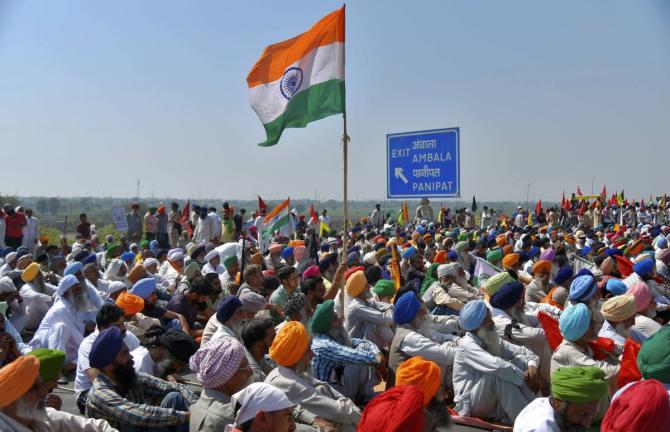 On March 6, the historic farmers' struggle at Delhi's borders completed more than 100 days. The farmers' stir is turning out to be the largest and longest peaceful citizens protest in the world.
And despite the 100 days -- bearing the biting cold of Delhi, police lathi-charge -- it looks like that the protest will continue longer as the farmers refuse to back down and the government remains adamant in not repealing the three contentious laws.
As of now, the Bharatiya Janata Party-led central government -- which has focused all its attention on the assembly elections in West Bengal, Assam, Tamil Nadu, Puducherry and Kerala -- and the farmers have not spoken in weeks.
Avik Saha, national convenor of the Jai Kisan Andolan, tells Syed Firdaus Ashraf/Rediff.com, "The more adamant the government is, more the farmers seem to be determined that the laws need to be repealed."
It has been 100 days since farmers have been protesting at Delhi's borders, with no signs of an end. Where do you think the agitation is heading?
It is heading to a position of strength as more farmers are joining in.
The longer the government delays in repealing the laws, the determination is increasing. This is surprising to the government as well as farmer leaders like us.
Why do you say it is surprising?
Look back at the history of India and no agitation has continuously lasted for 102 days. None of us know exactly what the future holds.
The more adamant the government is, more the farmers seem to be determined that the laws need to be repealed.
Some people report that there is a thinning of crowds at the protest sites. What do you have to say about that?
Those people should be shown images of the crowds at the mahapanchayats.
Moreover, farming is a seasonal business and farmers have to move between their villages and the protest sites. On International Women's Day, 40,000 women turned up at the different protest sites. Is that a sign of thinning of the crowd?
How are the mandis functioning? Despite farmers protesting, there is no shortage of food grain; things are going on smoothly.
Farmers do not want to create a food crisis in India. We are very happy that the food supply is continuing at old levels. That is a good thing. And we must remember, India has lot of stock of food grain.
There is no fall in the production of food grain or problem in the distribution of food grains.
The question is, who will distribute food grain? And the government wants to give that work to corporate groups.
This is what the protest is all about. Farmers are working as usual and producing.
In mandis, the government is pretending and also buying at MSP, but what about the places where they do not get MSP like large parts of Maharashtra?
And what about improving the functioning of mandis rather than go for privatisation?
On these issues, the agitation continues. There are reports that there is a collapse of the mandi system and mandi staffers jobs have been terminated.
The agricultural system is in disarray.
Are themandis collapsing? Where?
Yes, in Madhya Pradesh. There are media reports about this and in Rajasthan too. The government has started parallel private procurement.
Initially, there will be lot of excitement and private players will come and buy at a higher price just to monopolise the market. This is leading to the collapse of the mandis, but finally there is no alternative to the mandi system.
The government's blueprint says that they are creating mandis for private players is a complete misnomer. Mandi is always a private system where farmers are private and so are traders.
The government's job is to create infrastructure for transaction between two private people and monitor that system, which this government is refusing to do.
The government is saying I can't create infrastructure, I can't monitor and I cannot be responsible for pricing. The farmers are saying the government has to be responsible because they have been announcing prices.
Have corporates started buying from farmers in the last 100 days?
Not really, but the government is trying to build up this narrative. And there are anecdotal reports that Reliance purchased 1,000 tonnes of so and so and Adani bought this etc.
We want to see a recent infrastructure report which the government has built and is being misused. It is under capacity and the Food Corporation of India is paying damage charges to Adani to the tune of Rs 6.9 crore (Rs 69 million).
The CAG report has come out on this. All of this indicates the government's complete lack of interest in managing the food supply, food production and food producers' future in this country.
The government has now gone into election mode. What gives you confidence it will listen to farmers now?
Farmers are not backing down from the protest. This government will end after five years, but farmers will not end after five years. This is the source of our confidence.
We have all the time in the world and we have complete determination to get our rights. It is a matter of life and death for us.
We have two choices -- either we fight and live, or die. We have chosen to fight and live.
What about talks with the government?
The government has to explain to us why these laws cannot be repealed. We have explained to the government why these laws have to be repealed.
They say they cannot repeal because it is not prestigious for us. We are not concerned about the government's prestige.
The government is still talking about amendment and just to test the government we said alright put in one amendment, make minimum support price mandatory for transactions under these three farm laws. And the government said no, they cannot do that.
The intention of the government is out in the open and clear. And farmers are shocked. This government can be very popular, but it could still be killing farmers.
Farmers are not going to take the government's popularity as an indication that their demand is not right.
Do you see the middle class losing sympathy for farmers now?
When it comes to their food, will the middle class believe Modi or farmers?
Does Modi make food in this country? So the middle class will always be with farmers.
And remember, only a certain number of people can be organised for protests. After that it is the people who join and when lakhs of people are coming to mahapanchayats you understand the support.
All farmers may not be able to reach Delhi, but they are reaching their district headquarters or state capitals. Huge mahapanchayats are being organised.
I have already organised a huge mahapanchayat in West Bengal on March 12-13-14. And West Bengal has not seen a mahapanchayat of this size.
This proves that the farmers' movement is not only alive, but is kicking.