'Thanks to monetary help from several people, we are comfortable and living with dignity.'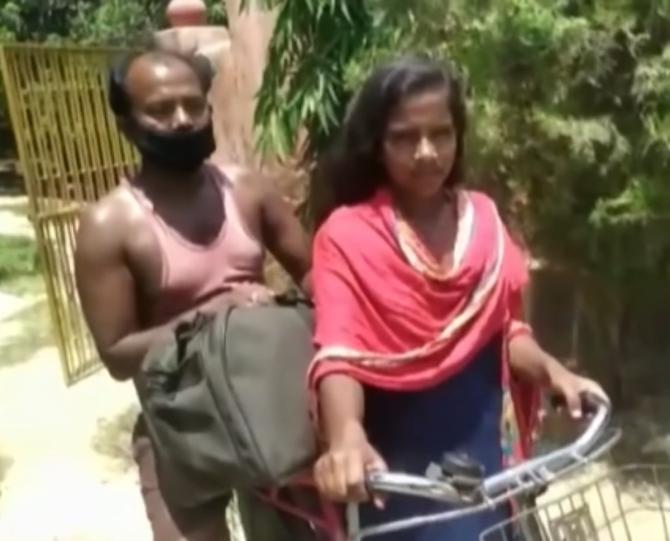 In nine months, life has changed for 16-year-old Jyoti Kumari. Last May, she was the focus of everyone's attention as she cycled nearly 1,200 km from Gurugram in Haryana to her village in Bihar's Darbhanga district, with her ailing father on the cycle's pillion seat.
Unlike last year, she is full of confidence and no longer hesitant to share her story.
Jyoti, a resident of Sirhulli village, belongs to a poor Dalit family. This sudden fame is new to her. She is upbeat now as she has resumed her education in the same school from where she had to discontinue it earlier due to financial reasons.
Many people have promised her financial aid for her education and marriage. Others have come forward to arrange coaching to help her crack competitive exams like CAT and UPSC. Jyoti herself is keen to study further.
This Bicycle girl of Bihar, as she popularly known, spoke to Rediff.com Senior Contributor M I Khan about how her life has changed since she returned home.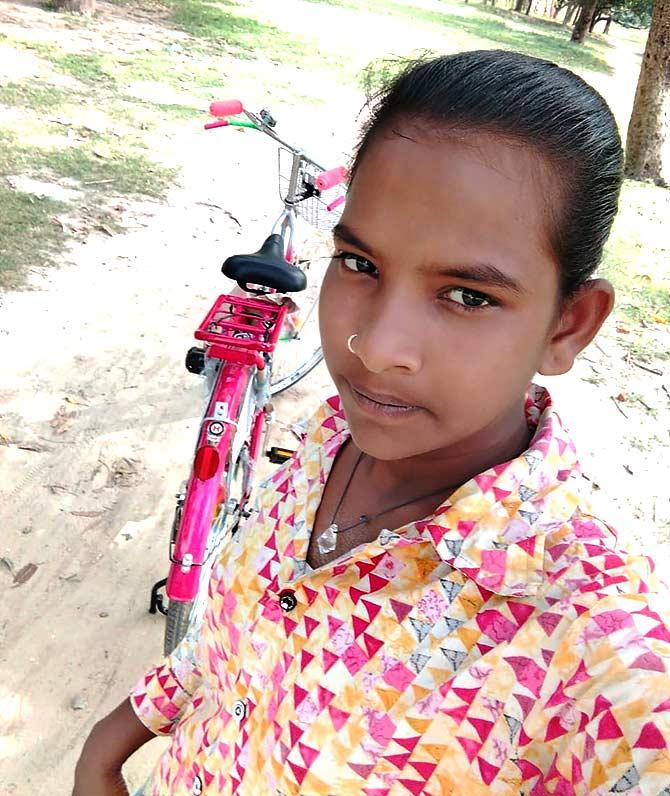 After your ordeal last year, how has your life changed?
My life has completely changed. People now look upon me as a symbol of courage and confidence.
The decision I was forced to make during COVID-19 and the lockdown has empowered me. Now, I want to complete my education. I want to achieve something in life.
One thing is clear; my life is no longer what it was before the lockdown was imposed because of COVID-19. I am more confident and happy.
Till early last year, when I left the village for Delhi along with my mother to look after my ailing father, I never expected anything new in my life.
But the situation created a challenge and an opportunity for me that might be difficult for others; my faith in myself gave me the energy and courage to do it.
The most important change is that I am in school now and pursuing my studies. I had discontinued my study in 2019 due to a certain situation.
I am very excited as I will be appearing for my Class 10 exams. After completing school, I will complete Class 11 and 12 and then go to college. Now, my dream is to study and study.
I was readmitted in the local high school, which was a very a positive development for me as I am very keen to study. I have joined a local coaching class for examination preparation.
Two years ago, I had stopped going to coaching class due to the financial crunch in my family. I am now paying for coaching and focusing on my studies.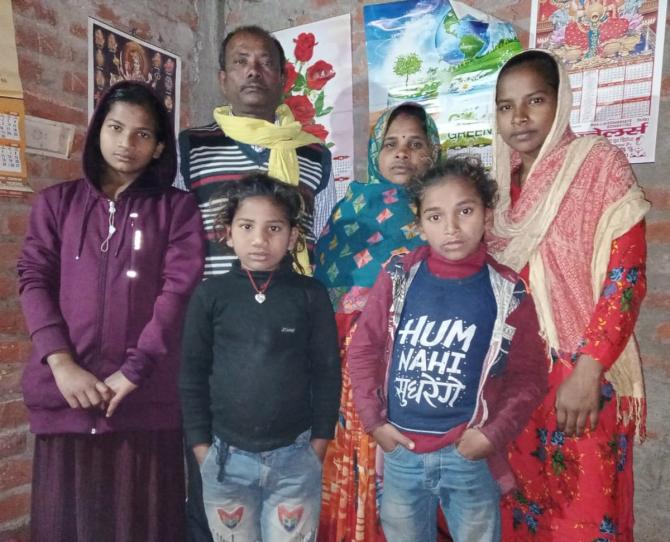 Have you thought about a career?
I will complete my higher education. I will be the first in my family to go to college or university.
That's my plan for now. I have not yet thought of a career.
Has your living standard changed? What about people's perception as far as you are concerned?
We have completed our half-constructed pucca ghar (with brick walls and a concrete roof) and are living in our dream home.
This is something remarkable for us.
Thanks to monetary help from several people, we are comfortable and living with dignity.
Our co-villagers and people from neighbouring villages visit our home and no longer maintain their distance, as they used to do earlier.
Though we are Dalit (she belongs to the Dusash caste), upper caste and OBC people frequently interact with us.
My mother, Phoolo Devi, who works as an anganwadi cook, used to face problems from some sections of people. Now, they respect her.
In the last week of January, it was reported that you interacted with Prime Minister Modi when you were awarded the Pradhan Mantri Rashtriya Bal Puraskar.
Though it was scheduled, I could not interact with the prime minister. I felt bad that he did not speak to me. I was waiting and hopeful; I wanted to talk to him.
I would have been happy to explain many things to him if he had talked to me.
Anyway, I am happy that at least my name figured in the Bal Puraskar award list this year.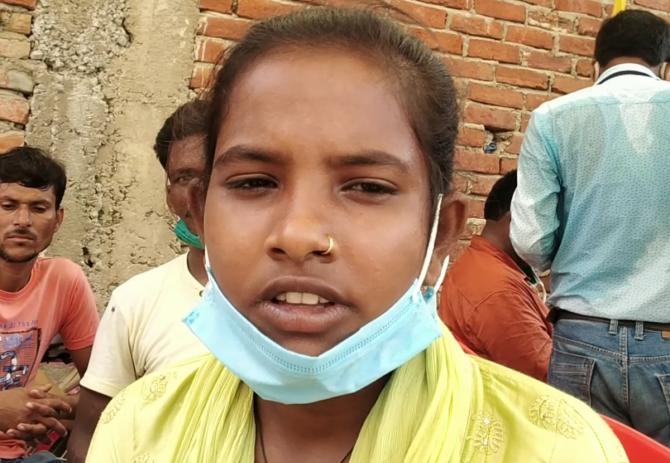 What about the promises and assurances made to you by the state government, district administration and several politicians? Were they fulfilled?
I have no hesitation in admitting that several people, including politicians, who visited made big promises to help my family and me.
I got five bicycles, clothes and foodgrains. Some people gifted money as well; we received about Rs 10 lakhs.
I was appointed the brand ambassador of Nasha Mukti by the state government and assured by government officials that they would provide a job to my father and one e-rickshaw for our livelihood.
But my father is yet to get a job.
We are a family of six. We are hopeful that he will be provided with a permanent source of livelihood as he is not in a position to return to Delhi work as an autorickshaw driver.
Some politicians, including a minister, promised to arrange a good education for me and my younger sister and my two brothers.
But nothing happened.
They are still in the local government-run school, where the quality of education is very poor.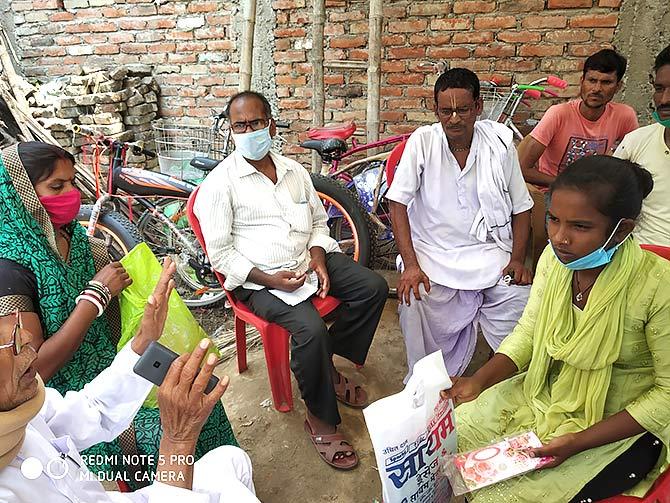 Why did your father, Mohan Paswan, decide not to return to Delhi or any big city to earn a livelihood?
My father has some health issues. We are still hopeful that the government will provide him with a job as promised.
He used to earn Rs 15,000 a month and manage his expenditure in Delhi as well as the family back in the village.
There were reports that you were offered a lead role in a film based on your struggle and your cycle journey.
I have no information about it.
No one offered me anything like this.
It was also reported that the Cycling Federation of India invited you for a trial because of the extraordinary cycling journey you undertook.
No, not at all.
How do you friends in school and in the coaching centre treat you?
They praise and laud me most of the time and repeatedly mention that I have done a good job so early in my life. They all treat me with respect.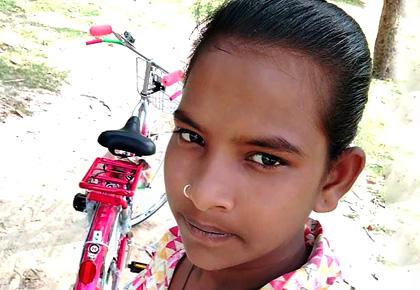 Feature Presentation: Rajesh Alva/Rediff.com