'They will never accept such an offer!'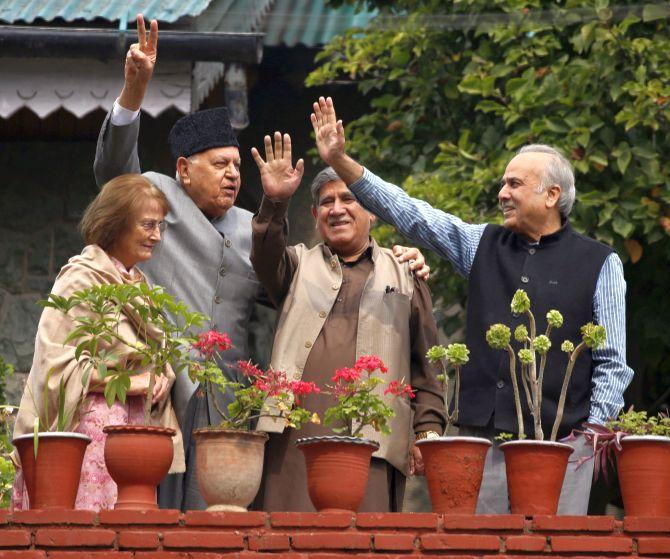 "Dr Abdullah is fine and in good spirits," National Conference Lok Sabha MP Mohammad Akbar Lone tells Rediff.com's Archana Masih in a telephone conversation.
There are reports that the central government is working on a deal where Dr Farooq Abdullah and Omar Abdullah will be released in exchange for them moving away to London and not indulging in political activity for a while. Would the Abdullahs ever accept such an offer?
Not at all. They will not accept it. They will remain with the people. This is foolishness.
How can they ever leave Kashmir and go outside? They will never accept such an offer!
Will the National Conference contest elections if they are called? What is the thought of the leadership?
We will consider it based on the basic line of our party and only if our leaders are released from detention.
Only after National Conference leaders come out of jails can we sit and decide our future plan.
The big problem our party is facing is that we are unable to have meetings and hold discussions.
Have you met Dr Abdullah in detention?
I have met him 2, 3 times. There is a restriction to meet him and one can only do so after permission from the deputy commissioner. We approach the DC and whenever he allows us we go and see him.
Dr Abdullah is fine and in good spirits. He spends time reading.
The Supreme Court on Friday said that access to the Internet is a fundamental right and asked the Jammu and Kashmir administration to review within a week all restrictive orders.
It will come as a relief to the people of Kashmir.
The court's order on reviewing Internet suspension must be respected by the J&K administration.
In the last five months, students, traders and people have suffered a lot due to the clampdown.
The removal of Section 144 enabled people to open shops and brought transport back on the roads.
Do you think the J&K administration will be compelled to lift this suspension on Internet services after the Supreme Court order?
This court order will definitely give a chance to the representatives of Delhi to lift the ban on the Internet.
The Internet must be restored.
You have filed a petition in the Supreme Court for restoration of statehood and special privileges to Jammu and Kashmir. What are your hopes after Friday's order?
I hope the court will rule in our favour and restore to us all that has been snatched away.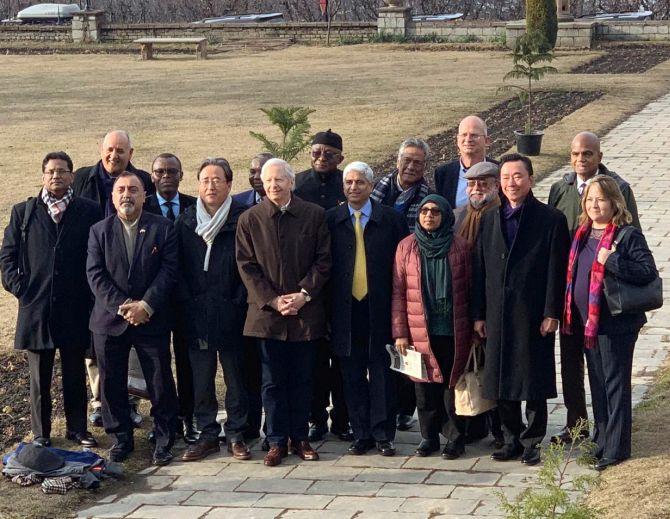 A delegation of foreign ambassadors traveled to Srinagar.
They came under the cover of the government and met selected people decided by the government. They have not gone to the common people. (They have) not met different associations like the Bar Association.
(They have) not met political leaders like Farooq Abdullah, Omar Abdullah who have been undemocratically detained.
There is a view that the government is trying to initiate a new political alliance.
They should be advised to go to the people of Kashmir to know their views.
What do you see as the political dispensation that is likely to emerge in J&K? Will a new leadership come forward?
The whole of J&K is displeased with the present dispensation.
It will not be a new leadership. Any leadership propped by Delhi will be a puppet. It will be in the hands of the Intelligence Bureau. It will have no basis in the will of the public.
You are the Lok Sabha MP from Baramulla and you are in Srinagar just now. How do you read the situation?
Kashmir has been a longstanding issue between New Delhi and Kashmir from 1947 till date.
From then on, the situation has been difficult. But the situation created under Mr Modi by the removal of Articles 370 and 35A has caused a grave situation in the valley.
Though people are not protesting on the roads, they are very unhappy with the decision.
The situation is so grim that people don't recognise decisions taken by the Modi government.
As the sitting MP from Baramulla, I can say it is very difficult for India to get a favourable view internationally by having taken such harsh, restrictive, measures.