'The decision of August will have to be taken back. This is our resolve. When it will happen, how it will happen, the judge of our case are the people of this country.'
Mohammed Yousuf Tarigami, 72, a four-time legislator of the Jammu and Kashmir assembly and a member of the central committee of the Communist Party of India-Marxist, was recently in Delhi for a check-up at AIIMS.
In an interview to Archis Mohan/Business Standard, Tarigami talks about the situation in Kashmir and how it needs to be addressed.
Edited excerpts.
What is the situation on the ground in Jammu and Kashmir?
The situation is very painful. It is unbelievable for those who have not experienced it before. It is a terrible period for Kashmiris. It could have serious implications on the future of our country, its polity and ethos.
Life has been paralysed. Schools, colleges and universities are open but without teachers and students. We have seen turmoil earlier as well.
For the past 30 years, since 1989, there is virtually bloodbath going on, lots of violence and destruction. But the shock and distrust that our population is facing now is unprecedented.
The entire community of the people of Kashmir, irrespective of earlier divides, like mainstream and separatist, this or that group, strongly feels that we have been humiliated. Those who have stood for the country's unity, who have sacrificed, faced bullets, as also the common people, feel betrayed today. Here lies the danger ahead. It needs to be taken care of urgently.
But isn't lack of protests in Kashmir a sign of normalcy?
How many times have you seen protests inside Tihar jail? Come visit Kashmir and see for yourself. I am not cooking up stories. I am a responsible citizen.
A basic principle of democracy is to make the government accountable. In our case, Article 370 has been abrogated arbitrarily. The Constitution in J&K has been dismantled, the state itself bifurcated but they claim they are integrating the people of J&K with the rest of the country. Is this integration?
I do not know my fate when I return to Kashmir. Many of my comrades are either in detention camps or under house arrest. Young boys are languishing in jails and their parents have no idea about their whereabouts.
At least provisions of the Constitution of India, fundamental rights should have worked in J&K. Shouldn't I have the freedom to express my pain, know the reasons for my detention?
The Constitution of India is non-existent in J&K today because of the whims of the leaders ruling the country today. They talk as if the people are willing to suffer. If that is true, then let people in Delhi experience life without internet for a week.
The government claims there is normalcy since there is no bloodshed. Yes, there is silence in the graveyards. Don't make my Kashmir, our Kashmir, a graveyard.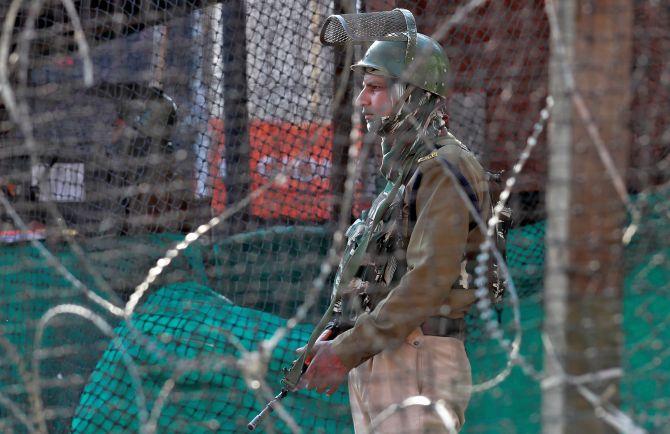 How is the political situation?
Only one political party is functioning. Rest of the political parties have to fold their hands and sit. It is like martial law.
We appeal to the people of this country, those parties committed to some sort of secular democratic ethos, please come out of your slumber before it is too late. There is disappointment with the democratic forces in the rest of the country.
But the decision of August will have to be taken back. This is our resolve. When it will happen, how it will happen, the judge of our case are the people of this country. We are hopeful of getting justice from this highest of all courts.
Our disappointment is that Parliament should have at least had a proper debate on Article 370 and 35A. If you had to sever ties with us at least you should have asked us our views. This relation is mutual.
We were not informed, instead put in jails. Their slogan is sabka saath, sabka vikas and sabka vishwas. Kashmir is the new laboratory of vishwas. Let them hold assembly polls in Kashmir if they think they can form a government there.
How has the livelihood been affected in the last 80-days?
You can well imagine. We have three main sectors. Carpet weaving is our traditional craft and business. There is no work for the weavers. No raw material is available. Lakhs earn their livelihood through carpet weaving and trade. There is no internet so they cannot sell to buyers abroad.
The story of Pashmina shawls is the same.
Our second sector is tourism. In the run-up to August 5, Amarnath yatris were asked to leave (by the local administration). Tourists were dragged out of the hotels and forced to leave. It was said there was a terrorist threat.
Then much of our apple crop rotted as it could not be transported out of Kashmir. Daily wagers have no work. Public transport is not plying. Shops are open but barely for a couple of hours each day.
The view of streets deserted for most part of the day differ strikingly from those shown on television in the rest of the country. Those TV visuals portray as if there is a traffic jam akin to Delhi's Chandni Chowk.
There are now concerns in Jammu and Ladakh about outsiders taking up jobs and buying land.
The Ladakh MP (Jamyang Tsering Namgyal of the Bharatiya Janata Party) recently said in his speech in Leh about the region's unique culture, and the need to save it. Now he remembers culture when Articles 370 and 35A, which guaranteed protection of this uniqueness, have been removed.
The Kashmiri Pandits, since they were educated and concerned at people from Punjab buying land and taking up jobs in J&K in those days, launched an agitation during the regime of Maharaja Hari Singh. A law was implemented, which was the origin for Article 35A.
People of Jammu have for years been told that the Kashmiris eat up a lion's share of the resources. But what have the people of Jammu got with this? The same questions, that of protection of their lands and jobs, confront them.
Moreover, there can be differences between people of J&K, of Leh and Kargil, but we want to live together and sort out our problems together. We are hopeful of the future. The problem is complex, but if the government believes that there is silence, and silence is a sign of acceptance, they would be hugely mistaken.
What about the question of Kashmiri Pandits and their return?
First of all, a tragedy is a tragedy. The Kashmiri Pandits have experienced a big tragedy; there is no doubt about it.
And they are part of the bigger tragedy of Kashmir itself. Kashmiri Pandits should return to their homeland and their homes.
But this atmosphere that the Centre is creating is further widening the divide.
The day when they return to Kashmir, that day will be Eid for us, Diwali, for us, the day when those separated for years will embrace each other. Some people have erred and we believe the Kashmiri Pandits have suffered hugely.
Do you fear Kashmir will escalate into more violence?
We cannot be sure about the future, but the youth is in deep distress. We are worried and appeal to the people of Kashmir, particularly the youth, that whatever provocation there is from authorities, whatever the wrongs of the Government of India -- the constitutional fraud, the betrayal -- violence is not an option for the people of Kashmir.
We appeal to them to not fall in the trap of those who want us isolated and defeated.
Our real strength lies in our unity, in the solidarity of other democratic sections in the rest of the country.
Our real strength lies in democratic peaceful protest, and violence in every form must be and has to be unacceptable to all the shades of opinion.