'Hindus vote according to politics.'
'So how will the BJP get the votes?'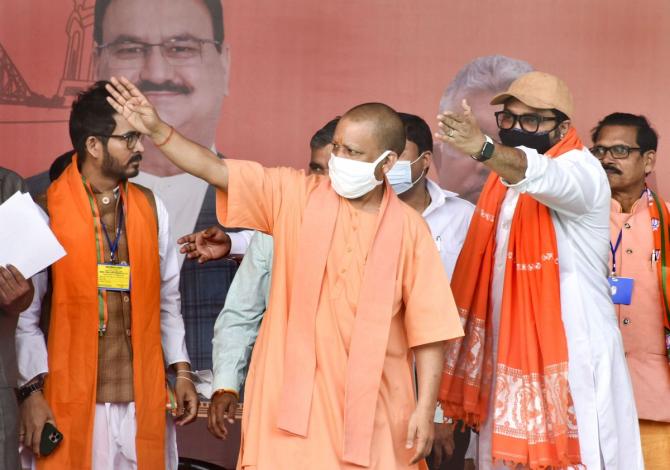 Two years and ideologies separate Tathagata Roy and Saugata Roy.
Born to Debesh Chandra Roy and Anila Dutta, in British India, the boys' lives mirrored each other.
They grew up like most middle-class children in Bengali families do, steeped in academia. They went to the prestigious St Lawrence school in Kolkata, were both recipients of the Jagadis Bose National Science Talent Search Scholarship, held a degree in law, and both retired as professors.
But that's where the commonalities ended.
Tathagata is a civil engineer, Saugata did his master's in physics.
Tathagata joined the Rashtriya Swayamsevak Sangh and then the Bharatiya Janata Party, Saugata is with the ruling All India Trinamool Congress in Bengal.
Tathagata held gubernatorial posts in Meghalaya and Tripura, but has never won an election; Saugata is a four-time Lok Sabha MP, five-time MLA and two-time Union minister.
In terms of heft with their respective parties, political observers point out that Saugata is critical to the TMC and had rumours of a shift in alliance to the BJP in November been true, the party would have been mortally wounded.
Tathagata wields less say in an already top-heavy BJP.
Tathagata, like the supreme leader of his party, Narendra Damodardas Modi, is active on social media -- an average of a tweet a day; Saugata's last tweet was in May 2020.
And then, of course, their ideologies.
Tathagata, as his Twitter bio will tell you is an 'Unabashedly Right-wing Hindu socio-political activist, thinker, writer, ideologue.'
Saugata's is more sober: 'Member of Parliament (Lok Sabha), Vice President of WBTMC, Former Union Minister, Active Trade Unionist, Former Professor, Philanthropist, Bibliophile.'
In the 17th West Bengal assembly election beginning March 27, the BJP is the principal opposition to the TMC and has already prophesied a 200-seat win.
But Tathagata says his personal equation with his brother is excellent and politics never gets in the way.
"I have never tried to woo my brother to the BJP. My brother is younger than me and we have gone our separate ways by having the best possible relationship between us."
There is another commonality the brothers share -- crisp, lucid English and their professorial manner in handing out rebukes when they feel the question merits one.
In the first part of separate interviews with Rediff.com's Swarupa Dutt, Tathagata and Saugata answer the same questions put to them.
The BJP has been accused of playing communal politics and dividing the electorate along religious lines in every election across the country. Caste and community never mattered to Bengal, but since 2019, the BJP has been playing that card too. How will the TMC counter it?
Saugata Roy: The BJP hasn't played the caste card in Bengal yet, I don't know how they will do that. They are playing communal politics, but ultimately that will not help them.
Already 30 per cent of the electorate is out of their reach, which is the Muslim minority.
So the BJP is trying to consolidate their votes with the Hindus. But Hindus do not vote according to religion, they vote according to politics. So how will they get the votes?
They are doing communal politics by bringing Yogi Adityanath, by doing rath yatras. These are all ploys. It won't work.
Tathagata Roy: It's a totally incorrect statement to say that the BJP is playing communal politics.
The BJP is a patriotic party. The BJP considers all Indian citizens to be equal. No particular class is to be mollycoddled. That is the difference between the BJP and the so-called secular parties.
The BJP has been propagating this idea in West Bengal for a long time and finally people are getting convinced that the appeasement, mollycoddling of minorities by the Congress, Communist Party of India-Marxist and Trinamool that has been going on for so long has been very dangerous. So they are flocking to the BJP.
We are living next to an Islamic country (Bangladesh). We share a border. There are jihadi groups active in Bangladesh, the Khagragarh explosions in Burdwan are a case in point; there are clandestine arms factories all over West Bengal.
These are the dangerous consequences. We will put an end to infiltration, to arms smuggling, and jihadi groups.
Will the Indian Secular Front's entry split the vote of the Muslim electorate? West Bengal has, in percentile terms, a 31 per cent Muslim electorate, the highest in any state (Jammu-Kashmir is a Union territory). Will a split vote benefit the BJP?
Saugata: Not substantially. See, the ISF is still an unknown entity. How many votes they will garner is a matter still open to question. It has not been determined.
They have never fought elections before. Ultimately, when the chips are down and the choice is between Modi and (West Bengal Chief Minister) Mamata (Banerjee), Muslims will not vote for an unknown person.
Tathagata: We are not bothered about the ISF. Let them play about with their guti (the polite translation is marbles).
We are going to appeal to all sections of people to vote for us, including Muslims.
We will put out the message that we look upon all citizens of India as equal; we have Muslims and Christians in our party.
Whether it wins them over, we will see. This is a democratic country. We don't force anyone, this is not the Emergency of 1975.
Amit Shah, J P Nadda, Yogi Adityanath have held rallies in Bengal, and have repeatedly said Mamata does not allow Durga Puja, Saraswati Puja etc. This is in fact a white lie. Why isn't the TMC countering these claims?
Saugata: We need not counter all this. Everybody knows Durga Puja takes place in Bengal, as does Saraswati Puja.
Yes, there may have been one or two occasions where the police may have refused permission because there could have been a law and order problem.
We didn't have any problems with the puja per se. In fact, she has been giving Rs 50,000 to each Durga Puja committee, no other CM anywhere else does this.
The BJP will raise this issue again and again, but I think it will not work for them.
They have guns for hire, big guns, like Yogi Adityanath. What is he? What does he know about Bengal? He comes from Gorakhpur via Lucknow to Malda. They are just hired guns. Our star campaigners are Mamata, and of course, Abhishek (the CM's nephew) also.
Tathagata: Who says it's not true? The Bengali very well knows that in order to carry out Durga Puja bhashan (immersion), Hindus had to go to the court because it coincided with Muharram and our CM chose to give precedence to Muharram, which is the festival of 30 per cent of the people as opposed to Durga Puja, which is a festival of 70 per cent of the people.
Are you saying Bengalis don't believe it? Bengalis certainly believe it! As for the Rs 50,000 she hands out to Durga Puja clubs, she is just doing a balancing act.
Mamata has opened up the state's coffers for minority groups. She has even gone to the extent of giving imam bhatas* in mosques. We went to court and stopped it, but she is still doing it in a roundabout way.
In a secular country, why should state finances go to imams? It's not OK to fund Durga Puja clubs either. No BJP government does this.
The Durga Puja grants began because she found counter-polarisation taking place and got scared. Nobody demanded an allowance for pandals. Nobody asked for it.
*'Imam bhata' is monthly financial allowance declared by Chief Minister Mamata Banerjee to be given as honorarium to imams and muezzins. In 2020, she announced a grant of Rs 50,000 to each of the 37,000 Durga Puja committees. This will cost the exchequer approximately Rs 200 crore (Rs 2 billion).