'If the BJP thinks it is going to overnight transform Bengal into Madhya Pradesh, sorry, that's not going to happen because I have faith in our ethos and culture.'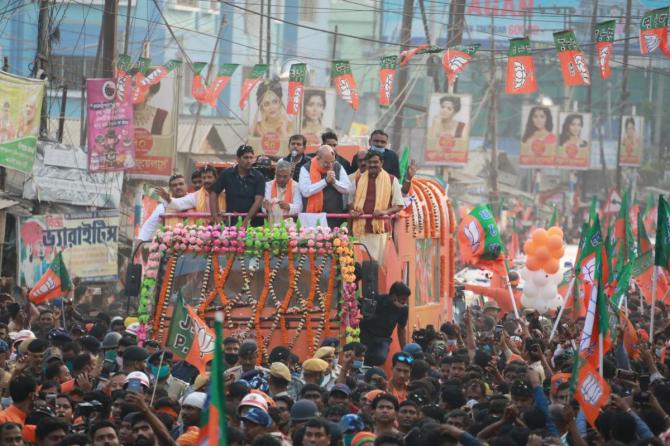 "The BJP is trying to change the ethos of not just Bengal but all of India, by changing the mindest of the Hindu to hard Hindutva," Mohammed Salim, Communist Party of India-Marxist politburo member and the Lok Sabha member from Raiganj in West Bengal, tells Swarupa Dutt/Rediff.com in the final segment of a three-part interview.
Why has the BJP said they will not be taking in any more defectors?
That is the problem na, media is going by jumla, I am going by assessments. You go by acts, I go by facts.
Last week, a BJP leader said they were beaten up by TMC goons and were denied protection by security forces, and that those who beat them were given security (laughs).
The bigger question is, if the BJP is so comfortable getting their numbers, why did they receive these tainted leaders from the TMC? It's because they are short of numbers.
TMC leaders like Jitendra Tiwari, Shatabdi Roy, who expressed unhappiness with the party, were asked by Mamata to stay on.
There are six TMC MPs who are actually with the BJP, mark my words (Since this interview, TMC Rajya Sabha MP Dinesh Trivedi quit the party). But they cannot defect because of the Anti-Defection Law. Rhe BJP wanted eight MPs to make it 1/3rd of Trinamool. Six are already there with the BJP. Mamata is not interested in them.
But whenever there is a seventh or eighth TMC leader wanting to defect, she goes into damage control. That is why she rushed to Dev (actor and MP Deepak Adhikari) and Shatabdi (actress and MP Shatabdi Ray).
The TMC conducts surveillance of its own leaders, not so much on the RSS or even terrorists, because she is worried about defections.
In the CPI-M, the moment we see a leader cozying up to the Opposition party, we sack them.
Why is Mamata so soft? How is it that the TMC leaders migrate so smoothly to the BJP? It's because they have an understanding.
They practise the same politics, only the flags are different.
The only thing Mamata has taught her party is anti-Left sentiment. She has never taught them to remain secular, or told them not to join the BJP/RSS. Mamata made her people anti-Communist, anti progress, but not anti-RSS.
Did you ever think there would be Jai Shri Ram chants heard in Bengal? Or Ram Navami celebrations with saffron-clad men holding tridents whizzing around in motorbikes?
No, I never ever thought that I would see all this in Bengal.
The CPI-M is not against Ram Navami puja, worship is a personal matter. Our position is 'Don't bring religion into politics'. Both the BJP and Trinamool do this.
When the BJP started Ram Navami, Mamata started Hanuman Jayanti. And let me tell you, all those TMC leaders who organised Hanuman Jayanti celebrations are now with the BJP.
We have always said that these are RSS fellows within the Trinamool and when the time comes they will rejoin the BJP.
Communal violence has spiralled in Bengal, but Mamata has never taken on the rioters.
Have you heard of any commission being set up after any communal riots -- Dhulagarh, Basirhat, Raniganj, Mathabhanga, Coochbehar?
TMC will not take any action against the BJP on communal issues, and the BJP will not act against TMC on corruption issues. That's the arrangement for 10 years.
Now, coming to Jai Shri Ram chants. If you look at the history of Bengal's freedom struggle, our freedom fighters like, say, Khudiram Bose, when he was sent to the gallows, cried, 'Vande Mataram'. In the north, it was 'Har Har Mahadev'.
When Communist parties were formed, it became 'Inquilab Zindabad'. When Ram Prasad Bismil was killed, he shouted 'Inquilab Zindabad'.
Can you tell me a single freedom fighter, whose clarion call was Jai Shri Ram?
When Netaji Subhas Chandra Bose formed the Indian National Army, he told Abid Hasan Safrani, to have a language, religion and region neutral slogan.
Jai Hind, just two words were embraced as it did not have any religious connotation. Now, when we hoist the national flag, we say 'Jai Hind'.
Jai Shri Ram entered mainstream India during the Babri Masjid-Ram Mandir issue and L K Advani's Rath Yatra. There is nothing wrong with Jai Shri Ram per se, but they converted a religious slogan into a war cry; it's the connotation.
In Bengal, it is Mamata who popularised Jai Shri Ram by seemingly opposing it. She always reacts to cries of Jai Shri Ram. But that is just a dramatised version for the media, that she is against it.
Anything that smells of controversy becomes news in Bengal. That is why slogans of Jai Shri Ram were raised on Netaji's birthday (January 23, 2021) and Mamata made a show of being displeased and refused to speak on the occasion. Why? TRPs!
Culture, ethos, civilisation are built over centuries, not decades. Elections take place once in five years.
Bangladesh's national anthem, Amar Sonar Bangla, was written by Rabindranath Tagore. Communal forces will ask why wasn't Kazi Nazrul's (Bangladesh's national poet) poems/songs adapted for Bangladesh?
And the answer to that is why the BJP's dream of Ram Rajya will fail in Bengal, because in epar and opar Bangla (West Bengal and Bangladesh) poetry, rhythm, lyrics, song, are more important than the religion of the poet.
Amra jokhon bolchhi baam-ponthira path-e nemechhe, ora tokhon rathe uthhchhe. (When the Leftists take to the streets, they (BJP/RSS/TMC) clamber on to the rath).
In Bengal, rath yatras are held for bhakti (devotion), not for shakti (a show of strength). The Bhakti movement of Bengal, Sri Chaitanya, Jagganath rath yatra, the ISKCON rath yatra, are examples of devotion to humanity, not religion.
They say rath yatra, we say rath mela.
It's a festival, where irrespective of caste, creed, gender, everyone joins in for a celebration of life. We sing, we dance, we paint each other with colors. It is not a juggernaut imposing one religion's beliefs over another.
In Ahmedabad, a rath yatra becomes a communal issue; whenever it takes place the Muslims are locked out.
In Bengal, a rath yatra goes back to the Bhakti cult, to Sufism, to Lalan Fakir.
But the BJP only understands a rath yatra that translates into vote yatra.
So, who are these people who chant Jai Shri Ram in Bengal?
When I used to go to Uttar Pradesh, Bihar in the '90s, I found everyone greeting you with a Jai Shri Ram. Even in press conferences, journalists said it purposely, to try to rankle you.
I had a lecture in Kolkata on the day the Ram temple verdict was passed by the Supreme Court. I had pointed out that when the Constitution was being drawn up, Nandalal Bose (a pioneer of modern Indian art) and his team at Shantiniketan, was tasked with the imagery for the book.
In the section on Fundamental Rights, there is a painting of Ram, Lakshman and Sita. It's a homely painting. Ram and Lakshman are on a chariot and Sita has her hand on her husband's shoulder. It's a beautiful, simple, painting.
Calendars in our childhood always had pictures of all three -- Ram, Lakshman and Sita. The chant then, the way people addressed each other, was, Jai Siya Ram.
In the BJP's version of the Ramayana, Sita has vanished, Lakshman has vanished. Only Ram remains. And his war cry, is 'Chalo Ayodhya'. It's a war cry of male domination.
The BJP is only looking at Ram as a warrior, not as a maryada purshottam (the perfect man). Jai Siya Ram has vanished.
The BJP is trying to change the ethos of not just Bengal but all of India, by changing the mindest of the Hindu to hard Hindutva.
Bengal has had Sri Chaitanya, Swami Vivekananda, Raja Rammohan Roy, Ishwar Chandra Vidyasagar.
Bengal has soft power. Our culture, our music, literature, language will tell you that we are not a martial race.
If the BJP thinks it is going to overnight transform Bengal into Madhya Pradesh, sorry, that's not going to happen because I have faith in our ethos and culture.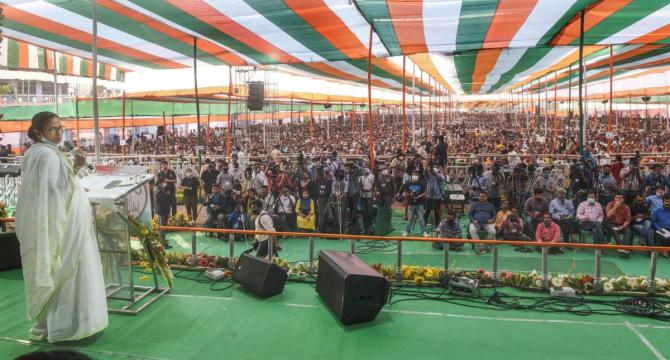 Thirty per cent of the electorate in Bengal is Muslim. When Mamata came to power in 2011, the Sachar Committee report on the dismal plight of Bengali Muslims played a role in the CPI-M losing the elections. What is your course correction going to be?
From 2009 to 2011 when the United Progressive Alliance was at the Centre and the Left Front government was in Bengal, the Sachar committee report was discussed. Now, nobody mentions it. Not even the media. Not even minority commissions.
The Sachar committee came into being because the Left supported the UPA government at the Centre. The Left wanted steps to be taken for the mitigation of hardships of tribals, Adivasis, the poor, Dalits, minorities, women, handicapped, basically all the marginalised sections of society.
The Sachar committee was set up to address the problems faced by the minority community, the Muslims.
I had said in Parliament then, 'Where there is a will there is a way , where there is no will there is survey'.
I had also quoted Bahadurshah Zafar in Parliament: 'Umr-e-daraz mang ke lai thi char din. Do arzoo mein kat gaye, do intezar mein.'
I said this because it took four long years for the Sachar committee to file its report.
So, what happened in Bengal and the rest of the country was that instead of utilising the Sachar committee report for uplifment of minorities or removing hindrances to their economic development -- with the help of the media, Muslim fundamentalist organisations and leaders like Mamata and parties like the BJP -- the report became a stick in the hands of the anti-Left.
They forgot about minority development, they just used it to beat us out of power. Once Left was gone, they forgot about the Sachar committee report.
We implemented certain portions of the report, and once we come to power we will wholeheartedly implement those recommendations which were put on hold.
There was also the Ranganath Misra commission at the time, headed by a former Chief Justice of India. The Left government had implemented its recommendations in toto in 2010; we were the only state to do so.
Mamata has ignored the report. We won't make that mistake.
At the end of the day, do you regret the politburo decision not to agree to the United Front offer to make Jyoti Basu the prime minister?
This is a last century question, but OK... Whenever I find time to look back, to look at the past, I do try to reflect upon what may have been.
But now on a battleground, we have to move ahead, we have to fight every inch, to look ahead. And I have no luxury to look back.
I have very diplomatically answered your question (Laughs uproariously).