'1,300 Muslim youth have been arrested since the riots began and pressure has been constantly mounted on the Delhi police to create a narrative that these youths started the riots.'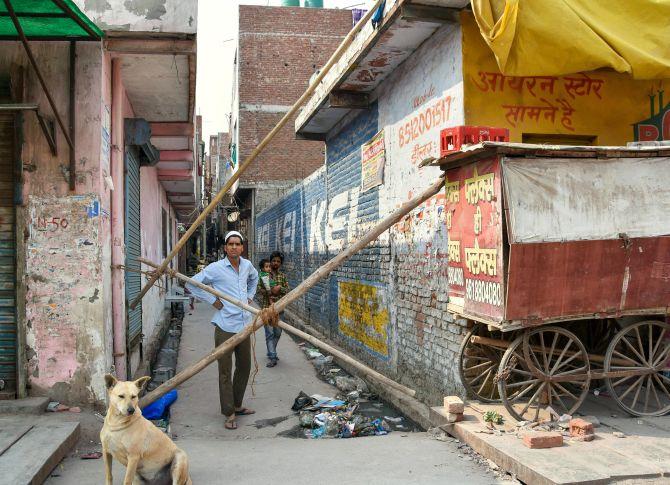 Zafarul Islam Khan, former chairman of the Delhi Minorities Commission, dwells upon how the Delhi police is trying to twist facts and why despite clear evidence of riot-mongering against Bharatiya Janata Party leader Kapil Mishra is adamant on giving him a clean chit.The concluding segment of a two-part interview:
In the first part of this interview you mentioned that you do not entertain great hopes, but truth must be told and placed on record.
What does this tell you about the system that our lawmakers have designed and the integrity of the institutions our Constitution have created?
There are certain quarters in the government who are very much interested to twist the whole thing and create a new narrative (about who are responsible for the commission of Delhi riots).
This is also why they have done selective leaks for their friends in the godi media (media that allegedly spins tales for the benefit of the ruling party in power at the Centre).
Look at the various chargesheets and status reports that they have presented in the courts. So much so that the sessions judge said that you (the Delhi police) are looking only at a particular angle. The (Delhi) high court also made a similar assertion.
So, there are people who are interested in twisting the entire narrative and have even used the offices of the solicitor general too to create a narrative that suits their political purpose and ideology.
I can't name any names, but this (the people who are twisting the narrative for political benefit) is very apparent.
Are you again pointing fingers at the Union home ministry?
I am not pointing fingers at anybody, but, of course, anybody who is involved can feel that there are certain people interested in giving the Delhi riots a certain twist (that benefits them politically).
You also said that from February 24 itself, your Commission intervened forcefully to stop the riots. What were these measures that could not stop the riots from spreading as they continued till February 27th and so many people died?
Look, we don't have any police or army at our disposal.
We could speak to higher officials, we could send messages to the police, to the lieutenant governor, to the chief minister, to the DCP (deputy commissioner of police) of north east Delhi, to the SHOs (station head officers), the heads of local police stations and we were doing that.
If you look at our annual report, which is also online now, you will find that from the 24th (of February), we had been conveying through various ways, through notices, through e-mails, through tweets, seeking intervention from the law and order machinery in charge of Delhi.
Even during the attack on Jamia Millia Islamia students on the 15th of December, I was standing at midnight in front of two police stations to help people who were arrested from Jamia Nagar.
Who do you think fomented communal riots in Delhi and who benefits from it?
The same forces which are benefiting from communal tension all over the country; same forces who think that through communal polarisation they can create captive vote banks, protect existing ones and also create new ones.
They certainly reap electoral and political dividends and become powerful politically and spread the ideology of hatred in our country.
What were some startling facts that came out in the Delhi Minorities Commission's Fact-finding Report on Delhi Riots 2020?
Everybody knows. The fact-finding report has also established that the riots started with the speech of Kapil Mishra and the Delhi police is still adamant to give him a clean chit; they say there is no relationship between the violence and his speech.
Hours after Mishra's communal speech, Delhi began to burn.
In fact, in his speech he can be heard warning the DCP of the area, who was standing beside him when he was daring the police that they will take to the streets (take the law and order in their own hands if anti-CAA protestors were not emptied out from Shaheen Bagh).
So there is a clear relationship between what he was saying or doing and what followed within hours.
And after that when violence started, those who were being attacked must have naturally defended themselves.
Ironically, the Delhi police have filed cases against them for starting the riots, for planning the riots, for bringing people from outside.
I have been living in Delhi for the last 35 years and I don't think that any Muslim individual or locality would have this kind of guts to bring people from outside to start a riot.
That the Delhi police have actually charged people for doing exactly that is beyond my imagination.
But still, this has been made out, and now they are trying various ways of putting pressure on the Muslim youth who have been arrested under fabricated charges.
1,300 Muslim youth have been arrested since the riots began and pressure has been constantly mounted on the Delhi police to create a narrative that these youths started the riots.
All this is being done by the Delhi police to build and bolster a stereotypical image of Muslim youth.