'For dealing with rioters no political orders are required.'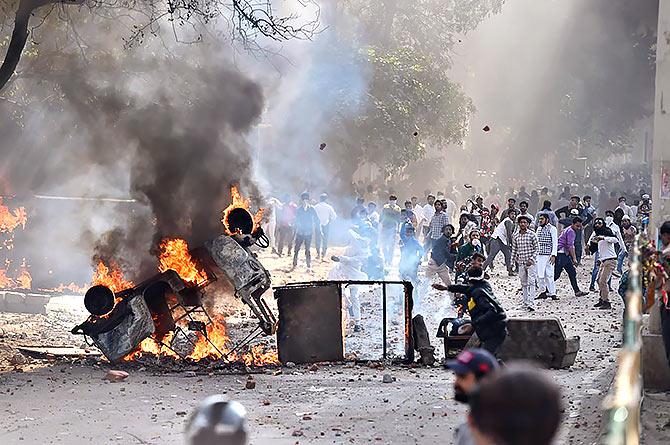 "I am not really happy with the way the Delhi police is handling the (law and order) situation," former Delhi police commissioner Neeraj Kumar tells Prasanna D Zore/Rediff.com.
However, he observed that the situation has still not spiralled out of control to call in the Indian Army.
"The situation doesn't warrant calling in the army. The army was last called (in Delhi) in 1984 (during the anti-Sikh riots in after then prime minister Indira Gandhi's assassination on October 31, 1984).
"The army is called in only when the there is large scale rioting. The situation is not that grim yet," Kumar added.
"Lack of leadership explains the inability of the Delhi police to control the situation in Delhi right now," he said about the growing spiral of violence in Delhi even as United States President Donald J Trump was in Delhi.
Kumar refused to attribute the rioting to lack of decisive political leadership in sending a strong message or giving a free hand to the police to deal with the situation.
When asked how the Delhi police could have handled the situation differently, Kumar, who was Delhi police commissioner from July 2012 to July 2013, said, "It could have responded to first instances of violence firmly and strongly. They allowed the situation to go from bad to worse. They dithered from taking any action and that led to the spiralling of the the situation from bad to worse."
When asked if he concurs with incumbent Delhi Poluce Commissioner Amulya Patnaik's statement that he needs more police force, Kumar said, "The CP has denied making any such statement and said they have enough forces (to handle the instances of rioting)."
Elaborating on the swift action the Delhi police can now take to quickly quell the rioting, he said "The Delhi police should now come down with a heavy hand on the rioters; they should undertake area domination exercises in the affected areas."
"The miscreants, whoever they are, must be arrested immediately and firmly dealt with; carry out more preventive arrests; people inciting the rioters should be hauled up and arrested."
"It can do a lot more. It can do lathi charge and if the situation so warrants, the police can open fire, too," he added.
Kumar believes the Delhi police must give a strong message to the rioters.
"Let the message go through that nobody will be spared and the law would catch up with everybody. Don't wait for orders to come from anywhere."
"You are on the ground, deal with the situation. The (Delhi police) leadership should not wait for orders and give confidence to the cops that they will take the responsibility if things go wrong," he said about how riots can be handled effectively by giving a free hand to the police on the ground.