'Who are these people on the streets?'
'They are youth and students who were hoodwinked, bluffed by Modi for the last seven years, with a promise of 2 crore jobs every year.'
'And Mamata sings the same tune.'
'But the youth can see that as long as there is Mamata or Modi, there is no hope.'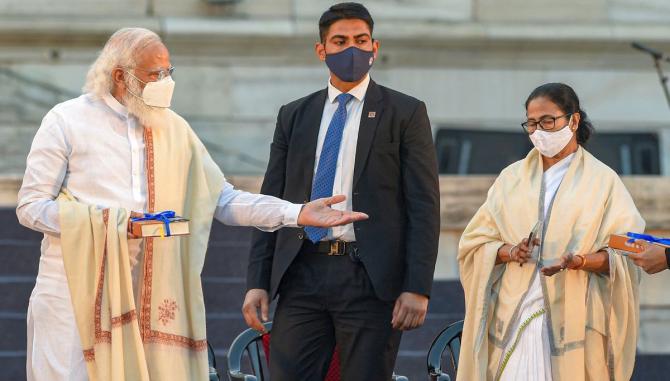 Mohammed Salim says he never knew the word 'jumla' till Narendra Damodardas Modi assumed office as prime minister of India in 2014.
A Communist Party of India-Marxist politburo member and Lok Sabha member from Raiganj in West Bengal, Salim's formative years in politics began much like his opponent Mamata Banerjee's -- as a street fighter.
He moved to national politics as MP, serving both in the Rajya Sabha and the Lok Sabha.
With elections to the Bengal assembly just weeks away, Salim has been holding rallies, meeting people and attempting to redress issues across Bengal.
In the first part of a free-ranging interview with Swarupa Dutt/Rediff.com, Salim talks about the legacy and the future of the Left in Bengal, and why the prime minister's warning to 'andolanjivis' is so ironic.
Left-sponsored bandhs, marches to the Nabanna (West Bengal secretariat)... Suddenly the Left Front seems to have been infused with a new life after years of being out in the cold.
Are the bandh, the protests, a microcosm for the rest of Bengal?
There are 10 Left-aligned organisations who participated in the protests. They represent the voice of the youth and the students of West Bengal. Dissatisfaction with the Trinamool government is nothing new.
Contract labourers, part-time teachers, para teachers, madrassa teachers, are asking for contracts to be renewed.
People want jobs and corruption-free jobs. Some are asking for permanency of jobs, vacancies for lakhs of jobs need to be filled. Campus recruitments don't happen any more.
2020 was a year affected by coronavirus, the whole country suffered, but where other states reached out to its people, the TMC government did nothing.
You see, for 10 years, the state and central governments have only made false promises, they have bluffed the people and that is why the anger has spilled on to the streets.
But isn't your comment a bit rich? Look at the CPI-M's track record. Mass unemployment, industry and youth fled to other states, the poor became poorer, your policies in education were disastrous, health care suffered.
Your 34-year-old rule spelt the death knell for Bengal.
Why would people vote for you again?
This is an old, bostapocha (rotten) complaint about the Left. We are tired of hearing this.
People who know Bengal politics telescopically know that during the three decades of Left rule the number of people living in poverty was at its lowest ever.
Economist-columnist S (Swaminathan) Anklesaria Aiyar wrote that when Jyoti Basu's term ended, the highest number of people were lifted above the poverty line in the shortest period. The Left government inherited an economy on the decline, but we have been blamed for Bengal's decline.
Those people who know the figures from the 1970s to 2010 (the Left regime ended in 2011) will tell you that in the last five years of the Left rule, West Bengal was way ahead of any other state in terms of foreign direct investment.
Job creation? In the small and medium sector industry, West Bengal created the maximum number of jobs, we were the number one state in 2010-2011 in job creation; Gujarat, by the way, was sixth.
Because of equitable land distribution, we were able to bring down rural poverty and farmers were growing three crops a year. The Planning Commission, in fact, said that we had the highest growth rate in agriculture.
As for flight of capital from West Bengal, it had nothing to do with the Left rule of 34 years.
After Independence, three presidency banks were amalgamated to form the Imperial Bank, which in 1949 became the State Bank of India and it was to be headquartered in Mumbai.
The traditional industries set up by the British in Bengal was tea, jute, coal mining and engineering. But when petrochemicals came, there was a sea change.
The west coast because of its proximity to the Middle East, became a hub for the petrochemical industry. All petrochemical units moved to the west. The Left government fought and established Haldia Petrochemicals against all odds.
Nuclear power projects? The map of India will show you that the east and north-east don't have a single nuclear plant. Why? Is it because of the Left? NO. It is because of the policy of the Centre.
When we were in power, every year, we used to fight about credit deposit ratio. Now, for 10 years, neither has the TMC worked towards it, nor will the Bharatiya Janata Party bring this up.
The money collected from the banks is not ploughed back into industry. When the Left rule was there, we used to always fight to raise the credit deposit ratio so that investment in industry continues.
So, what you are saying is that if you come to power, the people of Bengal will see a different avatar of the Left. What is your to-do list for Bengal?
First is tackling unemployment.
We will create jobs for what are called 'professionals', create jobs in vocational education, in the service sector, where in any case, Bengalis are better at, than other states.
Employment and industrialisation are linked. We will attach much more importance to industrialisation, labour intensive industrialisation, so that people find gainful employment. We will focus on self employment, the Left front government has always done that.
We will focus on agrarian development -- crop diversification to processing of those crops. We want to value add to crop producers, like value adding to mining by establishing the Durgapur steel plant. End to end, unlike the Bailadila mine (in Chhattisgarh) where the iron ore is only exported.
We have raw material, youth, technology, especially in the engineering industry. We will make good use of what we are blessed with.
We want to ensure we are in a position to offer import substitution, curtailing imports from other states by producing those goods.
Second, is to take the agriculture a step ahead. After land reform and irrigation, it is utilising science and technology for crop yield and diversification.
Third is education. Bengal used to be the hub of education through centuries. Compare the first decade of this century and the second decade of this century.
In the first decade, 2000 to 2010, we developed the IT hub at Sector 5 (at Salt Lake, Kolkata), then came Nonadanga.
From 2010 to the present, Mamata Banerjee presided over the abortion of sunrise industries in Bengal. We will rejig that, revamp that. We will establish multiple sectors in Siliguri, Durgapur, Haldia, anywhere in Bengal.
Wherever you go in Bengal, you will find land has been acquired for industry. The fences are painted in blue and white (Trinamool Congress colours), but there is no investment because there are no takers.
On these lands we will encourage home-grown entrepreneurs to set up their own SMEs and MSMEs.
And the investment will come from who?
The credit deposit ratio, of course.
We keep talking about Bengal's poverty. Do you know we have one of the highest rate of savings in this country, be it small savings, mutual funds and the share market or even in fixed deposits or post office savings? We will ensure that some of that money is ploughed back into the economy.
In Bengal today, if a bank receives Rs 100 as a deposit, not even Rs 30 is ploughed back into the economy, as opposed to Gujarat and Maharashtra where for every Rs 100, at least Rs 110 is what is invested back into the economy.
A parliamentary committee in 2010 said this, not me. We took it to Rs 46 and we will take it further up.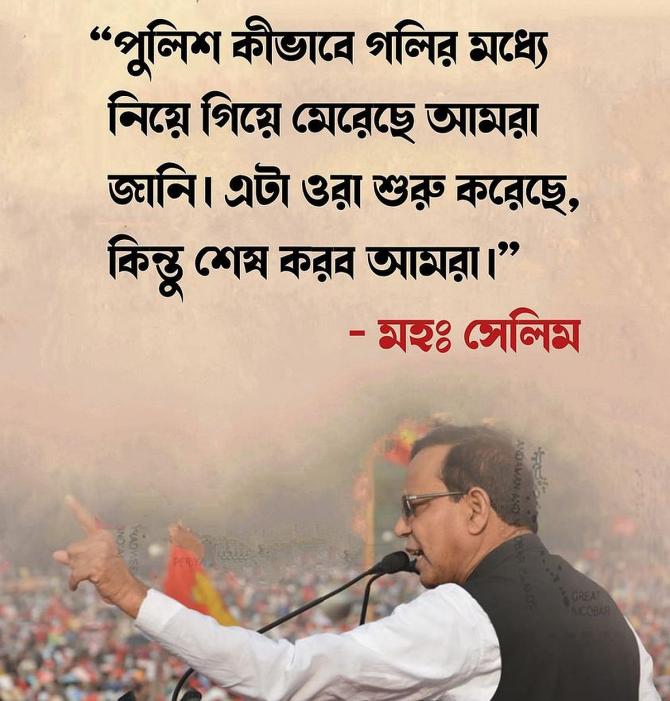 What about the intrinsic trust deficit between a Left Front government and industry?
That used to be there in the '70s. From 2000-2010, Bengal and not Gujarat, received the highest investments from Japan. Ask the BJP and TMC what happened with Singur.
It is not trust deficit, the fact is Modi and Amit Shah are ensuring all investment is made in Gujarat.
We have to not only retain but also regain investments and industry in this state. If we have the necessary skill level, stability, peace and rule of law, Bengal will boom. We need to have better relations with Bangladesh and our neighbouring states.
If you remember, during 2010-2011 we were talking about 'Look East', so that Bimstec countries, far east countries, southeast Asia would be linked with Bengal, Calcutta. Calcutta was valued in British days because the markets were southeast Asia and Calcutta lay in between.
X
Bay of Bengal Initiative for Multi-Sectoral Technical and Economic Cooperation comprises Bangladesh, Bhutan, India, Myanmar, Nepal, Sri Lanka, Thailand brings together 1.5 billion people -- 21% of the world population.
It was set up to promote active collaboration and mutual assistance on matters of common interest in the economic, social, technical and scientific fields.
But in post-Independent India, the route became 'look West'. So, naturally the emerging markets were in the Middle East, Africa, Europe and Mumbai became the exit route.
When we supported the Manmohan Singh government, we convinced them to consider 'Look East'.
But when Modi became PM, we heard 'Act East' being said again, apart from the word 'jumla' . But when Modi came to Haldia (February 7, 2021), he did not mention Look East even once. Nothing is ever written, or read about the 'Look East' concept of doing trade.
So when the Left comes to power, it will be our policy of incorporating the latest technology and market considerations and attracting investment from the east for a modern economy.
The Left is synonymous with strikes and protests, the red flag marches in Kolkata, the Brigade Chalo call for the masses to assemble. So how do you react to the PM's 'andolanjivi' comment?
We don't play with words. Jumlabaaz plays with words and naturally the media laps it up.
But before I talk about andolanjivi, let me tell give you an inkling about the BJP's jumlabaaz government.
The BJP and Modi boast that they were born out of the Jayaprakash Narayan movement. When Modi came to power in 2014, he did so on the back of the India Against Corruption movement led by Anna Hazare. I don't know if you can even call it a movement.
Anyway, so when people protest, they do so because there is an issue that the government should be addressing, which they are not. Are they paid protesters?
I also want to say that the same media, which keeps quoting what Mamata Banerjee said about the Left -- that you cannot spot a Leftist even with binoculars and there is nobody in the CPI-M below 50 years old -- have not bothered to highlight the fact that the police are using drones to cover our rallies?
Who are these people on the streets? They are youth and students who were hoodwinked, bluffed by Modi for the last seven years, with a promise of 2 crore jobs every year.
And Mamata sings the same tune saying, 99 per cent of work has been done already.
But the youth can see that as long as there is Mamata or Modi, there is no hope.
The BJP is not talking about what they are going to offer next year, or in five years. They talk in terms of 5 billion, 3 trillion...
Time is running out for our youth because if you look at it practically, there is an age limit for employment. The youth know that in the job market it is now or never.
Those who are talking about andolanjivis are actually jumlajivis.
Protesters are fed up of jumla and that is why they come on to the streets.
Bengal er lokjon, jara rathe aache, taderke rath theke namate chaay (the people of Bengal want to dislodge those who are on raths).
The TMC, which is known for its chit fund scams and luring people with the promise of jobs that never happen, are getting on to this rath. That is why people are on the streets.
Loraita rath-e hobe na poth-e hobe, shetai mot kotha (whether the battle will be on the streets or on the rath, is the moot point).
When Modi chants Ram, Ram, the youth chant kaam kaam.
When Modi says dharma (religion), the youth say karma (show us the work you have done).
Bengal politics will be determined by karma.