'Yogiji is saying he is doing good work, but when you go on the ground you will see the reality.'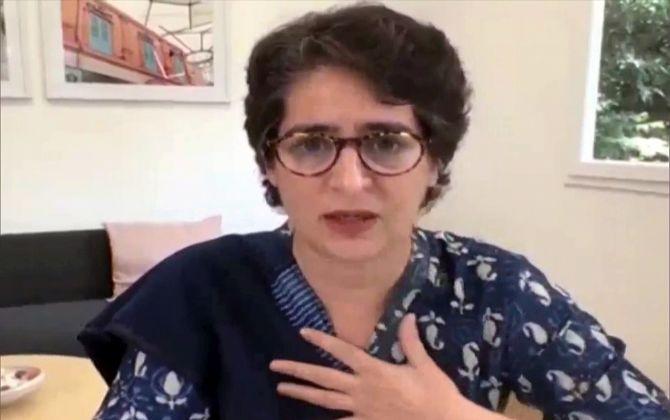 The Congress party and the Uttar Pradesh government have been locked in a war of words after Congress General Secretary Priyanka Gandhi Vadra told UP Chief Minister Yogi Adityanath that the Congress had made available 1,000-odd buses to safely ferry migrants to their homes.
However, the UP government claimed that a list of 1,000 buses contained registration numbers of autorickshaws, cars and trucks.
After three days of a political slugfest, the buses parked along the UP border returned on Wednesday, May 20, after the UP government imposed certain conditions and did not grant them permission.
On Wednesday, UP Congress President Ajay Kumar Lall was arrested twice -- first in Agra for sitting on a dharna to protest against the UP government not granting permission to allow buses arranged for migrants by the Congress to enter the state.
He was granted bail by an Agra court and released before being rearrested by a Lucknow police team in a second case filed in connection with the Congress's standoff with the state government.
"If helping someone in need is called playing politics, then what can I say?" Virendra Chaudhary, vice-president, Uttar Pradesh Congress, tells Syed Firdaus Ashraf/Rediff.com.
What is going on in Uttar Pradesh right now? What is this standoff about?
To fight against COVID-19, all of us countrymen must stand united and therefore we, the Uttar Pradesh Congress, decided to help the state government by sending 1,000 buses for migrant labourers who were walking on the roads.
Unfortunately, the Yogi government did not take our help.
The UP government claims the Congress is playing politics over the migrant labour issue.
If helping someone in need is called playing politics, then what can I say?
We were sending buses to help on humanitarian grounds.
We want to serve these poor people, but they (the UP government) did not take our help.
PM (Narendra Damodardas) Modi said in his speech that whoever can help the poor must help in whatever capacity.
But when our leader (Priyanka Gandhi) tried to help, they are saying we are playing politics.
The UP government said you sent the list of three- and two-wheelers along with buses.
We have proof that out of 1,049 buses there were nearly 880 buses which were in good condition and well-maintained.
If 880 buses were ready to help these migrant labourers, they could have started using them.
We would have arranged the remaining 169 buses soon.
But instead of that they (the Uttar Pradesh government) started accusing us that we were sending autorickshaws.
They filed a case against us under IPC 419 and 420 (for cheating).
Didn't your party in fact lie about the number of buses?
We did not sign any agreement on sending buses.
We said we will give 1,000 buses.
We delivered 880 buses, that they too agreed upon.
Now they (the UP government) are saying others were ambulances or autorickshaws.
The government could have used these vehicles too to help the migrant labourers who were walking on the roads.
They could have ferried the migrants in these vehicles rather than filing a case against us and playing politics.
So a poor man who is walking with his family on roads took an auto.
What was wrong in it?
The government should have ensured that they make this poor man reach his home.
But they did not do that and instead played politics.
If there was an ambulance in those vehicles, then that could have transported the sick people.
We gave these many vehicles free of cost and still these poor people were not allowed to use them.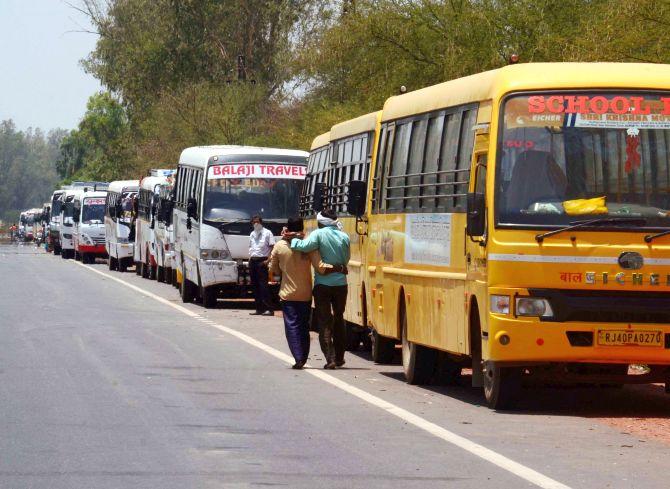 Didn't your leaders sit on a dharna? Is it not true?
Who sat on a dharna?
We never sat on a dharna.
Additional Chief Secretary Avnish Awasthi told us that 500 buses should be sent to the Ghaziabad district magistrate and another 500 buses should be given to the district magistrate of Noida.
Now someone has to go and oversee this process.
So, 10 to 12 Congress leaders went to do that.
One cannot instruct 500 bus drivers on the phone as someone has to be present on the ground physically.
Therefore, our leaders had gone on the ground to ensure smooth transition of handing over buses to the district magistrates of Noida and Ghaziabad.
We also maintained social distancing when this process was being carried out.
So, what wrong did we do?
We also said if Yogiji wants to put his own photo on these buses, let him do so.
We had no problems.
Why did you think the UP government refused to ply the buses?
Even a common man in Uttar Pradesh is saying that Yogiji is scared of Priyanka Gandhi.
So he is stopping her from doing work.
The condition in the quarantine centres of Uttar Pradesh is very bad.
Migrant labourers are just walking on roads without any transport, nurses are threatening to go on strike because of lack of facilities.
There is complete mismanagement.
What do you do now as some of your leaders are in jail?
We now have set up community kitchen across Uttar Pradesh roads.
We are giving food packets and water to all the labourers who are walking.
It is only Congress workers who are visible on the roads.
This is happening in every zilla of Uttar Pradesh.
We are not doing politics.
We are just helping the poor in this crisis.
Are migrants still walking on the roads to return to their homes in UP?
Yes, even now they are walking.
After two-three truck accidents in Uttar Pradesh in which migrant labourers died, they are stopping people from traveling by trucks.
They are making them get down from the trucks and telling the migrant labourers to walk.
When we provided buses, they refused to take them.
On Uttar Pradesh borders, people are standing for two-day days and doing registration before entering the state.
Uttar Pradesh is running on bhagwan bharose (god's mercy) in COVID-19 times.
Yogiji is saying he is doing good work, but when you go on the ground you will see the reality.
Uttar Pradesh has 26 crore population.
These people made the other cities of India with their hard work and sweat.
Now they are coming back home and Yogiji is saying he will ensure they get employment.
Only the coming times will prove if what he is saying is right or wrong.