The CM recently instructed officials to prepare a roadmap for providing local jobs to about two million people, especially in the rural-based industries, such as khadi, dairy, and food processing units and MSMEs.
Virendra Singh Rawat reports.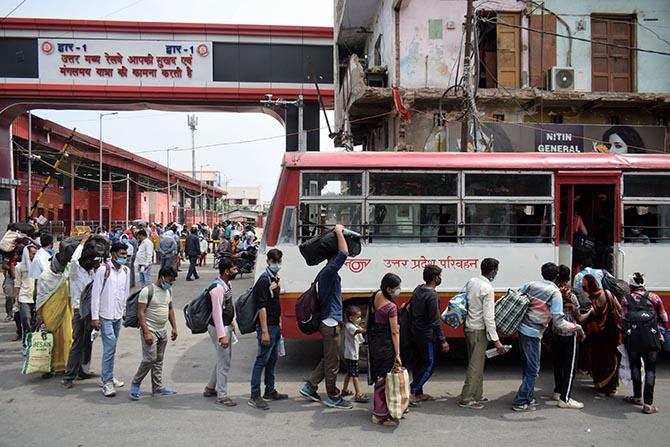 Sarju Lal, 35, returned to his native village in Gorakhpur district from the textile hub of Surat recently after more than a month of lockdown.
For thousands of his ilk stranded in Gujarat, Maharashtra, and other industrialised states, the homecoming was made possible only after the Centre decided to ply non-stop interstate special trains.
Almost broke and brokenhearted at the sudden turn of events, as the host state purportedly failed to provide succour to migrants, Lal is facing the prospects of permanent loss of livelihood, even as he is ready to work locally even for a lower remuneration.
Nearly half a million migrants had already returned to UP following Lockdown 1.0 in March.
The Yogi Adityanath government estimates almost a million stranded workers may arrive over the next two months by trains or buses through the official channel.
This implies the state has the tough task of resettling over 1.5 million, now jobless, migrants.
Besides, tens of thousands of resident labourers and daily wage earners have been rendered jobless following the abrupt closure of commercial and industrial activities in March.
The state government has already provided Rs 1,000-cash handout each to nearly three million daily wagers in rural and urban areas.
Acknowledging the enormity of the challenge, the CM recently instructed officials to prepare a roadmap for providing local jobs to about two million people, especially in the rural-based industries, such as khadi, dairy, and food processing units and MSMEs.
Against the backdrop of the COVID-19 pandemic, the government has also set in motion the process of expanding the capacity of quarantine centres to accommodate a million people, and proposed to convert college premises into temporary shelter homes for migrants, since they are mandated to serve a 14-day facility or home quarantine on arrival.
Since a major chunk of these labourers are skilled, the state is looking at employing these workers in industries that suit their skill sets, including weaving and manufacturing processes.
"Our labourers are coming back in large numbers. Suppose a substantial proportion of these workers stay back after the lockdown is lifted, there can be social problems if they are not gainfully employed. Therefore, the government is drafting an action plan to create job opportunities for them at the local level," UP deputy chief minister Dinesh Sharma said.
He said the state would adopt an integrated approach to generate fresh employment for these labourers.
Social historian and political commentator Badri Narayan observed although UP had taken the lead in bringing back migrant labourers, the real test would be to provide them with suitable livelihood avenues.
Recently, Adityanath had written to his counterparts in other states seeking cooperation in bringing back these labourers.
The letters have been sent to the chief ministers of Madhya Pradesh, Punjab, Uttarakhand, Odisha, Gujarat, Himachal Pradesh, Maharashtra, Delhi, and Rajasthan.
"The state government had appointed nodal officers to facilitate the institutional return of workers and the results were visible in the form of special trains arriving in UP. However, the big challenge is to provide inland job opportunities to such a large population base," he added.
It is easier said than done to generate local jobs on such a massive scale and that too within a limited period since the arrival of workers continues abated.
At the same time, the lockdown has shrunk revenues of the state by nearly 90 per cent, leaving little financial leverage for the government to dole out cash to the unemployed, in addition to free ration and food packets to beneficiaries.
For example, against the tax demand of Rs 12,141 crore in April 2020, the net mop up stood at merely Rs 1,178 crore, a fall of 90 per cent.
Considering that the monthly salary and pension bill of the state is to the tune of Rs 12,500 crore, and that the government decided not to cut or delay these payments, the ruling Bharatiya Janata Party dispensation is in a tighter spot to make the ends meet.
"If local level jobs were so readily available in villages, labourers would not have decided to migrate to states like Gujarat and Maharashtra. The fact is, in the present circumstances of Covid-19 and the bitter experience in the host states during the lockdown, most labourers do not want to go back if they have a viable option at hand. This will further put pressure on the UP government to come up with a concrete plan to provide jobs to them," Purvanchal-based social worker and writer Harishankar Shahi observed.
"Migration will continue to happen, but now it will be more in an institutional format with labourers giving due consideration to their health issues, and negotiating such terms with their employers when they return to their workplaces in other states," Narayan added.