'Recently we held a video conference with a host (about 100) of US companies that want to move their base from China to Uttar Pradesh.'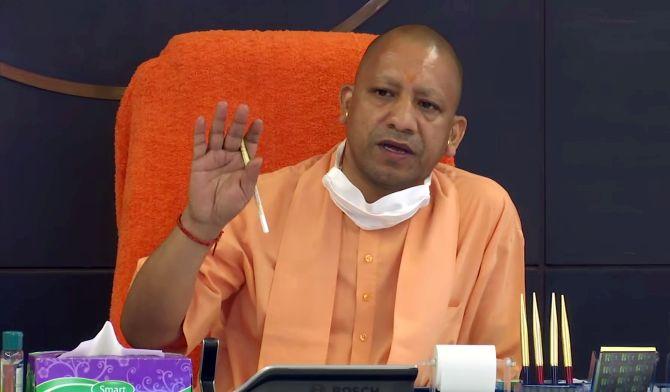 As migrant labour from across the country head to their homes in various states, Uttar Pradesh is staring at lakhs of them coming back.
The state government has set up an experts panel to coordinate with other governments the task of bring back the locals.
UP Chief Minister Yogi Adityanath's government believes the coronavirus pandemic is not just a crisis; it is also looking at opportunities from it.
As the supply chain from China gets disrupted, UP has made early moves to attract multinationals who may look to shift their operations elsewhere.
"Our endeavour is to bring back the economy of the state on track and at the same time ensure that the infection is in check," Adityanath tells Arun Lakshman.
Lakhs of migrant workers from UP are in other states/cities who are desperate to return home. Maharashtra has said the home states must bear the expenses of migrant labour's transfer and housing, etc. Is your government prepared to do that?
Taking a humanitarian view of the longing of the migrant workers from Uttar Pradesh stranded in other states to return to their homes, we have decided to bring them back.
On the third day of lockdown-1, we had brought back about four lakh workers from Delhi and its adjoining states.
After the implementation of lockdown-2, we have been bringing back the labourers in a phased manner from other states.
So far, 13,000 labourers from Haryana and 4000 from Madhya Pradesh have reached their homes safely.
Similarly, we are bringing back our workers and labourers from other states including Rajasthan, Gujarat, and Maharashtra.
We have appointed 32 nodal officers (16 IAS and 16 IPS officers) to help the migrant workers living in other states of the country. These officers have contacted more than seven lakh migrant workers so far and have managed to solve their problems.
Our government has told all the other states of the country that they should take care of our workers, and we will not let their workers and labourers face any kind of problem here. For this, we have appointed a nodal officer in all the 75 districts of the state, who are contacting citizens of other states living in Uttar Pradesh and resolving their problems.
As far as the expenses are concerned, we have asked the governments of other states to provide the necessary goods and facilities to the people of our state, and we are ready to pay for them.
How many migrant workers are you prepared to take back? In many villages, there is fear among locals that the returning workers may bring the virus from the cities. How do you plan to handle this fear?
Our government is bringing back more than 15 lakh migrant workers and labourers from other states of the country.
All those who are being brought are being screened properly.
Once they are here, instead of being sent home directly they are being kept in the quarantine centres for a few days where they are being provided food through the community kitchens.
Random and pool testing of such workers are also being done.
It is only after we are completely sure that they are not infected that we are sending them home after giving them food grains and Rs 1,000.
In order to prevent home quarantined people from coming out, monitoring committees have been set up in rural and urban areas to ensure that these people follow social distancing and remain in their homes. Local people need not fear about this at all.
Two of your MLAs have been in the news for their controversial statements during the coronavirus pandemic. Suresh Tiwari asked people to not buy vegetables from Muslims; and Shyam Prakash levelled corruption charges against Hardoi health authorities. How do you plan to deal with them?
My government does not support any such statement. Whoever has given such a statement is wrong. The party is looking into the matter, and whatever decision is appropriate, will be taken.
Regarding allegations of corruption on health officials, we will take suitable action by conducting an inquiry into the matter.
How do you propose to end the lockdown in UP? What will be allowed to reopen, and what won't be?
Our government will follow whatever instructions will be received from Prime Minister Narendra (Damodardas) Modi in this regard.
The central government guidelines have come and based on these we have come up with our own guidelines so that the gains made during lockdown 1 and 2 are not lost.
We have started all the industrial activities which have been allowed to be resumed by the Centre, following social distancing.
Work on big projects like Purvanchal Expressway, Bundelkhand Expressway and Gorakhpur Expressway has started again.
Our endeavour is to bring back the economy of the state on track and at the same time ensure that the infection is in check.
What has your government done differently in combating COVID-19 as compared to other states?
Our government took many steps which are completely different from other states.
Uttar Pradesh is the first state in the country to do pool testing. By marking hotspots in districts, we started the process of making the three-kilometre area as a containment zone and five-kilometre area as a buffer zone.
To give a boost to the economy of the state, we formed a committee under the chairmanship of 11 ministers.
To effectively curb coronavirus, our government formed Team 11, under which it made 11 committees headed by 11 senior officials.
We deployed 32 nodal officers to ensure that the workers of Uttar Pradesh living in other states do not have to face any problem. Other states have also followed this arrangement.
Apart from this, we also moved fast to bring back our migrant workers.
We have also brought back 11,500 students from Kota.
In Prayagraj, 10,000 children preparing for competitive examinations have reached their homes safely.
Uttar Pradesh also has the distinction of distributing most amount of foodgrain as compared to other states of the country.
Under the first phase, foodgrain were distributed to 14 crore people through 3,23,87,640 ration cards.
In the second phase, under the Pradhan Mantri Garib Kalyan Anna Yojana, rice was distributed on 1,78,00,000 ration cards.
An amount of Rs 280 crore was distributed as maintenance allowance to 27,87,000 workers of the state.
Payments of wages amounting to Rs 524.51 crore were made in 35968 industrial units, and 6603 closed units were restarted.
We also ramped up COVID-19 testing facilities in a very short span of time. About a month ago we started with one lab which tested about 50 samples, today we have 17 labs which are testing more than 5,000 samples.
You did not attend your father's funeral. Any regrets over it?
I am a monk. For me, power is not a means to personal comfort, but to service of the masses.
The 23 crore people of the state are my family, and my only purpose in life is to serve them.
Coronavirus is a contagious disease and Uttar Pradesh has also been affected by this infection. During the time of such a pandemic, I cannot leave this family of 23 crore people.
Nothing is above the interest of the people of Uttar Pradesh.
All my family members know me well, and fully endorse my decision.
You have also seen the advantages from the coronavirus pandemic, as you have been wooing companies from seeking to shift from China.
We welcome those companies wholeheartedly that want to shut down their business in China. We are also making changes in our industrial and regional policy regarding this.
We will also provide special packages to those companies who will invest here.
Recently we held a video conference with a host (about 100) of US companies that want to move their base from China to Uttar Pradesh. These are big companies associated with logistics, scientific instrumentation, electronics, and automobile industries.
These companies had already invested in China and now they have expressed their desire to invest in Uttar Pradesh.