'A concerted attempt is afoot to try and create a new image of an intelligent man who knows what he is talking about and is far from the person that his critics in the media and Opposition have often portrayed him to be,' says Virendra Kapoor.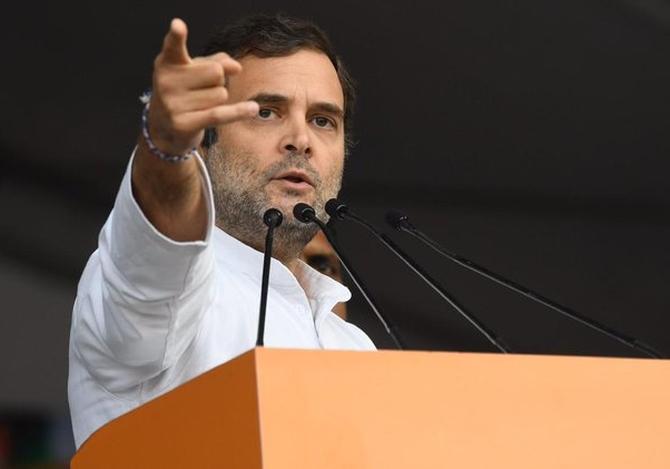 Rahul Gandhi is all set to take charge of the family firm soon.
Nobody should entertain any doubt about it.
Sceptics in the Congress party, canvassing for free and fair organisational elections, will get their wish.
But the outcome will not be what they had expected. The winner to hold the top job will still be a Gandhi.
Acting chief Sonia Gandhi -- who stepped forward when Rahul owned up the Congress's humiliating loss in the Lok Sabha election and quit as the party chief -- will make way for her son.
And the party megaphones, who cannot even get elected to local municipal bodies, will tell you this is as per the wishes of the voting members of the All India Congress Committee who overwhelmingly want Rahul to return to his rightful place as head of the party.
The Congress, we will be reminded, is a democratic party, valuing inner party democracy -- unlike the Bharatiya Janata Party, which is remote-controlled by Nagpur.
Regardless of what family retainers might say, Rahul's return as the boss will irk a number of senior leaders who had begun to harbour dreams of a non-Gandhi at the helm.
Indeed, the Gandhi scion's return will disappoint even so-called independent observers and public intellectuals who, though antagonistic towards the Modi regime, have reservations supporting a dynastic Congress.
A clear indication about Rahul's return is available from the recent constitution of several consultative committees by Sonia Gandhi.
Exclusions from these were as significant as inclusions.
To begin with, the old guard, who have Sonia Gandhi's ear, was shunned, but Rahul's aides and advisers, most of them still wet behind their ears, found a place.
Of course, former prime minister Dr Manmohan Singh was an automatic choice for these committees.
Failing health will prevent him from contributing much, but because the Gandhis deploy him to lend themselves a patina of intellectual respectability, Dr Singh is paraded upfront in all such exercises.
Not unlike traditional wedding invitations, which go out in the name of the oldest living member of the family even if age and ailments have withered his faculties, Dr Singh adorns every move the Gandhis make.
No less significant is the contrived PR effort to create a new public persona for Rahul, who turns 50 next month.
Relying on the advice of professional image experts, they have begun a social media series called 'Rahul Shows The Way'.
Under this boastful hash-tag, the party has posted a video of the Gandhi scion in 'conversation' with former RBI Governor Dr Raghuram Rajan.
Which reminds one of an advertising campaign in the 1970s and 1980s. A well-known company would run big display ads in the print media announcing the launch of a 'Naya' version of its popular soap with a Bollywood star endorsing it.
Taking a leaf from that playbook, we are set to witness the re-launch of what is supposed to be a Naya Rahul.
A concerted attempt is afoot to try and create a new image of an intelligent man who knows what he is talking about and is far from the person that his critics in the media and the Opposition have often portrayed him to be all these years.
It is in this light that one should watch the video of Rahul 'interviewing' Dr Rajan.
Both the interviewer and interviewee seem to be in on the real game. It becomes clear when you watch the video.
On his part, Dr Rajan finds it difficult to avoid a constant splash in the media though his day job is at an American university. A sort of public performer, holding forth on the economy and other issues almost daily.
Before him, RBI governors rarely spoke in public; in Dr Rajan's case, he barely stayed out of the headlines.
We learn that more videos of Rahul Gandhi's interactions with various experts are in the pipeline, with the latest Nobel Laureate couple also keen to 'help out'.
Political leaders are widely known to consult domain experts before taking considered positions on matters of national interest.
It would have been good both for the teacher and the taught if the 'conversation' between them was kept private.