'I am more worried about the rainy season from June.'
'If you don't bury the COVID-19 dead properly, then rainwater will seep into the dead bodies and it will come to our locality where I fear more than 2,000 people will be affected.'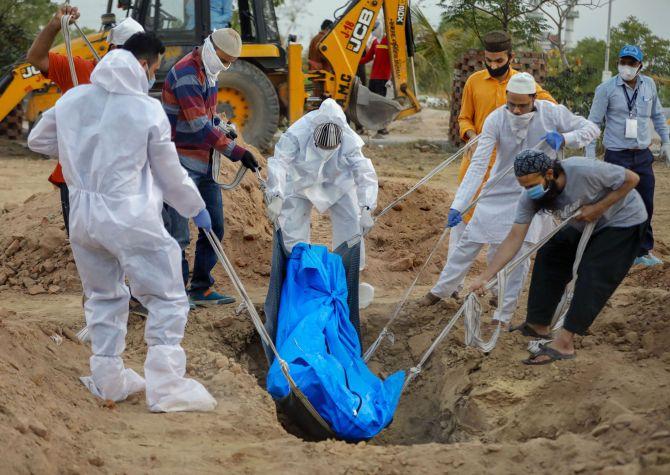 The Jamiat Ulama-i-Hind has moved the Supreme Court seeking its inclusion in a plea filed by Mumbai lawyer Pradeep Gandhy opposing the burial of those who died of coronavirus in a qabristan (Muslim burial ground) near his residence in Bandra west, north west Mumbai
Gandhy appealed to the Supreme Court after his plea, that burial of coronavirus victims in the graveyard would spread infection in adjoining areas, was rejected by the Bombay high court on April 27. His appeal will be heard by the apex court on May 4 by Justice Rohinton F Nariman and Justice Indira Banerjee.
The Jamiat has contested Gandhy's appeal and said the risk referred to by him was 'unfounded'.
'It has further been clarified that till date there is no evidence of persons having become infected from exposure to the bodies of persons who died from COVID-19,' the Jamiat said in its intervention plea.
"Have we stopped people from using the qabristan? No. We are allowing normal bodies to be buried as we have no problems. We are only objecting to COVID-19 bodies," Pradeep Gandhy tells Rediff.com's Syed Firdaus Ashraf.
You lost your case in the Bombay high court, but have filed a petition in the Supreme Court, stating that COVID-19 bodies should not be buried in the graveyard near your house. Why are you so worried?
Next to my locality where I stay there is a qabristan called Konkani qabristan. There are two more for Shias, Muslim sub-castes, etc.
Three weeks ago, a COVID-19 dead body came for burial. Now the locality where I am staying is next to this qabristan and there are 700 of us families staying there.
There is just one wall that separates the Tata colony (where he lives) and this qabristan.
When policemen and civic officials arrived with the dead body, our society members stopped the burial and told the police that according to the World Health Organisation there cannot be burial of any COVID-19 bodies.
They have to be only cremated, be it Christians or Muslims.
I have seen the WHO guidelines, and they are contrary to what you are saying.
Allow me to complete. Luckily, that day, that dead person's son was my client as I am a lawyer.
I convinced him why was he causing problems to the locality people?
He agreed and did the burial at the qabristan in Bandra East.
No sooner this happened than we took letters from each and every society and submitted to the Bombay municipal corporation that there should be no burial of COVID-19 patients in the qabristan next to our locality.
Later, I filed a writ in the Bombay high court, but it was rejected.
I mentioned in my plea that Municipal Commissioner Praveen Pardeshi had brought a notification according to WHO guidelines that COVID-19 patients's bodies will not be allowed to be buried, only cremated.
However, that notification was later on changed by earmarking various qabristans in Mumbai where COVID-19 patients were allowed to be buried. One of the qabristans is next to my house.
What are the grounds on which COVID-19 patients can be buried? How many such qabristans are there in Mumbai where they can be buried?
There are no criteria on how the BMC decided these qabristans. That is what I have mentioned in my writ.
They have a list of 35 qabristans where you can bury COVID-19 patients. I filed my writ that it is against WHO guidelines to bury COVID-19 patients next to residential areas.
But the high court rejected your plea as your case was not scientifically proved that dead bodies spread COVID-19.
The Government of India had allowed the burial of COVID-19 patients's bodies with certain conditions -- like only four people from the family can go to the graveyard, two municipal employees have to accompany the dead body and two police officials must be present during the burial, etc.
There are many more conditions, like these many chemicals must be put and the grave has to be dug till 8 feet deep and photographs must be taken.
These are some conditions I can recall offhand. My petition was rejected because there were guidelines put up by the Union government.
While rejecting my petition,the judge said I could not bring forth any scientific argument, but where can I get scientific arguments amidst this complete lockdown? Where will I get reports from?
You can always search online and access the reports.
I showed Swedish research, UK research and WHO research. But the judge was not happy and said to give some Indian research.
Is it proved that COVID-19 spreads from dead bodies?
Yes. And now I am more worried about the rainy season from June.
If you don't bury the COVID-19 dead properly, then rainwater will seep into the dead bodies and it will come to our locality where I fear more than 2,000 people will be affected.
Is this not more of a phobia on your part?
I do not want to make this subject more public because it is touching a sensitive subject like religion. I don't want to cause any disharmony and I don't have any such intentions.
Why didn't you seek in your petition that instead of burying the bodies near residential areas, the COVID-19 bodies could be buried in qabristans, which are far away?
That is what my argument is. Do it somewhere else where there are no residential areas. Bandra East is like one of those qabristans.
Moreover, there are six families staying inside the Konkani qabristan called mujawars (who take care of the graveyard). It is dangerous for them too to stay there.
How did you know that COVID-19 bodies had been brought to the qabristan?
The police comes with the COVID-19 patient's body along with civic officials. It is compulsory, so it is obvious when you see them that the person has died of COVID-19.
How are Muslim countries handling this situation?
I don't know about Muslim countries as I have not done research on them. But Sri Lanka and the United Kingdom are not allowing the burial of COVID-19 bodies. They are cremating them even if it is a Muslim.
Burying the dead is essential to Islam. Article 25 of the Constitution gives all Indians the right to practise their religion unhindered.
Yes, no doubt everyone has the right to practise their religion, but there is something called reasonable restrictions.
Have we stopped people from using the qabristan? The answer is no. It is more than 100 years old and we have never stopped anyone from using it. We are allowing normal bodies to be buried as we have no problems.
We are only objecting to COVID-19 bodies.
In New York they have an island on the outskirts of the city where they are burying only COVID-19 patients. There are 25,000 bodies buried there.
In Sao Paolo, Brazil, COVID-19 patients are buried 200 kilometres away from the city. They have taken a huge plot of land only to bury COVID-19 patients. I saw these things on television.
I feel this is the solution for Mumbai too.
What is the meaning of a pandemic? It can infect anyone and therefore it is the duty of the government to take care of the people who are not affected by COVID-19 and are alive.