Functioning from 8 am to 8 pm, it deals only with mental stress, reports A Ganesh Nadar.
The nation is under a lockdown and many people who have never been in such a situation for such a long time will be stressed, anxious and not know what to do next.
To help them deal with mental stress, the Mumbai-based Poddar Foundation along with several NGOs and corporates has started a free helpline: 1800-121-0980.
The helpline will not answer any coronavirus-related questions. Functioning from 8 am to 8 pm, it will deal with only mental stress.
The helpline is manned by 450 trained volunteers. When you call the helpline if the first volunteer does not answer the phone or is engaged, the call will go automatically to the next volunteer.
Dr Prakriti Poddar, managing trustee, Poddar Foundation, tells Rediff.com, "As it is a big problem and one organisation alone cannot handle it, we have various NGOs and corporates working together. We have formed a Wellbeing Volunteers United to help the people through the helpline."
From the administration side it is supported by the Goa government, the Maharashtra State Commission for Women and the Maharashtra Human Rights Commission.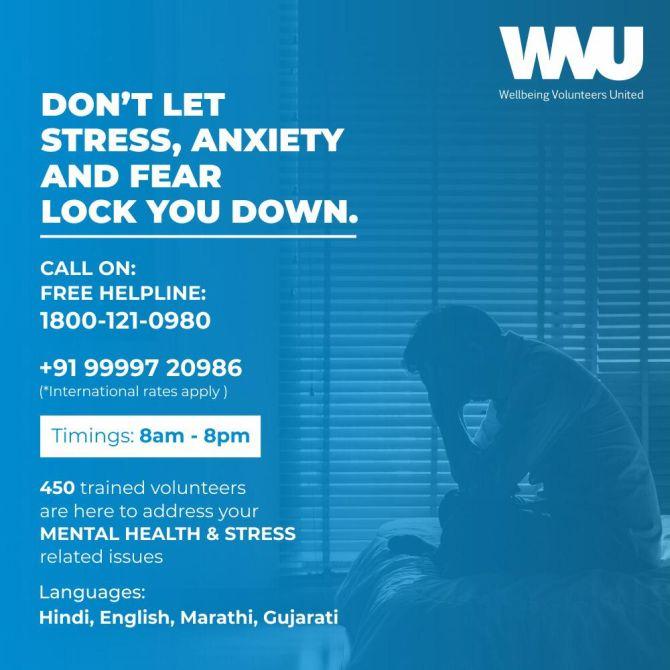 "We first called for volunteers and over 450 citizens registered with us to help out. We then trained them online on how to handle the calls," Dr Poddar says.
In the training module, she explained to the volunteers, 'Our job is to arrest the mental unrest of the caller and to help them rebuild their resilience. You will get the numbers of three monitors who you can consult.'
'People are feeling helpless and lonely, there is stress in the mind, body and spirit. We need to explain to them how to deal with it. You have to tell them that this will not last and your mental health affects your body and spirit. You have to encourage them to relax.'
'Where couples are living together in a limited space, we have to talk to them about their relationship.'
The salient features of the guidelines provided to the volunteers include telling people to eliminate negativity, drop false notions and irrational beliefs.
The volunteers have to listen, comprehend and then respond. They are taught to keep calm, check the tone of their voice and tell the caller which thoughts are positive or negative, rational or irrational.
The volunteers are advised to avoid emotional involvement and ask questions for deeper understanding.
They should avoid distractions when answering a call and must show empathy. People will tell them several problems – so they must solve one issue at a time.
They must keep in mind that the maximum time for a call is 15 minutes.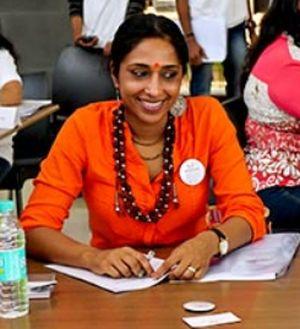 'When people talk about financial problems they have to say, 'I understand' and then discuss the problem with him/her. People might say that they cannot go out to get alcohol or drugs to treat their stress, please understand completely before responding; Always talk from their point of reference and not yours; Never give solutions, but elicit solutions from them,' are some guidelines given to the volunteers.
'Don't give them false hopes, don't tell them to take online courses; Ask them what they would like to do and when they come with a good suggestion approve it; Then ask them when they are going to start it, give them a thread to follow, you have to help them help themselves. You have to guide them to a time/action formula,' the guidelines advise.
'Some people might not go straight to the problem that is bothering them, so you have to ask enough questions to identify the problem; You have to understand their motivation and find out where they are trying to move forward; They will talk a lot, but you must focus on the facts.'
'You have to enable them to find a solution and not tell them what to do; When they say they have nothing to do, it means they are in deep depression, ask them why they are feeling like this.'
'Ask them about their physical discomforts. Then ask them what they like doing and guide them to a positive action," are some more guidelines presented to the volunteers.
Volunteers are told not to give their names or phone numbers.
They are also advised to ask open ended questions like 'What happened, how it happened, when it happened' and not to ask questions that have yes/no as an answer.
All volunteers are in a common WhatsApp group which has three monitors to guide them.
There is a collective platform online and all volunteers have to be on it. There are also psychologists there that the volunteers can consult.
"At present," says Dr Poddar, "we are talking to people in four languages, English, Hindi, Marathi and Gujarati. We will add more as we go along."
"We hope people use our services and are benefitted by it."