'Mumbai is testing a lot compared to a lot of other places in the country.'
'Now that we exactly know where the hotspots are, and they've been converted into containment zones, there is a lot of testing, going on, from door to door and symptom screening.'
'In the last 10 to 15 days we have definitely done a good job.'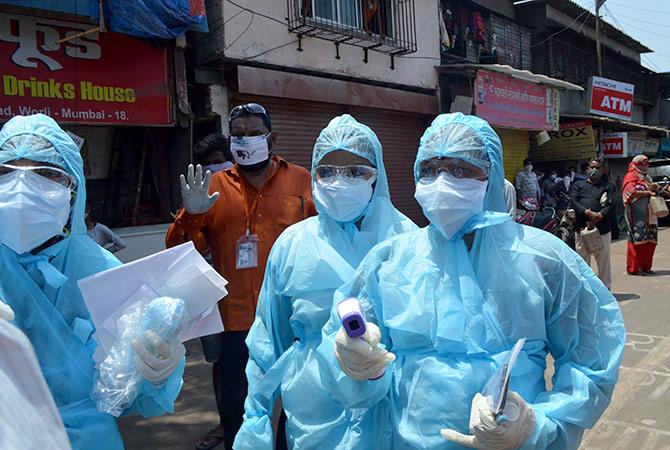 Dr Trupti Gilada, an infectious diseases specialist at the Prince Aly Khan Hospital and Unison Medicare and Research Centre, both in south Mumbai, was interviewed by Rediff.com three weeks ago.
You can read the interviews here and here.
Dr Gilada provides an update to Rediff.com's Vaihayasi Pande Daniel on how Mumbai and Maharashtra are faring, given that there been 178 deaths and nearly 3,000 cases as of the night of April 15.
We last spoke three weeks ago. Although it feels like almost a lifetime. And you had, at that time, mentioned that the next two weeks would be critical.
So I am checking with you now, three weeks later, for your picture of what is unfolding, especially in Bombay and Maharashtra.
Like I said, in my last interview, the lockdown is going to be one strategy.
The other two important things are going to be, apart from just social distancing, was strengthening the healthcare system. And testing strategies that (required) to be increased.
I think, in the last three weeks, we have been very great at social distancing, I must say. There have been instances here and there where people have not obeyed which has lead to some clusters, that's true.
But by and large, the social distancing, because of the lockdown, has been successful.
What probably has strengthened -- probably not so much in the last few weeks, but in the last seven or eight days -- is that our healthcare planning has definitely improved.
You know, when we had just started (the battle against COVID-19) in Bombay, like our first case, went to the Kasturba hospital (central Mumbai), which isn't a tertiary care hospital (a level of health care in a hospital obtained from specialists) and doesn't have an ICU.
But in the last 10 to 15 days, they have pulled in a lot of other BMC and government hospitals, like the KEM hospital (central Mumbai), and a lot of peripheral BMC hospitals, which means now there will be specialists and an entire team of other experts managing the situation.
So that has definitely improved. The number of beds dedicated to corona in private and public hospitals has also improved.
We have heard news of hospitals shutting down because healthcare workers got infected, which meant that we knew that the personal protective equipment or the use of personal protective equipment was failing somewhere.
I think this was all a learning curve for us.
The supply of PPE has improved. Even healthcare professionals have started to understand that we need PPEs not just when we are managing COVID-19 patients, but also when you're seeing a lot of other patients.
I was telling you yesterday (April 14) about two positive cases. Some of the patients, that are now testing positive, are asymptomatic, who were probably (only) were screened because they were going to be admitted in a hospital, for surgery, or for something that required care, and cannot be postponed for the next three weeks.
We understand that there are going to be more and more people who are asymptomatic, who test positive.
More and more people who do not have a contact history or travel history and they are going to be positive.
Healthcare workers have started to understand that: 'Just treat every patient coming in as COVID-19 patient and take the precautions like you would take for a COVID-19 patient'.
And hopefully that will help us.
But you have also read the news that we have had a lot of healthcare professionals test positive in the city in the past 10 days.
That is of concern because these are people who are exposed to people day in day out -- the number of people they get exposed to and they often call it the five second exposure.
So it might not be just one person that they are exposed to but probably multiple people, some that you know, and some that you don't that you have been exposed to. And that's the reason why healthcare workers have a higher risk.
I was speaking to a surgeon, the other day, and he was saying that many Mumbai hospitals have to also learn a lot about how to plan for COVID-19 patients.
Which entrance COVID-19 patients come through, which entrance health professionals come through and how their entry into a hospital needs to be monitored.
And he says that that many Mumbai hospitals haven't really got that down pat.
Would you agree?
That's true.
Initially, when we thought this was going to be something different, I don't think everyone knew to what extent it was going to be different.
Now we know that when hospitals, clinics or centres need to be COVID-ready, it's not just the healthcare personnel, it's also the infrastructure of the hospital.
Where are you going to isolate your suspect patients?
Where are you going to take in your confirmed cases?
Who is going to see them?
How many shifts are going to see them?
Are these healthcare workers, who are going to see COVID patients, are they going to be moving around in other centres or other wards or other places in the hospital, because then that will expose other patients?
This was a learning curve...
Which is the hospital entry that you use, which is the exit, where are the other patients going to be entering and exiting from?
Are the other non-COVID-19 patients completely isolated from the systems that are taking the COVID-19 patients?
There is a lot of planning that went in and a lot of the hospitals, that are now taking in COVID-19 patients, have all these things.
We only hope that 50 doctors getting infected in a hospital doesn't get repeated.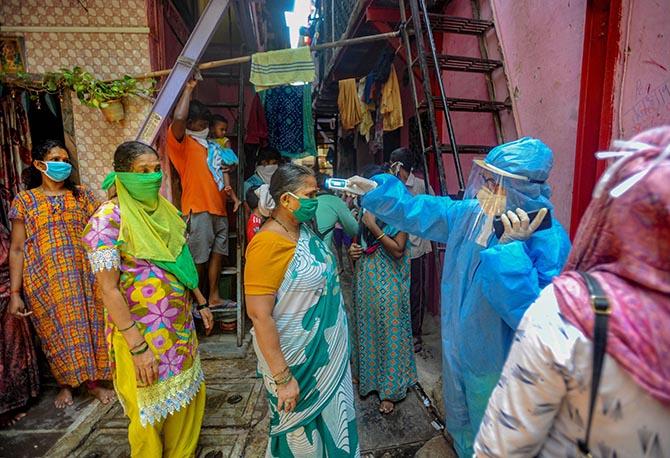 I also read a tweet thread from a doctor in New York about how, when you think of taking care of healthcare workers, people usually just visualise doctors and nurses being exposed to COVID-19 patients.
But it's actually so many other people -- the technicians, the person who cleans the room, the person who brings the meal.
So healthcare workers encompasses every person involved in patient care. It is not just doctors and nurses. It is everyone.
The ward boys, the ayahs, the X-ray technician, the CT scan technician, the sonography technician who comes in for a scan.
It actually does involve the whole thing. And the personal protective equipment, that is now being offered, is being offered not just to the doctors and the nurses, but also to everyone is close contact, or who will be in close contact with the patient.
A lot of hospitals have started screening any of patients that they are going to admit.
So if they are going to admit a patient for delivery. Like my sister is full term and she is going to be delivering any time soon. She's been told that whenever she gets admitted she is going to be tested for COVID-19.
And tests are freely available, for even these kinds of patients?
These are not available free. They will have to done in the private labs.
And the thing about private labs is yet to be solved, you know, who's going pay for the test, right?
Is the BMC going to pay or is the patient going to pay?
At this point in time, the understanding is that those who can't afford the test the BMC will just pay for them, but those who can should just do the test by themselves.
So private testing is available, but it costs and it's easily available?
Yes. It costs Rs 4,500.
Maharashtra has had some 178 deaths and counting. And is the highest count for any state. Yes we have special constraints.
What is it that we are doing wrong? What are some of the things that are not going well?
There is a lot of speculation that the patients, who are coming in to the tertiary centers or the COVID-19 centres are coming in later in the course of illness. That doesn't give them enough time.
We had a conference call with a lot of doctors from COVID-19 hospitals in Kerala and Tamil Nadu.
One thing that was different, when they when they spoke about Kerala was that a lot of their COVID-19 patients were young and with mild illness.
Which means that a lot of their patients definitely fall in a low-risk category, compared to Maharashtra where they probably are many in the high-risk category.
But there is no there is no denying that Kerala just has a much better health preparedness.
They have their hospitals in place.
Like I said, initially Kasturba didn't have a ventilator when the first patient needed it and it needed to be moved out from a BMC hospital (to the patient).
And we lost a few patients in that learning process of where will these patients need to be managed.
It was just not being absolutely well-prepared for it, when we should have been.
In these last three weeks I think Maharashtra has learned a lot.
Now Maharashtra has the COVID-19 task force, which was set up two days back, under Dr Sanjay Oak (surgeon, former dean of the KEM hospital, former vice chancellor of the Dr D Y Patil Vidyapeeth and CEO of the Prince Aly Khan Hospital).
If you were to think about this, this should have been done maybe three weeks.
Because he's (Dr Oak) a great leader. He understands public health care beautifully.
You know, three weeks back (if Dr Oak had been in charge), they would have had a team of intensivists and people from different specialties to actually plan where these patients were going to be managed, who's going to manage them? What is the management protocol going to be.
Because if you read the entire title of the task force, it is to reduce mortality of any COVID category patients.
So it's just that we are just doing things a few weeks later.
Hopefully, now we have learnt our lesson.
I think, also now we are watching the success stories of other states, not just other countries, and that is also going to help us.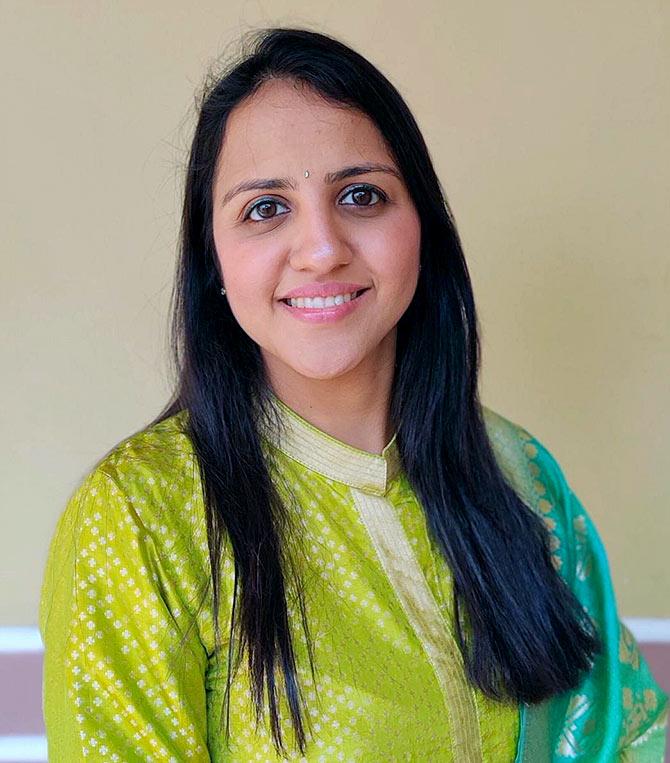 But basically you would say that the Maharashtra administration has been quite responsive, even if maybe they have been slow, because they haven't faced this kind of epidemic before and are trying to learn quickly and then really take hold of the situation?
Very responsive.
For a lot of aspects Maharashtra was very proactive. Like we shut before the rest of the country did.
A lot of screening started. Mumbai is testing a lot compared to a lot of other places in the country.
Now that we exactly know where the hotspots are, and they've been converted into containment zones, there is a lot of testing, going on, from door to door and symptom screening.
The two things that we were not very good at was testing and healthcare infrastructure and strengthening that.
In the last 10 to 15 days we have definitely done a good job on that.