'If done well, the containment measures can help minimise the impact of the epidemic.'
Testing figures for India have made a marginal improvement.
Ramping up testing for the nation has not been easy.
Each state, region and city has its own difficulties and constraints, that are not just necessarily about shortage of testing kits.
For instance, in a city like Mumbai, where on an average 44,500 people** live per square kilometre -- with that figure going up to 91,991 people** per square kilometre in some slum areas -- the challenge of testing is monumental.
Testing earlier, means treating earlier, Dr Giridhar R Babu tells Vaihayasi Pande Daniel/Rediff.com, addressing a series of questions on testing concerns.
Dr Giridhar, professor and head lifecourse epidemiology at the Public Health Foundation of India, Bengaluru, qualified at the All India Institute of Medical Sciences and trained in epidemiology at UCLA, California.
He worked with WHO for a few years and in his career dealt with a range of viral and communicable diseases, through his clinical and research work.
India, according to the statistics available, is still testing at a very low level per million, compared to most countries.
But many doctors, in Mumbai for instance, say testing is going on to full capacity.
If testing is progressing slowly, the logic is to concentrate on isolation so transmission is contained while testing gets to as many people as possible and up to speed?
We need to expand the testing and India is gradually expanding its testing capacity.
Kerala, which has the highest testing rate, has one of the least case fatalities.
But Madhya Pradesh, Bihar, Punjab, West Bengal, and Gujarat have a higher case fatality average compared to the national average. Testing is also low in these states.
Containment measures with detection of cases based on the syndromic approach and testing (as and when available) and also isolation or quarantine efforts should be the mainstay of the next course in the response.
Based on the number of cases in each district, we need to do the district-wise micro-planning and phasing of the COVID-19 response.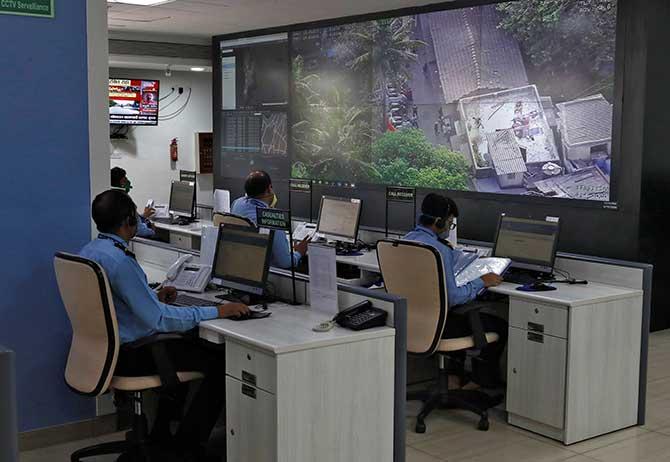 Why are India's testing figures lower than many other places in your view?
What are the issues?
A country's testing capacity depends on several factors: The availability of testing kits, laboratory preparedness and health care human resources.
Yet, some Indian states have managed to test more than others with comparable resources.
This reflects how good the surveillance system is.
States that have good surveillance systems would test earlier.
The ones that have a good health system will treat earlier.
Buying larger number of testing kits does mean that a state can carry out more tests -- it's a function of the surveillance system.
I understand there are limitations on India to testing.
Practical limitations. Like the time taken to do a PCR test, costs, and given our population the number of tests required is abnormally high.
Is that correct?
So is testing actually feasible, even though it is the only thing to do?
A wide variety of factors influence lower number of tests in India, not limiting to only time taken, costs and population.
India is gradually increasing the number of tests.
Currently, we need to focus on states where less number of tests are taking place, per million population, and those having a high fatality rate.
Testing isn't the only thing to do.
(Distributing) PPE (Personal Protective Equipment to healthcare workforce, isolation facilities and quarantine of close contacts are essential.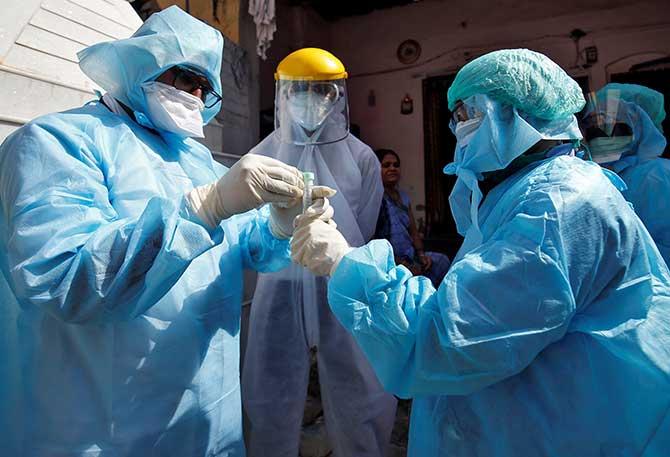 But testing of all care staff would be highly important?
Given the low testing, it follows that the number of cases might be much higher?
So unless we finally catch up with the testing, we don't have a complete picture?
Or decision-making will happen in the dark?
More than testing, PPE for healthcare staff is important.
ICMR (Indian Council of Medical Research) expanded the random checks, including various areas where COVID-19 cases were reported, to keep track of the spread of disease.
The evidence from other countries suggest that asymptomatic COVID-19 could be responsible for more transmission than originally thought.
Therefore, overemphasising that testing is everything should stop; universal precautions in infection protection and control, respiratory hygiene practices and use of masks is more important.
There has been a lot of talk about the efficacy of the BCG vaccine.
But since India is still behind the COVID-19 curve, any studies to prove this would not have the numbers yet to conclusively show the BCG vaccine is effective?
We call this as ecological fallacy in epidemiology.
Associations at the group level cannot apply at the individual level.
Only well-conducted studies at individual studies such as the ones ongoing in Australia will provide convincing results.
Moreover, India has limited the transmission through lockdown.
No conclusion can be drawn regarding this association for now.
What is required for a lockdown to be effective?
And does the lockdown have to be stricter to be more effective?
There are states with poor testing and higher case fatality.
Every state should rapidly scale up its efforts to find COVID-19 cases and isolate.
The ongoing containment measures need to be improved in all states by increasing the number of tests.
Also, syndromic surveillance and quarantine measures are useful strategies to improve containment measures.
States which have inadequate testing, poor early detection efforts, and higher case fatality will pose greater challenges in the future.
If the cases are not detected early, then those who develop complications cannot be referred timely and, therefore, can succumb.
Also, the planning efforts will get impeded as there is no data to inform on the disease trends in the state.
What else can you say about the case data figures?
Do they tell you anything else?
Is there anything skewing the figures, do you feel?
The data regarding the cases is not made public.
The only data available public domain is from the NIV(National Institute of Virology, Pune)/ICMR lab network.
The data regarding symptoms and severity of cases should be made public.
(What's more of) concern is that the number of cases detected and testing varies considerably by state.
Based on your experience, are the most important steps required to prevent rapid transmission in place?
What would you like to see more of?
We are doing relatively well compared to the US, UK and Europe.
The next few weeks are critical to enhance the containment measures by preventing community outbreaks, minimise the spread by early detection, treatment, and providing optimised care for all patients, especially the seriously ill.
The first step in this to detect every probable COVID-19 case.
Next is to establish the diagnosis by validated tests, isolate cases and provide early clinical management.
The action is now at the state and district level.
If done well, the containment measures can help minimise the impact of the epidemic on health systems, social services, and economic activity.
Could possibly asymptomatic cases be a bigger issue in India than elsewhere?
Yes, it is a big issue everywhere, not just India.
Asymptomatic coronavirus cases are those who test positive for the virus, but do not show any symptoms and have the potential to spread clusters of infections.
Asymptomatic cases have been reported as part of contact tracing efforts in some countries.
There is a need to trace the contacts of asymptomatic cases to see if there is any other case in other parts.
The Centers for Disease Control and Prevention (in the US) estimates that asymptomatic transmission could be as high as 25 per cent.
Therefore, it is important to wear Personal Protective Equipment to prevent getting infection from asymptomatic people.
That and home quarantine are the right approach.
**BMC Census and worldpopulationreview.com