'Don't panic. Believe in yourself.'
'This is a preventable illness. Only you can prevent it.'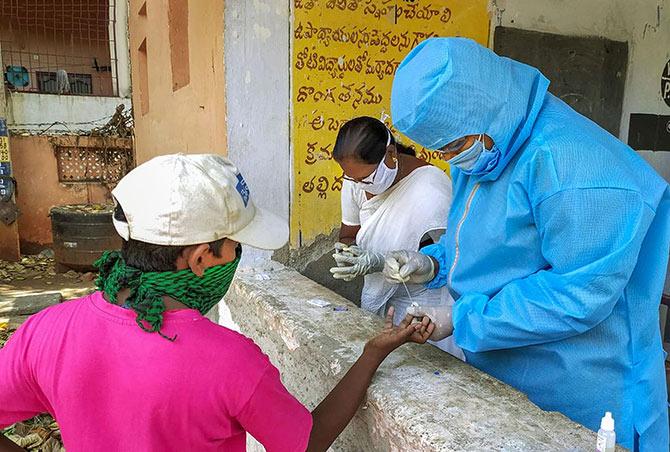 "The level of panic the disease could create eventually reduced social interactions to a very large degree. And that has made the difference," Dr Raman Gangakhedkar, Head Scientist of Epidemiology and Communicable Diseases at the Indian Council of Medical Research, tells Rediff.com Senior Contributor Sheela Bhatt in the concluding segment of an exclusive three-part interview.
Is there any insurance that we will not see the death rate as high as Italy or America?
I would refrain from making judgments.
Mainly because we have to wait for figures to emerge.
Wait for how the outbreak evolves from here.
Do we see that happening in the near future? We don't see that happening.
But if you talk of some long period, where I don't know what is happening in the intervening period, it becomes very difficult to speculate.
That I can't speculate. But as of now, we are fairly comfortable in terms of ensuring that we will have a smaller number compared to what other have.
I'll ask another question. You compare two-and-a-half months into the outbreak and you have 10,0000 odd cases.
Compare the same numbers to the US, you compare it with Spain, compare it with France.
People claim that it may be because of the Indian weather, our immunity and BCG vaccines that we take. What do you think?
None of the three!
Then, what is it?
Because we don't believe that our population learnt the fastest!
Social distancing! We are following the lockdown.
It was largely followed which we don't trust that way.
The reality of life is that the level of panic the disease could create eventually reduced social interactions to a very large degree.
And that has made the difference.
So when will the curve flatten?
The flattening curve you should perhaps be able to see pretty early because of the lockdown effect.
Now in the course of time how much can we maintain that curve at a low level is up to all citizens.
They have to follow the lockdown sincerely.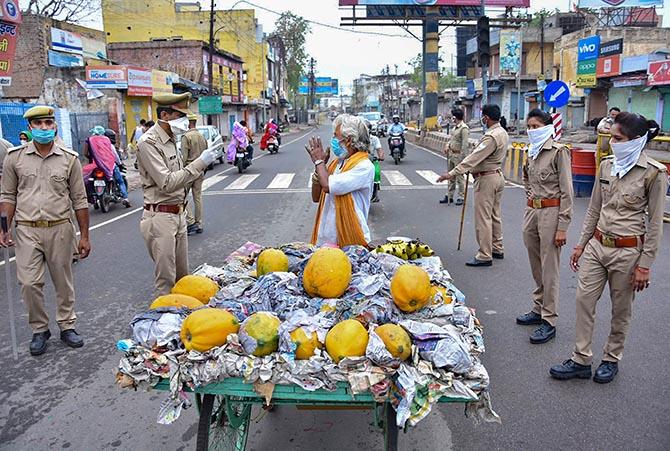 Punjab Chief Minister Captain Amarinder Singh has said this situaiton can persist up to September.
I wouldn't say so.
As I said, it's like telling somebody if I was to speculate if I was a young boy how much wealth I would earn when I retire. I have no clue. No one has at a young age.
So much has been written about hydroxychloroquine. Now even the Americans doubt its effectiveness.
Was the ICMR protocol to administer it correct or not?
We said we would like to study the drug to see whether it has protective effective elements because that was the only study that came out at that point in time.
And, we thought that this anti-malarial drug may not work on viral enzymes, perhaps it may have an immuno-modulate reaction rather than anything else.
We never prescribed it for common use of individuals.
We prescribed it only for doctors and medical staff because that was a captive population you could study what is actually happening.
And their exposure could have been far more stronger than other people. But it didn't mean that everybody should take that particular medicine.
So exports should have been allowed?
That decision is beyond me. I wouldn't understand commerce.
Where do you stand vis-a-vis the usefulness of HCQ?
We should wait.
See, there is one dictum in science. You accept or reject based on evidence.
If there is no evidence, you have no reason to reject it. If you don't have evidence, you have no reason to recommend it to people.
How hopeful is ICMR as an institution of finding a vaccine? India getting it first?
India getting it first is perhaps difficult to happen.
Because others moved rapidly in the course of the outbreak.
They had access to the virus.
Our cases occurred late. And naturally our efforts to isolate the virus took its own time.
So in India we have started late. Starting late doesn't necessarily mean that we will achieve it later.
Because even if people have started earlier, not every effort is going to be successful.
If we are lucky, we will still be in a position to get a vaccine earlier.
But if we start assuming that India is going to give it first, then these healthy practices we are adopting we may not adopt them well.
So it is essential that we should go ahead and believe in change that we need to have in our life.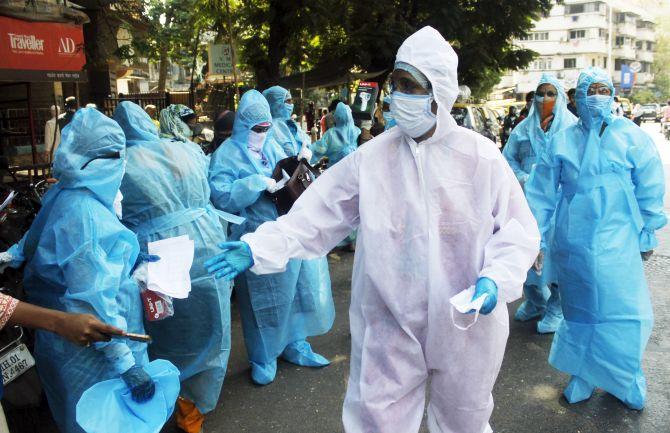 ICMR is about to allow protocols for trials of plasma therapy -- antibodies from the blood of cured patients. How reliable is it?
It is only for trial. We have already put it up on DCGI (Drug Controller General of India). But we don't recommend it unless you have evidence to support it. Trial protocols are established, DCGI has cleared it, it will start slowly.
Is it reliable?
As I said, unless there is evidence to say it is not reliable.
Is India collaborating on the research for a vaccine?
Those questions should be answered by the department of bio-technology.
The department of bio-technology has taken the lead for vaccine development because that is their strength.
For drug trials we have said yes to WHO, for a solidarity trial.
Beyond that, are we looking at other foreign collaborations? Perhaps, they are far too less.
You have seen it all. SARS, HIV. How do you look at this event at a personal level?
I came to headquarters only two-and-a-half years back.
Earlier, all my life has been in HIV disease.
I know only one thing. This disease is not far too different.
There was nothing we knew about HIV when we started our career in 1989.
It used to be frustrating to begin with. But then I also know that when everybody focuses on a fatal disease, discovery comes by very quickly.
Essentially, this happened for HIV.
Today when you talk about HIV, all my patients, they are not worried anymore.
The only worry is am I taking tablets at the right time, and that's about it!
Though you don't have a vaccine against it, you don't have a curative drug against it, we have managed to overcome it.
We don't see any reason why we should become pessimists in this scenario.
I still believe things may happen. We have to keep working hard. You will see the results.
If we give up, then there is nothing good that can happen for people.
How do you look at America, Italy, Iran, China? What happened there could have been handled better? So much went wrong. Dying of one lakh people in such a short period is shocking.
I know it is.
But I would say, they are the best judges.
See, for anybody who is a third party, we would perhaps blame others. We would point out these things are bad, but when it comes to ourselves, we may be very protective in describing, or even we may blame others.
Let them judge their situations.
Doctor, your advice to those who has read the interview thus far.
Don't panic.
Believe in yourself. This is a preventable illness.
Only you can prevent it.
The government is fully supportive that your preventive behaviour has an environment where the virus cannot be fostered.
Don't lose hope. Things can happen because you are the master of your own destiny.
Thank you very much. This virus is a very stubborn virus. No?
Every virus is, every virus is stubborn.
What is the most unique character of the novel coronavirus?
High transmissibility.