'In our country, there is a lot of checks and balances, the figures cannot go wrong.'
'Because they are being checked by not only the governments, but by doctors themselves.'
"The vaccine pipeline will take a long time. It will take almost one year," Dr Randeep Guleria, director, All India Institute of Medical Sciences, New Delhi, tells Rediff.com Senior Contributor Sheela Bhatt in the concluding segment of an exclusive two-part interview.
Can we expect a vaccine soon?
There is a lot of research going on, not only at AIIMS, but at multiple institutions.
Vaccine, is a treatment to prevent the disease for stable patients. So the long term efficacy will be the vaccine.
The vaccine will take maybe a year or so. You must understand any vaccine has first to be made, then it has to be seen that it is effective. It has to have good efficacy.
There is no point having a vaccine that is not effective. It has to be safe. So studies have to be done that it does not itself cause side effects or causes aggravation of the disease.
Then it has to go to mass manufacturing. You should understand that you will not have large number of doses available on day 1.
So you will have to prioritise who you are going to vaccinate first. High risk groups, health care workers...
So the vaccine pipeline will take a long time. It will take almost one year.
While planning India's strategy did you study China...
The Indian strategy is based on what is happening globally. Not only China. What happened in Italy, Spain. There is a lot of data. You learn from what others have done good and what others have done bad.
What is most puzzling thing for you about this coronavirus?
What is interesting is that this virus is still evolving. You will see a lot of issues which occur which is unique as far as the coronavirus is concerned, its infectivity.
The fact that it is spreading much more rapidly than previous coronaviruses in the community. It is more infectious.
Its ability to survive in the environment, on surfaces, for a long period of time. One report says it is able to jump species.
One study from New York suggests that it has gone from a human being to a lion, to a tiger.
That is itself interesting. Because this means that the virus is still able to evolve and is able to jump species. It still has the ability to try to fool people who are trying to kill it.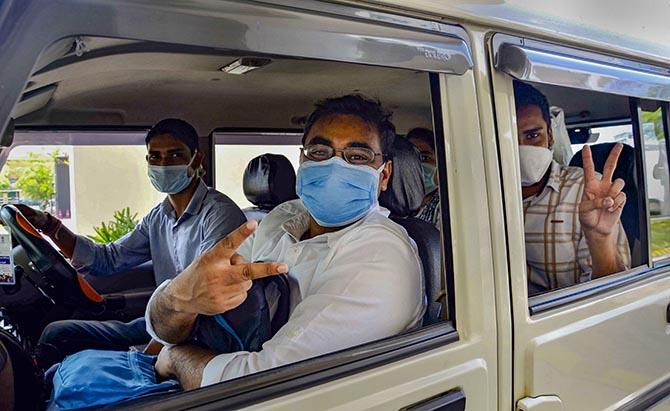 As you are a doctor I should trust you, but let me ask: Are these figures of death and infected Indian patients correct? Is it being collected properly by the medical fraternity?
In our country, there is a lot of checks and balances, the figures cannot go wrong. Because they are being checked by not only the governments, but by doctors themselves.
The Registrar General of India with AIIMS conducts a verbal autopsy to find the cause of death. It is done in a scientific manner. They are being fed into a national system.
And we are not looking only at positive cases, but we are also looking at clinical cases.
So you may have patients with severe pneumonia who get admitted, they are also getting reported by the Integrated Diseases Survellance Programme.
So one is also looking at how many severe pneumonia cases are being admitted. How many (COVID-19) positive tests are coming.
The data is being cross-checked by various mechanisms which are epidemiological, which are lab based, and which are based on clinicians looking at the cases.
And the number of patients coming to hospitals. All that is suggesting that the data is focused, and it is something that one can rely on.
In drug protocols, in SOPs (standard operating procedures), what is the element you find working well?
We are looking at two groups of drugs. One is hydroxychloroquine, the other is some data suggesting a drug which is available in the US, which India is also trying to get -- Remdesivir, which is used for Ebola patients. Recent studies suggest it may also be useful.
So we have started using it?
No, we are getting, it is not available in India. The DCGI (Drug Controller General of India) and we are trying to get it for patients on what we call grounds of compassionate use.
How do you explain such low numbers of cases in East India, but so many more in Maharashtra, Madhya Pradesh and Gujarat?
There are a lot of factors that need to be looked at.
It could be related to travel, overcrowding and where the first case came. And how it has evolved over a period of time.
A cluster dwells, or a number of cases dwell if you have one person coming and he has given it to a large number of people.
You can also have some areas where you have what is known as a superspreader. The one person who can spread it to a large number of people.
So we need to know whether in these areas you had someone who spread it very quickly to a large number of people, that is also possible.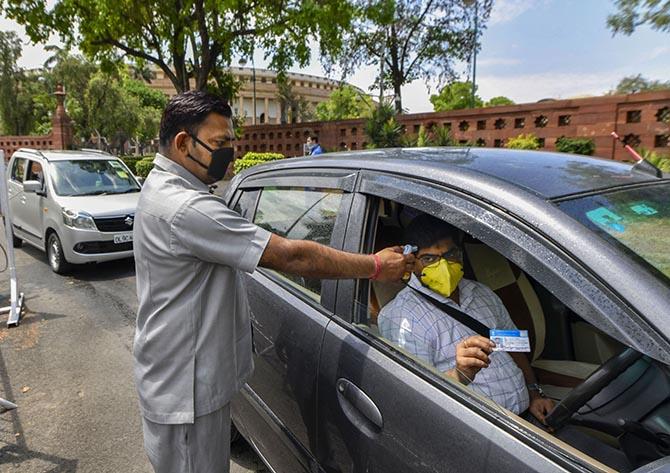 More than a billion people are locked in their houses. What kind of mental impact do you see in them? How do you look at this strange phenomenon?
I agree that there is something we need to look at. There are a lot of issues. One is physical, the other is mental.
For physical issues, people need to develop yoga and exercise programmes.
Regarding mental issues I would say we are in an era where technology is helping people a lot.
You can stay in touch with entire families through your phone. You can talk to them, you can see them, through FaceTime or through WhatsApp.
You can stay in touch with the world globally. So by doing all of this, and by doing meditation, all the mental stress can be brought down to a large extent.
Think of 20 years ago, when there was no mobile phone, you just had landlines, then there would have been much more serious mental issues.
Through the Net, you can talk to friends, relatives anywhere in the world.
AIIMS has started a helpline, for psychological support to people.
Our department of psychiatry is offering that. We are counselling a lot of people.
Are you surprised by the fatality figures in India? Is it a surprise or did you expect it?
I think it's good. It just shows that our country and we as a population have been able to sincerely follow the lockdown and have listened to what the honourable prime minister said.
We were able to achieve that and that's what the figure are showing.
There are certain countries where people have not followed lockdown orders and that has led to a huge increase in the number of cases subsequently.
I think in terms of doing things in a right manner, we have succeeded to some extent.