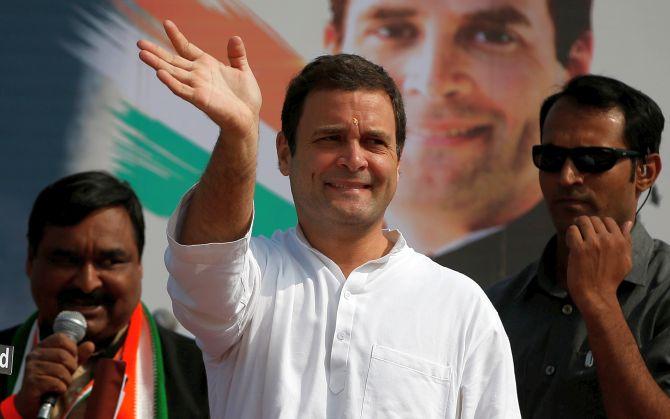 Days before Rahul Gandhi's expected elevation as Congress president, party leader Shehzad Poonawalla said the former's elevation is a 'selection not an election'.
Shehzad Poonawalla, an office-bearer of the Maharashtra Congress, said the process of organisational elections in the organisation is manipulated to favour Rahul Gandhi's election as the party president.
Poonawalla said he would also contest the election if it was conducted in a "genuine" manner. On Tuesday, he has also wrote a letter to Rahul Gandhi in this regard in which he wrote, "We are not into some family business, are we?"
He also took to Twitter saying, "Raising an issue nobody in my party - the Congress will have guts to raise -- my conscience will not allow me to stay quiet anymore on dynasty/sycophancy."
He went on to add, "A rigged election? Where one starts as VP, gets selected by hand picked delegates selected by a bunch of selected state Presidents? Where 48 pc candidates are dynasts? You serve the family -- I will serve Mahatma Gandhi's party & India. Love u too. But not more than my country.."
Speaking to the media later, he was quoted as saying, "I will contest if Rahul Gandhiji agrees to first have genuinely-elected delegates and not handpicked delegates. Second, he must give up his post because he has an unfair advantage by being the vice president. He has been selected and not elected as VP. He will leave his post, I will leave my post... Then we can contest...I want him to accept that our party must have a rule of one family-one ticket."
He also tagged his brother Tehseen Poonawalla to his tweet and said, "@tehseenp has no idea about this issue else he would have stopped me too."
The revelation has caused also caused a rift between the two brothers with Tehseen on Thursday announcing that he has snapped all ties with Shehzad. "I officially end all relationship with @Shehzad_Ind [Shehzad Poonawalla]. I have never been this hurt," wrote Tehseen on Twitter.
Image: Rahul Gandhi is expected to become the Congress president in days to come after the party conducts its polls. Photograph: Amit Dave/Reuters