'There is a group who want to internally damage the Congress and they may be hand in glove with the BJP.'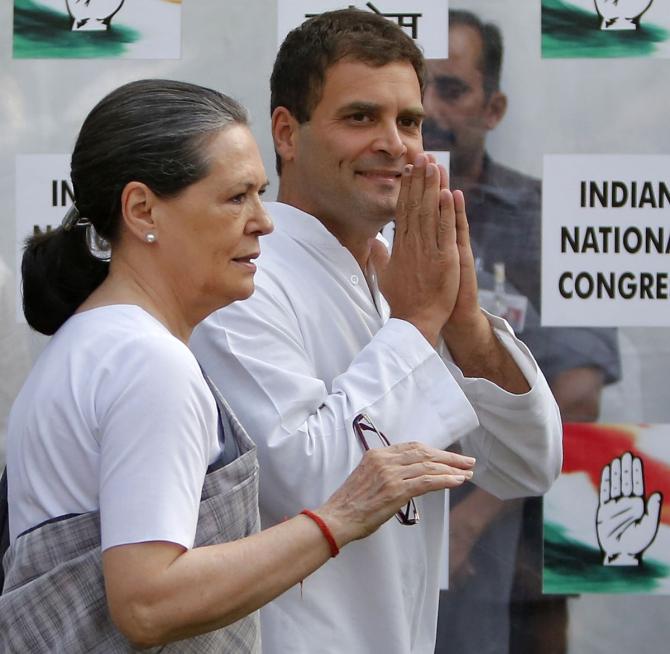 They say words can be very powerful, and we saw exactly how much on Monday when the Congress party showed that it was shaken to the core by a letter.
Viewed as an act of internal rebellion by the party leadership, the letter was written by over 20 leaders who demanded sweeping organisational reforms, collective leadership and an 'active, full-time and visible' president.
On Monday, August 24, this letter caused great upheaval at the Congress Working Committee meeting, during which Sonia Gandhi, who was appointed interim president a year ago following her son Rahul Gandhi's resignation from the post, offered to quit.
After almost seven hours of high drama and much deliberation, it was decided that Sonia Gandhi would continue as the party's interim president and effect necessary organisational changes while an All India Congress Committee session would be called at the earliest to start the process of electing a new chief.
With that, the issues raised in the letter were put into deep freeze. For now.
Syed Firdaus Ashraf/Rediff.com spoke to veteran Congress watcher Rasheed Kidwai, a Visiting Fellow at the Observer Research Foundation and the author of two books on the Congress party -- 24 Akbar Road and Sonia-A Biography -- to decode what is going on in the party.
Can we say that round 1 of the fight in the Congress party has ended after the CWC meeting on Monday?
Given the Congress situation, this was a completely unexpected rebellion with the party.
It wasn't a rebellion of the old versus young or regional such as North vs South.
This rebellion of 23 people was a curious mix of elected people, some to the Lok Sabha and some others to the Rajya Sabha.
Obviously, they must have had some intent and thought about it and only then wrote this letter.
Who are these people?
My own understanding is that there are three kinds of people in this list.
One is those who believe that there is a genuine need of reforms within the party and introspection is needed.
The second group of people are those who have a problem with Rahul Gandhi's style of functioning as a leader. They think if Rahul has his way, then their own position will be affected and their future will be affected.
And then there is the third group who want to internally damage the Congress party and they may be hand in glove with the Bharatiya Janata Party.
As you must have seen, there have been many unexpected defections from the Congress to the Bharatiya Janata Party like that of Jyotiraditya Scindia.
The BJP is making overtures to them, which is a legitimate political activity in the Indian political context.
In the light of this, I agree with you that this round one is over as there is a design behind the letter which had been written.
In a television debate you said that this group wants to dismantle the Congress brick by brick. Is that even a possibility?
Obviously, there is a possibility. These leaders have some kind of political standing; it is not a fight between the haves and have-nots.
For example, Ghulam Nabi Azad -- he continues to be Leader of Opposition in the Rajya Sabha and that has given him a Cabinet rank position.
Ambika Soni on Monday said to him that among all the people it is you who are rebelling as the national flag was never mounted on your official car. You always got post and authority.
It is not that people are questioning as there is something more as to what it could be. And obviously, there is an attempt to weaken the Congress.
You have leaders such as Ghulam Nabi Azad, Mukul Wasnik, Kapil Sibal who are rebelling against the Gandhis. Isn't it surprising as they have always been considered as loyalists?
Political loyalty is conditional and it is not absolute like in the case of faith and religion.]
If you recall, there was a famous slogan coined by a Congress leader (Dev Kanta Borooah, then the Congress president) -- 'Indira is India and India is Indira'. After the Congress was defeated in 1977, he quit the Congress and deposed before the Shah Commission against Indira Gandhi.
There are several instances like that. In the BJP everyone was fiercely loyal to L K Advani, but all of them abandoned him (for Narendra Modi), so political loyalty is not absolute.
If Rajiv Gandhi could get support from the old guard, why is it that Rahul Gandhi has trouble with the old guard?
Political authority comes with success. A leader handles any situation from a position of strength.
The problem with Rahul Gandhi is that he has no significant electoral success post the 2014 general elections. Therefore, he has not been able to do that.
What is their grudge? if you read this letter you will find out that they are questioning the political style of functioning and Sonia Gandhi is not able to meet them.
She is not keeping well since 2011. And getting an appointment with Sonia and Rahul is a problem since 2004 and even before that. But all these people had no problem then.
I, however, feel that this letter is five years too late and this should have come after the 2014 election when the Congress lost power and subsequently, lost state elections in Delhi, Harayana, Maharashtra and other states.
They could have done course correction then.
The party was inactive for five years and got beaten again.
A significant development took place when Rahul Gandhi resigned on May 25, 2019, and said he was not going to be the next Congress president and no one from his family should become party president.
The Congress could not come up with an alternative candidate then and made Sonia Gandhi the interim Congress president in August.
Why couldn't these people strike then and appoint a new Congress president who was a non-Gandhi?
Precisely. They did not do that. There is something more intriguing.
On August 10, 2019, Sonia Gandhi took over as interim chief. Somehow in our media there was a perpetual myth that Rahul Gandhi was not interested in the post.
Rahul was not interested in the post from the period of May 2019 to August 2019 only.
It was at that time the party could have come forward and made some non-Gandhi the Congress president.
On August 10, 2019, when all Congress leaders pleaded with Sonia to take over as interim Congress president, she took up the post.
The matter ended right there as the Gandhis were back.
All the conditions that Rahul Gandhi had put up before resigning ceased to exist as to his family should not play a role in Congress leadership etc.
So, it was all about timing and these dissenters should have dissented then rather than now?
Precisely. All Congress opponents say that Rahul Gandhi is not interested. They also quoted Priyanka Gandhi from a book which came out recently (India Tomorrow: Conversations with the Next Generation of Political Leaders). This statement was made in July 2019.
These Congress opponents must remember the famous quote by a Congress spokesperson that 'a week is too long in politics'. How can a statement made by Priyanka Gandhi in July 2019 hold true a week later or even now?
There was not one letter, but three letters and one apparently sent to the Chief Justice of India as well. Why involve him?
That is what I am saying, that there is an attempt to break and dismantle the Congress party.
This may not be true for all dissenters, as I said that there are three types of dissenters.
The BJP is openly saying 'Congress mukt Bharat' and this is a pointer in that direction.
We do not know the physical presence of this letter or draft. I think this CJI draft was if the Congress leadership had taken any disciplinary action against the dissenters. But that did not happen.
Sonia Gandhi very deftly deflected the situation. She announced that there will be Congress elections and the All India Congress Committee would meet so all these things are not relevant anymore.
The Election Commission of India monitors inner-party democracy in all political parties in India.
An attempt was also there to freeze the Congress party symbol as a form of punishment because the Congress was not holding organisational elections.
But the reality is that inner-party democracy is a farce in all political parties. There is no exception.
But since the Congress is at the receiving end and on the principles of law, you cannot say there is no scope for whataboutery.
Therefore, the Congress is vulnerable to even legal reports.
Sonia Gandhi has won round 1 now. What will happen after six months? Do you think the rebellion will re-emerge?
It is difficult to speculate now as it depends on how the political situation evolves after six months.
I think if Rahul or Priyanka Gandhi do not come forward and fight the Congress president elections, the situation would change.
If Sonia Gandhi props up some other candidate, the other side will also contest. And that will be an interesting contest.
But if there is Rahul Gandhi or Priyanka Gandhi contesting the Congress president election, then it will be a one-horse race.
There will be no challenge and therefore they will have to tread very cautiously as there is unrest in the Congress party because of lack of electoral success.
The Gandhis have remained the same, but there is no electoral success for the party and therefore there is restlessness among party leaders, and this is true for any other political party if they do not get electoral success.
The Gandhis will have to come forward and take over the mantle of leadership formally and effectively.