'Netaji Bose followed the concept of Bharatiya and he united all religions and communities of India as Bharatiya.'
'I follow that politics of Netaji and so does the BJP.'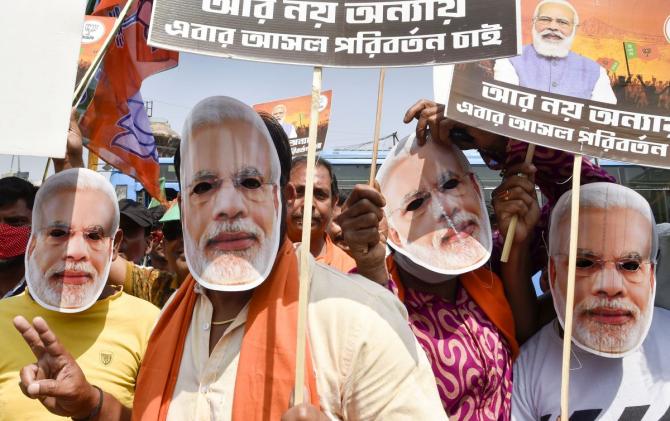 Bharatiya Janata Party leader and Netaji Subhas Chandra Bose's grandnephew Chandra Kumar Bose , below, is confident of the BJP's victory in Bengal, irrespective of the fact that most opinion polls indicate a victory for a Mamata Banerjee-led Trinamool Congress.
Bose believes the BJP will make it this time thanks to Narendra Modi's popularity among the people of Bengal.
In an interview to Syed Firdaus Ashraf/Rediff.com, Bose denies that there is a major rift within his party as many outsiders have been inducted at the cost of neglecting the old-timers, saying, "The BJP is growing at a very fast pace in West Bengal. Politics is all about numbers and you need more people in any party to mobilise votes."
How are things looking for the BJP for the West Bengal elections? Are the people of Bengal ready for poriborton (change)?
The BJP is in a very good position in West Bengal. The BJP did well during the 2019 Lok Sabha election (winning 18 out of 42 seats in West Bengal). And after the 2019 election, the BJP has made serious inroads into every district of West Bengal.
What we are seeing now is that people are coming out in huge numbers and spontaneously supporting the BJP.
People of West Bengal are ready for poriborton. We are strong in West Bengal now. Of course, it will be a stiff fight, but the BJP has a very good chance to form the government in West Bengal.
The opinion polls don't say so. They indicate that the TMC has the edge and will win the polls.
Opinion polls are an opinion. When we interact with people on the ground, we find out that they want change and the BJP is the only alternative.
The Congress and Left are trying to consolidate their position, but they have not gathered momentum yet.
This is a straight fight between the BJP and the TMC and the BJP has the advantage. In certain pockets, the Trinamool Congress's organisation is strong, but one has to remember that many strong leaders of the TMC have joined the BJP.
Many BJP old-timers complain that they are being neglected on account of the rebel TMC leaders being inducted into the party.
The BJP is growing at a very fast pace in West Bengal. Politics is all about numbers and you need more people in any party to mobilise votes.
The BJP has good leaders, but at the grassroots you need workers who mobilise voters to come out and vote.
On the day of election, it is very important to have such workers. And obviously, when you get new workers from other parties then existing workers in any party feel disgruntled.
There is one mandal president or secretary and you cannot have 10 posts in one mandal. And we are trying to accommodate everyone from other parties and ensure that workers from our party do not get disturbed.
But there are some people who are unhappy and that is always the case. These things happens when a party grows at a very fast pace.
The complaint, however, is that your party is taking in corrupt leaders.
There are a lot of allegations, but no leader who has been inducted into the BJP has been convicted of a crime.
There are allegations and the BJP has not taken any leader who has been proven guilty or convicted of any crime.
I feel, being free of allegations is very difficult in politics. There are cases against me for arson and looting. Do you think I will do that? Am I capable to do that?
If you walk in a procession (of an Opposition party) you are charged with that (arson and looting). I have to go to court tomorrow for the case. Does it mean that I am guilty of arson or looting? I am not.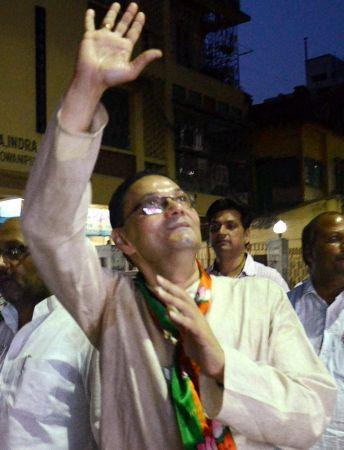 Mithun Chakraborty joined the BJP. Does that make a difference to the party at a ground level?
Our country has an obsession with celebrities and it is a fact. If a celebrity is seen on silver screen and goes to rural areas, people definitely will flock. They are crowd-pullers and there is no doubt. What is more important, though, is how you govern after winning the elections.
And if celebrities win and govern, well, then there is no problem in that.
You do not have a chief minister's face. Do you think that is a disadvantage?
The BJP fights elections under the leadership of Narendra Modiji. Once we win, the chief minister would be elected by leaders of the assembly.
While voting in the Lok Sabha election people are of the opinion 'If not Modi, then who?' Does that rule not apply to West Bengal -- 'if not Mamata, then who'?
The BJP has several capable leaders who can take over as CM. But, as of now, it has been decided that it will be done after the elections.
What about the Citizenship (Amendment) Act? The BJP wants to implement the law immediately after they win the election. Do you think that will have some problem as many are opposing it in West Bengal?
The Opposition parties have run a campaign against the CAA. It is not about taking citizenship but granting citizenship to people who are persecuted in neighbouring countries.
If someone is an Indian citizen, then the government in no way can take away his or her citizenship away. The government does not have those kind of powers because they have given the citizenship in the first place and another government cannot take away citizenship.
CAA is for people who have been persecuted in neighbouring countries like Afghanistan, Pakistan and Bangladesh. They want to reside in India because they were booted out of those countries. They will be given a fast track approval for citizenship.
Normal citizenship process takes 12 years and here they can get it in five years due to CAA. And this is for the people who have been persecuted.
We need to project the CAA correctly because the Opposition is misrepresenting the CAA matter.
Do you think Netaji would have agreed to such laws, which are discriminatory against a particular religion?
The CAA is not discriminatory against any religion. It is not. The CAA is based on persecuted minorities from neighbouring countries who have come to our country.
Does it not contradict Article 14 of the Constitution which says everyone is equal before law irrespective of religion?
Everybody is still equal under the law. This law is for people who have been persecuted. And, of course, it is difficult to find out who has been persecuted and who is not. It is on case to case basis and there has to be merit and a panel has to be appointed. Passing of CAA law is in good spirit.
The Congress has joined hands with Abbas Siddiqui of Furufura Sharif. Do you think the Muslim votes will get divided between the TMC and Congress-plus Left alliance, thus giving advantage to the BJP?
Yes, probably it will benefit the BJP, but we do not believe in such things because Prime Minister Modi believes in inclusive politics. PM Modi believes in 'sab ka saath, sab ka vikas' philosophy.
This is the message our party leader is giving us and it is our responsibility to implement this message on the ground.
The PM cannot go around the country implementing this slogan on the ground. It is the party leaders and workers of the BJP who have to implement this slogan on the ground. And, I am trying to implement this message of the PM on ground.
Bengali Muslims fear that if the BJP comes to power in West Bengal, then after the CAA the National Register of Citizens will be the next step.
That is a wrong notion among Muslims. No one can touch Bharatiya Muslims. No government has the power to dislodge a Bharatiya.
Netaji Bose followed the concept of Bharatiya and he united all religions and communities of India as Bharatiya. I follow that politics of Netaji and so does the BJP.
If any Muslim is a Bharatiya and citizen of India I do not think any power on Earth can take away his or her citizenship.