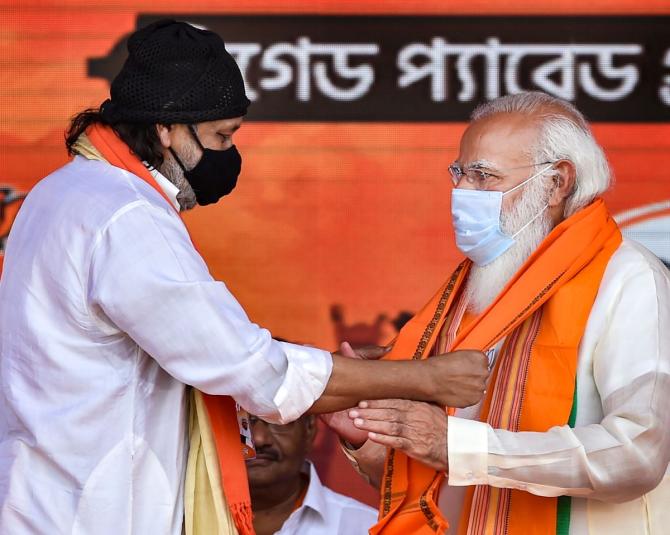 So Mithun Chakraborty did finally join the Bharatiya Janata Party on Sunday, March 7, putting an end to the will-he-won't-he speculation about his future in politics.
"Mithunda was welcomed in the party fold, like all those known names from the entertainment business who show keenness to join Prime Minister Modi against Mamta Didi," a BJP source tells Subhash K Jha.
"But he is already dreaming of becoming the chief minister of West Bengal, which is ridiculous. He neither has the following in Bengal nor does he have a deep understanding of the region's politics," adds the BJP source, a well-known baiter of West Bengal Chief Minister Mamata Banerjee.
Apparently, Mithunda has shared with BJP leaders that becoming West Bengal's chief minister is his only motive for the political jump from the Trinamool Congress, which sent him to the Rajya Sabha, to the BJP.
"With his career in films being over, Mithunda only had one job, to serve as a host on dance reality shows," says the BJP source.
"Now he has found something else to do. The dedication and commitment required to make a mark in West Bengal may not be his forte," the BJP source adds. "Mithunda's health doesn't permit him to get that involved with his political career."