'No COVID-19 positive person will be allowed when the bhoomi pujan happens on August 5 in Prime Minister Modi's presence.'
Ved Prakash Gupta, the Bharatiya Janata Party MLA from Ayodhya, describes to Prasanna D Zore/Rediff.com the scenes in the temple town before the bhoomi pujan ceremony on August 5 and how Ayodha residents plan to create history.
The mood in Ayodhya before the bhoomi pujan
The bhoomi pujan (laying the foundation stone for the construction) of the Ram Mandir on August 5 in Ayodhya is going to be the most extraordinary, historical, moment in the history of our country.
The people of Ayodhya are happy that they will be giving such joyous moments to our countrymen.
Prime Minister Narendra Modi had said we will be building a grand temple for Lord Ram in Ayodhya. That is going to be a reality soon.
We will be lighting lamps in each and every house in Ayodhya for the next few days to welcome the construction of a Ram temple here. Just like all Ayodhya-wasi light their homes and shops during Deepavali.
August 5 will herald Diwali celebrations a few months in advance and given the josh (excitement) of the people here I can assure you that we will continue celebrating Diwali from August 5 till actual Diwali (in mid-November), when prabhu Ramchandra came back to Ayodhya after defeating Ravana.
We will bedeck the entire town with flowers, paint murals depicting scenes from the Ramayana on walls and draw rangolis (decorations on ground using powder colour) in open spaces as well as outside every home in this temple town.
The entire town will be lit up for the occasion.
Every temple in the town will play Ramayan paath (tales of Ram and his journey from childhood to his victory over Ravana), Sundarkand paath (tales of how Hanuman was encouraged by Jambuvant, the senior-most adviser, of Sugriva, reminding Hanuman of his strengths when he doubts his powers about reaching Sri Lanka to deliver Ram's message to Sita), Hanuman Chalisa (40 stanzas in praise of Hanuman), bhajans and kirtans (devotional songs in praise of Ram, Sita, Laxman, Hanuman).
Kahi laddooo batenge, kahi pedhe batenge, kahi mithaiyan batengi (At every place people will distribute sweets).
All the sants and sadhus in Ayodhya have begun grand preparations for the historic moment on August 5.
It is a matter of honour and prestige for every Ayodhya-wasi to see Prime Minister Modi personally coming to Ayodhya to do the bhoomi pujan.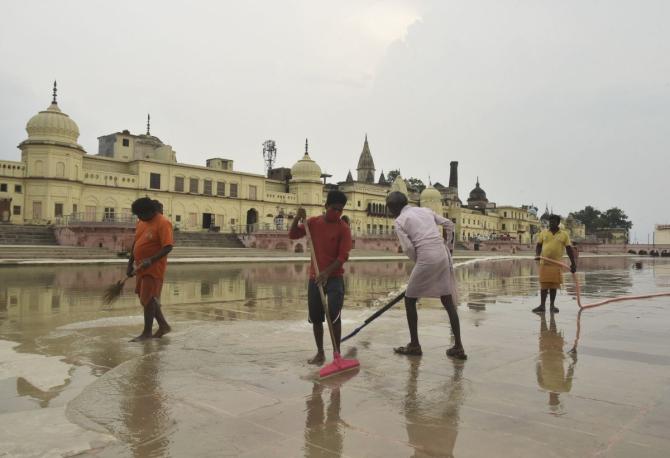 Everybody is super excited to make their little contributions for the beginning of construction of a Ram temple in Ayodhya.
Our focus is on cleanliness of Ayodhya, health of the people of the town, creating a spiritual environment; poora vatavaran Ram-may ho gaya hai (the entire city is bathed in Ram's devotion).
About the Saryu river on whose banks Ayodhya is located
The Saryu river has been a very sacred river for Indians for centuries and (Uttar Pradesh) Chief Minister Yogi Adityanathji had pledged to make the river free from effluents and dirty water which he has fulfilled before the bhoomi pujan.
Given the Saryu's special importance for the local people here, everybody is contributing their bit to make the river cleaner and its banks more beautiful before August 5.
While the local municipalities are providing enough money for the cleanliness and beautification of the river, the locals too are voluntarily doing whatever they can to beautify the embankments and keep them clean.
About communal harmony in the town
You will have to be present here to see how people from all walks of life, every religion and caste are working hand-in-hand to create history.
Ayodhya has always showcased Hindu-Muslim unity and each and every citizen of the town is happy and excited to realise their dream of a Ram mandir becoming a reality as soon as possible.
You will see hundreds of Muslims weaving garlands for the deities, outside the temples selling pooja wares, not just earning their living but also paying their respects to the true culture of India.
While Ayodhya is known as a temple town and tourists from across the world visit it, we will have lakhs of tourists come to Ayodhya once the temple becomes a reality.
The temple will exemplify the unity of Indians to the world and will become a global wonder soon.
The atmosphere in Ayodhya is quiet convivial.
On Mahant Pradeep Das suffering from COVID-19 and Modi's visit
He is one of the five assistant mahants at the Ayodhya temple and he has been quarantined. All those who have come in contact with him have also been advised to quarantine themselves.
All the people who came in contact with him have been tested and everybody has tested negative.
No COVID-19 positive person will be allowed when the bhoomi pujan happens on August 5 in Prime Minister Modi's presence.
All the testing will be done before the bhoomi pujan; only a select few will accompany the prime minister for the bhoomi pujan.
On creating awareness about COVID-19
We have been creating awareness about social distancing, hand hygiene and importance of santisation and face masks.
Each and every BJP worker, our local councilors, MLAs and MPs have been spreading the awareness about maintaining hygiene and social distancing at all times.
Each and every neighbourhood, every municipal ward has pledged to follow the norms for maintaining hygiene and prevent spread of the Coronavirus.
Women are not only encouraging Ayodhya-wasis to paint and decorate the entire town, but they have also been in the forefront of creating awareness about health and hygiene.
All precautions related to coronavirus have been taken to ensure the good health of every person in Ayodhya.