'To get a 100 per cent consensus document without any reservation, any bracket, any chair summary is unprecedented in the history of multilateral forums.'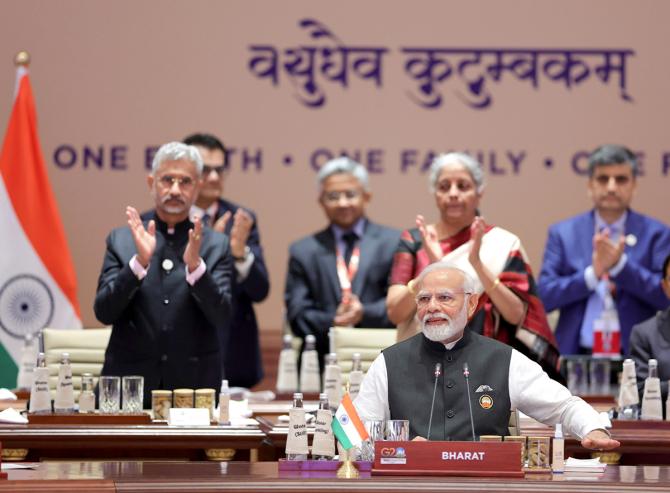 The man of the moment, Amitabh Kant, is in back-to-back meetings at Sushma Swaraj Bhawan, the G20 headquarters in New Delhi, even days after the leaders' summit ended.
In between those meetings and congratulatory calls, the seasoned bureaucrat and India's G20 sherpa catches up with Business Standard's Asit Ranjan Mishra, Ruchika Chitravanshi and Nivedita Mookerji, to talk about the historic summit, the New Delhi Declaration, the challenges on the way and many sleepless nights to find the voice of moderation.
Have you been able to chill at all after the G20 summit?
No, not at all. The PM has now called for a virtual meeting, so we'll have to start working on that.
We will again have to prepare issue notes and circulate them.
It will be a follow up on the implementation of what we have decided as part of the leaders' declaration.
How would you describe your journey as India's G20 Sherpa?
What has been achieved is quite unbelievable, turning impossible into possible.
Looking back it appears that India's done magical work... nobody expected India to deliver a full consensus statement.
What was your G20 moment?
The G20 moment was when we really got the adoption done as it had seen many ups and downs because of the Russia Ukraine paragraph.
When finally the PM announced that he's going to get the adoption done, everybody clapped and all the leaders supported, that was really the G20 moment.
To get a 100 per cent consensus document without any reservation, any bracket, any chair summary is unprecedented in the history of multilateral forums.
Did the PM speak to the leaders just before the declaration?
This was done at the Sherpa level... When you achieve an agreement of this nature, which is unprecedented, you always fall back on the stature and standing of the leader.
We could negotiate in a very bold, gutsy, courageous and non-conventional manner because of the stature of the prime minister.
We finally had to tell them to take it or leave it.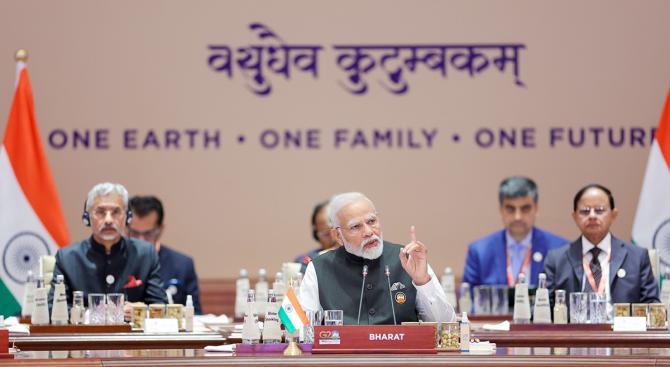 Didn't G7 climb down substantially from its stand?
Russia has also climbed down, you can't say G7 alone climbed down.
Russia wanted several things to be included which we pushed back.
There were several things that G7 wanted that we pushed back. We brought a voice of moderation in the agreement.
Where was China in this?
Because we had negotiated along with Brazil, South Africa, Indonesia jointly, finally the sherpas of Saudi Arabia, Mexico, Argentina, Turkey all collaborated with us.
China also realised that it's the voice of the developing countries and had to support us.
Is it a diplomatic victory because of the language in the draft?
It's a diplomatic victory to have full consensus on 83 paragraphs.
It's a diplomatic victory because India has demonstrated that multilateralism can work in today's world.
India has demonstrated that it can be a voice of moderation in the Russia Ukraine crisis.
It's a diplomatic victory because India has brought all developmental issues to the forefront.
It's a diplomatic victory because India has become the voice of the Global South.
What was the challenge?
All ministerials had not worked out. All of them had footnotes. So it was finally left at the sherpa level to sort out.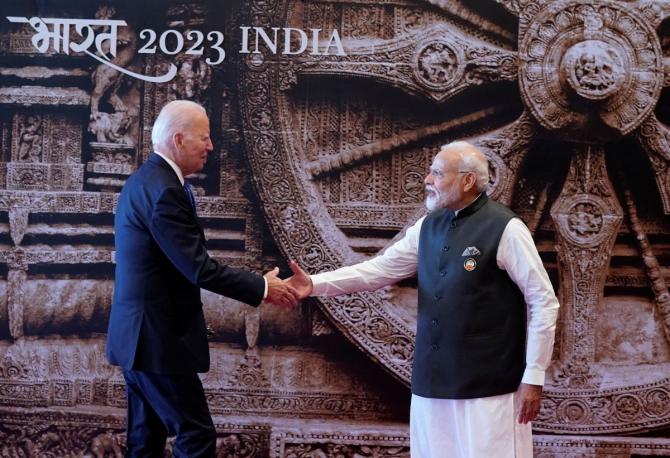 Did you have any doubt at any point that this is not working out?
I had doubts many times, but I never showed it... I was only displaying confidence.
What was the PM's message to you?
The PM was very clear that we have to achieve 100 per cent consensus, be inclusive and very ambitious, which we have done. We have delivered for the PM.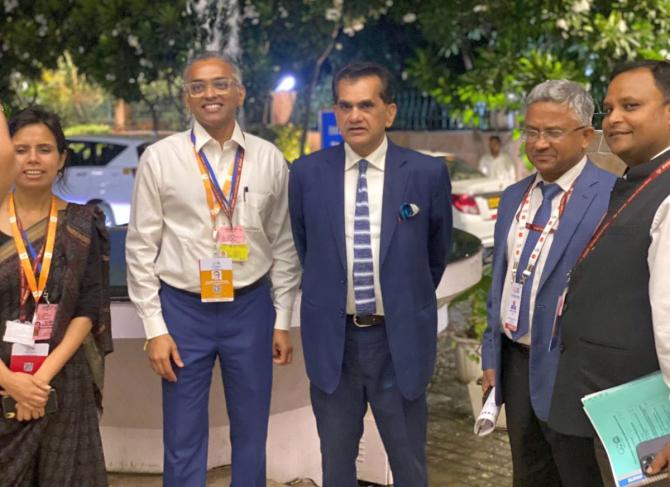 Who helped you clinch the deal?
I would give credit to my entire team. On the geopolitical para, it was the Brazilian and the Indonesian sherpas who brought in huge experience.
From the Indian side Nagaraj Naidu and Enam Gambhir were top class negotiators. They worked with me.
What's the key takeaway?
We have succeeded in issues where the UN didn't.
We've demonstrated that G20 can be the most powerful forum in the world, much more powerful than the United Nations and the Security Council, both of which have become unwieldy.
The French president has said there are certain items in the declaration that he doesn't agree with. Russia Ukraine is one of them.
But this is not G7, this is G20. Everyone is party to it. You can pass any resolution in G7.
If it was a G7 meeting, they would have passed any resolution they like.
They've done this in Hiroshima. This is much more stronger than the Hiroshima language... It is far more powerful than Bali.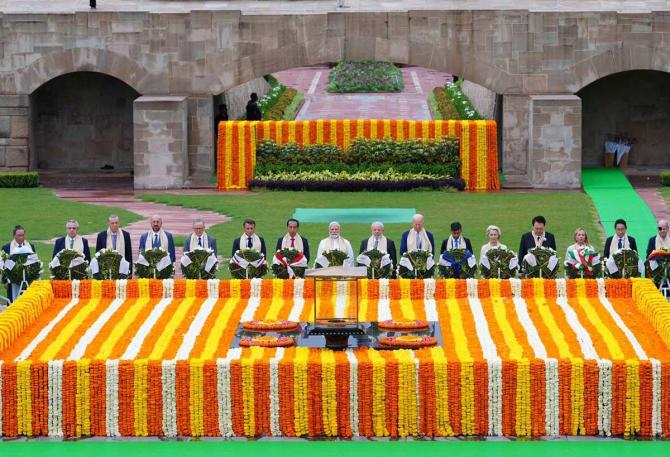 Do you think the G20 success will have a positive impact on the political scene?
I'm not a politician. I'm not concerned with politics.
I am Sherpa to the prime minister to take him up the Mount Everest wherein we are to deliver this document and we have done our best to do that.
We were expecting endorsement on a lot of things. But the document just says 'We take note' or 'We welcome'.
We take note of certain documents because in certain cases some countries are not members of those bodies, for example some UN resolutions.
So it depends on the negotiations and the issues...
How did the last few days before the leaders' summit go?
On the geopolitical para, the Russia-Ukraine issue alone has made us spend about 200 hours of non-stop discussions.
There were over 15 different drafts from September 3 to early morning of September 9.
Take us a bit through the backstory...
We started on September 3. We did several rounds of negotiation and drafts... We had to start drafting on the screen in front of the sherpas.
We did not allow their phones to come in because we did not want any information to leak out.
If it had leaked out, the whole negotiations would have collapsed.
I dictated the initial draft, then their views came in.
Then another draft, then another... we also did 200 rounds of bilateral meetings...
India was pushing to make digital public infrastructure interoperable. Not much success there, isn't it?
We had 100 per cent success. This is the first time the definition and framework of digital public infrastructure was accepted.
But interoperability has not been fully agreed upon.
That doesn't matter. Every country will take its own time. Open source has been accepted. Open API has been accepted.
What's next for you after the G20?
You should ask this question after December. My term has not ended.
What about politics?
I don't think I am cut off for politics... I will read, write, relax and travel. I will write a couple of books.
I want to contribute to nation-building, but everything is not through politics.
Feature Presentation: Aslam Hunani/Rediff.com