As India's stock rises, the resolution of the border row may become even more difficult, warn Harsh V Pant and Kalpit Mankikar.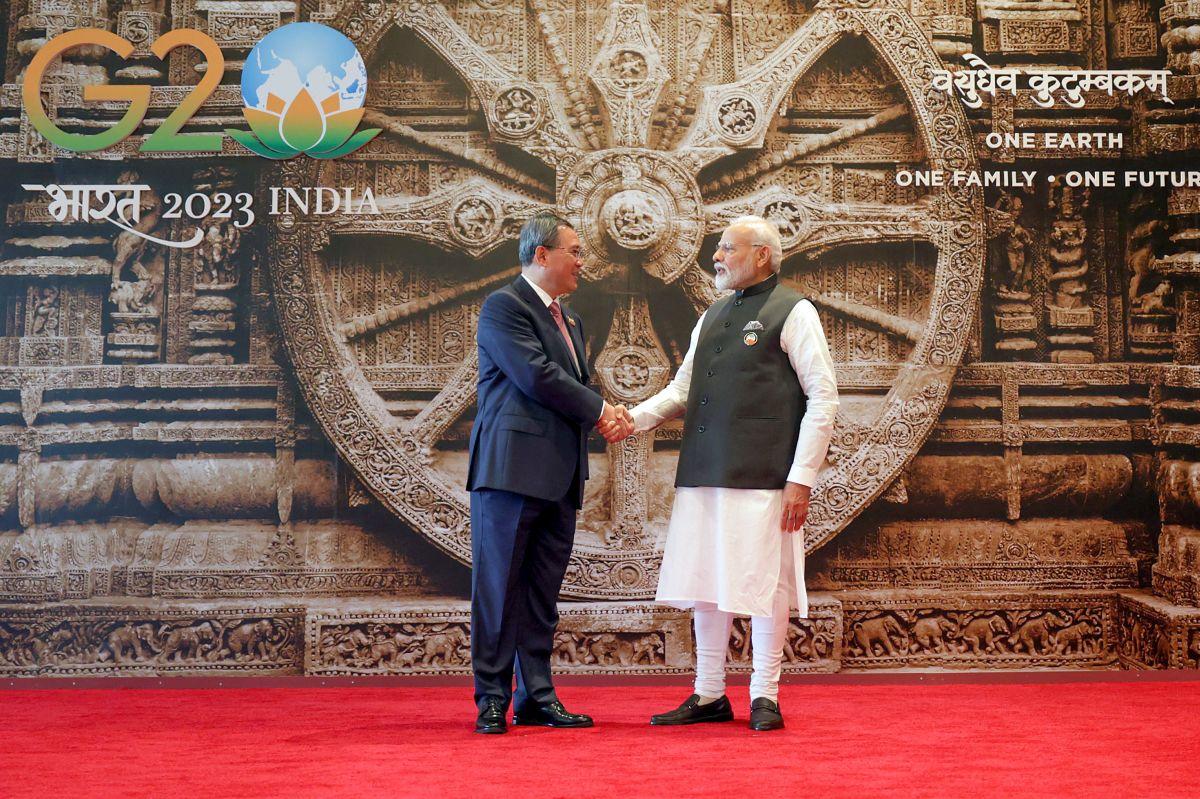 Chinese President Xi Jinping skipping the G20 summit in Delhi is being seen as a sign of the fraying India-China bilateral relationship.
The development comes at a time when there has been a standoff at the border for the last three years.
Ahead of the summit, there had been media speculation of a breakthrough on the border impasse.
Premier Li Qiang sat in for Mr Xi and had his talking points on most issues tutored by Beijing.
However, this incident gives us a peek into Mr Xi's evolving worldview in international affairs.
Mr Xi attended almost all G20 summits, as it offered him a global platform to 'tell the China story well'.
However, over the last few years, Mr Xi is convinced that he is witnessing 'great changes unseen in a century', which is a political phrase denoting America's decline in the world order.
Moreover, he is increasingly sanguine about China's ascent as a power challenging the US.
If the past is a precedent, then as a rising power, China too seeks to leave an imprint on diplomatic history and postulate its own grand vision.
Creating non-Western frameworks
Thus, there is a new vim and vigour in the groupings associated with China or those where it is a lead driver.
Contrast Mr Xi's no-show at the Delhi G20 summit with his demeanour during the BRICS summit in South Africa.
Mr Xi assesses nations joining groupings like BRICS and the Shanghai Cooperation Organisation (SCO) as evidence of China's success in world affairs.
Argentina, Egypt, Ethiopia, Iran, Saudi Arabia, the United Arab Emirates joined BRICS, a development that an ecstatic Mr Xi termed as 'historic'.
Nations with a bone to pick with the West are gravitating towards China with Iran joining the SCO and Belarus waiting in the wings.
Other nations are queuing up to join these groupings, and it seems to have given Mr Xi the confidence that China can be the other pole, pitching a China-led bloc opposed to US hegemony.
Thus, the recent BRICS conclave became an opportunity to broadcast Mr Xi's spiel to nations in the Global South.
Mr Xi presented black-and-white alternatives for nations: Integration and cooperation on one side, division and confrontation on the other.
A devastating pandemic has led to nations looking for the quickest route to economic recovery.
Here, Mr Xi wants developing nations to believe that China alone holds the key to the 'path of prosperity'.
In the midst of China's competition with the US, there is an effort to address the former's objectives concealed in altruistic motives.
Mr Xi has pledged to support sustainable development in the Global South, with the setting up of a 'South-South Cooperation Fund' totalling $4 billion, in addition to Chinese financial institutions instituting a $10 billion fund for implementing Mr Xi's Global Development Initiative.
However, this Chinese grand vision has in recent times come up against a rising India's espousal of issues close to the heart of the Global South.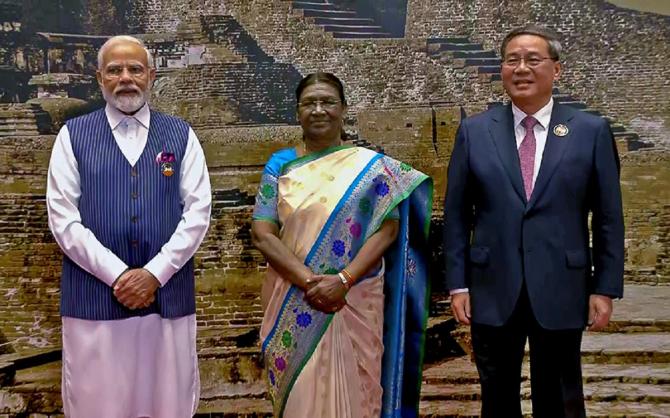 China's India challenge
Under its G20 presidency, India invited 125 nations to a 'Voice of Global South' summit, taking up issues of food and energy security.
It has used the G20 presidency to make a case for expediting reforms of global financial institutions like the International Monetary Fund and the World Bank to seek greater representation for developing nations.
States in the Global South are also at the receiving end of geopolitical tides and the vagaries of nature.
India is pursuing securing fertiliser and grain supply chains in light of the Russia-Ukraine confrontation and swifter disbursal of climate finance.
In its G20 presidency, India seems to be at the apogee of its global acceptance.
In the last decade, it worked assiduously to rid itself of the unnecessary bracketing with a rogue State like Pakistan, to now being seen as a counterweight to China.
Under its G20 presidency, Delhi has hosted foreign delegations in Jammu and Kashmir and Arunachal Pradesh -- a diplomatic feat unthinkable a few years ago.
Thus, India's crowning moment has become an eyesore for Beijing, perhaps leading it to pare down its diplomatic presence.
Rocky road for India-China bilateral
Mr Xi's petulant behaviour does not portend well for the larger India-China relations, which have been characterised as 'abnormal' by External Affairs Minister S Jaishankar.
As India's stock rises, the resolution of the border row may become even more difficult.
Undoubtedly, Beijing is constantly upping the ante with renaming places in Arunachal, issuing stapled visas to the state's residents, and now releasing a map that challenges India's territorial integrity.
China's internal challenges, such as an economy in distress and rising joblessness, will drive it towards increased assertiveness.
A recent example is the response to a Taiwanese presidential aspirant's overseas trip, which prompted Beijing to conduct military drills.
Mr Xi has launched a broadside at Japan (a Quad member) for releasing treated residue from the Fukushima nuclear plant into the sea even as Chinese nuclear plants spew waste water with higher levels of radioactive tritium than the defunct plant, as documented by the Japan Times.
To conclude, Mr Xi is working hard to cement a rival international framework, which has meant working towards investing more in blocs associated with China.
Second, the Chinese vision now has to compete with India's own outreach to the Global South.
Third, Mr Xi's no-show also gives us a peek into his thinking that seems to have been shaped by the Chinese idiom 'one mountain cannot have two tigers'.
Mr Xi has internalised this in his dealings in domestic politics and now seems to be applying the idiom in his diplomatic engagement with a rising India too.
There seems to be a tinge of nervousness as Chinese hegemonistic ambitions get a much-needed pushback from New Delhi.
Harsh V Pant and Kalpit Mankikar are respectively, vice-president for Studies and fellow for China at the Observer Research Foundation, New Delhi.
Feature Presentation: Aslam Hunani/Rediff.com