'I don't think anybody would want to be in my position today where every head of State has to be explained that I am prioritising my country because there is a surge in cases.'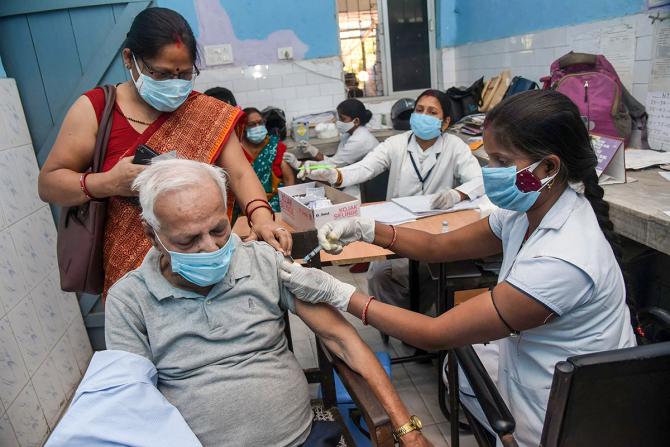 The Serum Institute of India, the world's largest vaccine maker, is juggling between meeting demands in its own country and its international commitments.
SII CEO Adar Poonawalla, in an interview to Sohini Das, says that AstraZeneca has served a legal notice to the firm for delays in supplying the vaccine, and that SII has sought "a few thousand crores" as grant from the government to double the production of Covishield.
How are you balancing domestic and overseas demand for Covid vaccines?
I don't think anybody would want to be in my position today where every head of State has to be explained that I am prioritising my country because there is a surge in cases.
For the next one or two months, we will be prioritising supplies only to India based on the request of the government and also depending on the needs of our people.
We are hoping this is a temporary measure. Once the situation in India cools off, (vaccine) exports can pick up pace.
In two months, we can review all things based on the situation in India, so that we end up doing what is good for India and the globe.
Has AstraZeneca sent you a legal notice?
AstraZeneca has sent us a legal notice (for delays in supplying the vaccine) and the Indian government is also aware of that.
I cannot comment on the legal notice as it is confidential, but we are examining all avenues to amicably manage and resolve legal disputes over contractual obligations that Serum Institute is not able to fulfil due to its prioritisation of Indian supplies. Everyone has been very understanding so far.
The government is evaluating what it can do to resolve the issue.
You have sought funds from the government to ramp up production. What's the update?
We have submitted a formal proposal for an upfront grant, which will enable us to put up a factory. Otherwise, it is difficult for us to ramp up (vaccine production) because we have invested thousands of crores already and have borrowed Rs 1,500 crore (Rs 15 billion) in April to manage the additional opex (operating expense) requirements of these large volumes.
The government is examining the proposal. Hopefully, in the next seven days, it will be concluded.
We have sought a few thousand crores. We have buildings and everything ready in Pune. This would enable us to immediately double the capacity of Covishield.
This will be a grant, not a loan. We are only asking for the cost of the facility. We are asking for a replacement for the capex -- the building, the equipment, etc.
We will have to sacrifice one more facility to make Covishield. If we want a loan, I can go to a bank and get it. This is an out-of-the-box proposal, which was not needed even three months back. But, since I need to sacrifice one more facility, I need the government's help here.
Right now, the private market is not able to pay for it. If the funds come, we are ready to deliver double the quantity of vaccines within two months.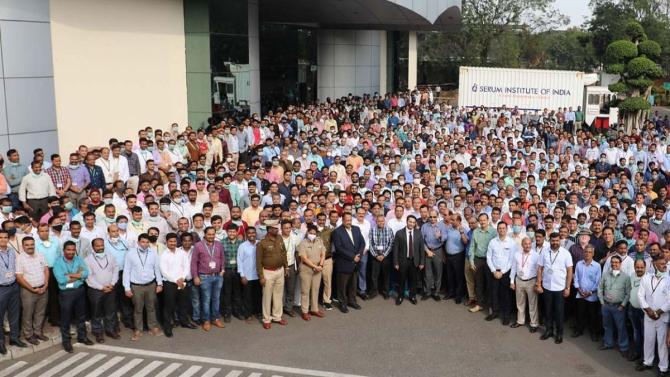 What do you have to say about the controversy surrounding the efficacy of Covishield?
It is clear in the literature that if one waits for three months (between two doses), the vaccine's efficacy is 80 per cent. There is no controversy on that.
The Scottish Health Web site shows that even one dose of the AstraZeneca vaccine is giving a very good efficacy of 94 per cent. This publication will go into The Lancet (the prestigious British medical journal) very soon and will be available in the next two weeks.
After over 100 million people were given the vaccine (in India and abroad), we have hardly seen any case of hospitalisation.
If you take a rule of thumb, 8-9 per cent people are positive when tested. Out of these people, those who are vaccinated, not one has had the need for hospitalisation. They, at best, have mild to moderate symptoms.
This means we are very close to 94-100 per cent effectiveness against hospitalisation even with one dose of Covishield.
The acid test is whether after the vaccination, one needs hospitalisation. Covishield is passing this with flying colours.
You have three more vaccines in the pipeline. When can we expect to see them?
Yes, the Novavax vaccine will come around September. Spy Biotech's vaccine should also come by the end of this year. The Codagenix vaccine is slightly delayed as we are doing the trials in the UK. We just got permission and started phase one, so it got delayed by a few months. It is expected in 2022.
We had to prioritise certain vaccines, which we knew were going to be licensed, scaled up and stock-piled.
We are so happy that Covishield is already doing so well.
The reason we got into three-four vaccines is that if one does not do well, then at least we have others.
Novavax has already proven an efficacy of 89 per cent, including efficacy against the South African, Brazilian and UK variants. This is very good news as on a head-to-head basis, other vaccines have not tested against all these strains.
By the end of this year, we will have three vaccines guaranteed.
Do you think the Indian price of the vaccine allows making profits?
The price of vaccines is around $20 on average globally, where we are making $2 per dose. To encourage new vaccine makers, including the existing ones, if the marketplace is not very quickly made into an environment where you can sell for $5-$7 per dose, then there is no incentive for the vaccine producer.
There is no incentive for private vaccine makers to scale up in this price environment.
Is shortage of raw materials coming in the way of scaling up production?
Yes, it is happening because the US has invoked the Defence Act and banned export of raw materials.
This is as good as banning vaccines. All vaccine producers are facing difficulties because of this.
It has already stalled the Novavax vaccine's production. Stock-piling of Novavax would happen to the tune of 50 per cent more if we had access to US raw materials.
Till the month of April, it was not really coming in the way. From this month onwards, whatever we stockpile of Novavax would be half of what we could do, had it not been for US restrictions.
There is a long list of raw materials which we import from the US -- filters, bags, certain media solutions, etc. To develop new suppliers in the eleventh hour will take a bit of time.
We will do that. We will not be dependent on the US after six months. The problem is we need now.