'The government had a vaccine from January.'
'The government should have given the vaccine to all population above the age of 45, right from the start.'
'Each state has its own problems, but as far as vaccine coverage in India is concerned, there have been mistakes.'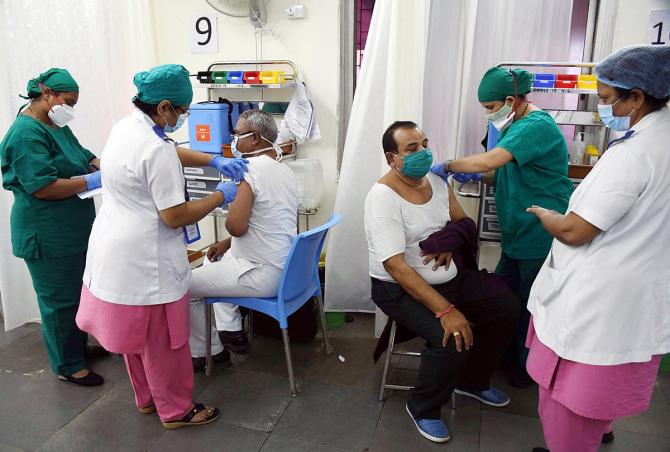 Why has the daily tally for Pune's fresh COVID-19 cases been disturbingly and alarmingly exceeding every other metro in India over the last few days?
Pune's population is estimated to be 6.8 million* in 2021 so far.
While Mumbai is estimated to be 20.6 million.
Delhi: 30.2 million.
Kolkata: 14.9 million.
Chennai: 11.2 million.
Hyderabad: 10.2 million.
Bengaluru: 12.7 million.
Ahmedabad: 8.2 million.
Surat: 7.4 million.
Yet Pune has many more COVID-19 cases.
How is it that cities with considerably larger populations than Pune are showing less COVID-19 new case numbers at the moment?
For instance, April 6, Pune recorded 11,000 new cases, while Mumbai logged 10,300 and Delhi 5,100 cases**.
Pune seems to have become the new epicentre of the COVID-19 pandemic in our country, as the second wave of the disease tramples across India.
Why has this emerging but still unhurried city, one of India's educational and IT hubs, racked up such high contagion stats? Numbers that are galloping upwards daily and have put a huge strain or perhaps, already, wiped out available hospital beds, in a city that has around 2,000 ventilated beds.
Dr Sanjay Lalwani, medical director, dean of the faculty of medicine and head of the department of pediatrics at Bharati Vidyapeeth, Pune, and the doctor who supervised the first August 2020 trials for Covishield, the Serum Institute of India-produced AstraZeneca COVID-19 vaccine, doesn't believe Pune is an abnormality or an unusual specimen. Or that the city's residents are more prone to risky, non-virus respecting adventures and hence the climbing case numbers.
As Dr Lalwani fields umpteen calls from sick people desperately looking for beds, he explains that he feels Pune is the start of a worrisome all-India trend and cities, one after the next, will exhibit these kinds of shooting numbers as the pandemic in India climbs to its towering second peak.
The pediatrician, who also runs Lalwani Mother and Child Care, a Pune clinic for mothers and children, tells Vaihayasi Pande Daniel/Rediff.com, that if at the moment 12,500 people are newly testing positive daily in Pune, then the actual numbers might be twice that, or three times that, since only a smaller proportion will test.
He worries that if even 10 per cent of that number need hospitalisation and 1 per cent ventilated beds, how will the city cope. The first of a two-part interview: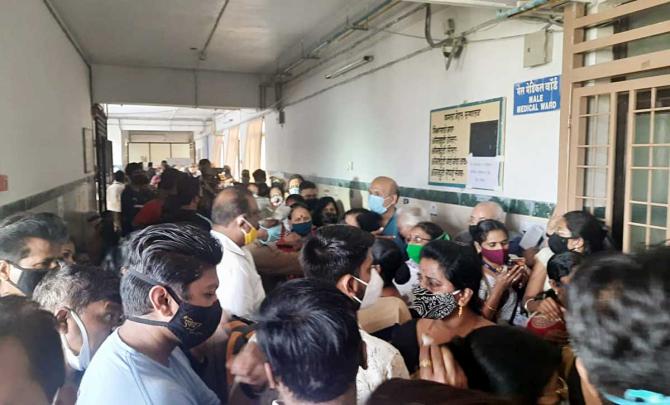 The surge in COVID-19 cases in Pune, which is on par and on days exceeds Mumbai, is quite surprising, given that the population of Pune is not nearly as much as Mumbai.
What could be the reasons? Higher incidence of the variant, more testing or are people less careful?
It is very clear that we are looking at a surge which is five to 10 times more than what it was last time (last year August-September 2020 in Pune).
It is known, globally, that the current surge is going to bigger than the first surge.
The possible reasons are there has been a mutation in the virus, which is now documented, and the virus is more infectious in nature.
Also, the COVID-19 appropriate behaviour is not there in our society. We come from an affluent class, because Pune has much higher literacy. Yet, of course, a lot of people don't follow the basic principles of COVID-19 behaviour -- of wearing masks in public places, not crowding together and a lot of social events took place in the city.
There are differences with COVID-19 now, compared to what was in August, September 2020. That time COVID-19 hit the lower socio-economic strata, people staying in small hutments.
(Dr Lalwani pauses the interview to take another phone call.)
This time COVID-19 has come to the high-rise buildings, to the middle class.
There is not a single cluster of high-rise buildings in Pune where we don't have a COVID-19 positive patient.
Now COVID-19 is not on the roads or with the public, but in all the buildings of Pune. Last year there was a lockdown by the government and then COVID-19 was in few, isolated pockets in the city.
We conduct a pediatric and gynecological OPD and in the last 15 days, 10 per cent of the patients, who we see, in our OPD are coming out COVID-19 positive.
I do understand that the government is caught in this Catch-22 situation -- whether to lockdown and have an economic crisis, or not to lockdown and have a crisis of bed management in hospitals, because the situation in Pune today is pathetic.
My phone is ringing every five minutes for ventilated beds.
With this partial lockdown, by the state government, we will be able to restrict COVID-19 spread to a certain extent. I think we'll see the situation getting worse by this weekend and the week after that.
I will give you an example: At our unit (at Bharati Vidyapeeth) we are doing something like 250 PCR-RT*** tests per day. The positivity rate is to the tune of 45 to 55 per cent.
If you look at the positivity rates for Pune, from the reports we get, around 40 to 45 per cent tests are coming positive.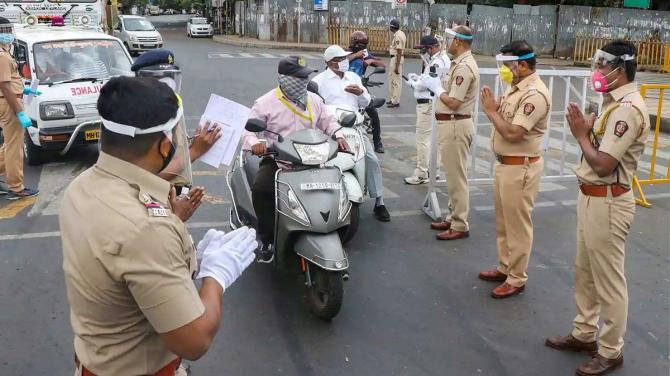 But why is it so high particularly in Pune?
The COVID-19 situation in Maharashtra is really ballooning.
This is just the tip of the iceberg. The situation will explode in the next two months.
Pune is not an exception. Pune is leading it.
It is sensitising the government for the need to wake up. This is just the start, at one corner of the country.
The same thing is going to erupt in the areas where elections are being conducted. Look at the crowd in West Bengal. Look at the crowd in Assam. Look at the crowd in Tamil Nadu. I think, elections at this time...?!
Look at the people of UP going to the Kumbh Mela.
This is behavior which is 100 per cent opposite to appropriate COVID-19 behaviour.
This is the start -- the whole thing will explode in the next two months, that's what I frankly feel.
Look at Brazil today -- there are 3,900 or 4,000 deaths in a less populous country, more educated country than our country, where people do understand what is social distancing.
People cannot (adhere) for years together with this COVID-19 (respecting) behavior. It can be pushed onto people for few months, but not year after year.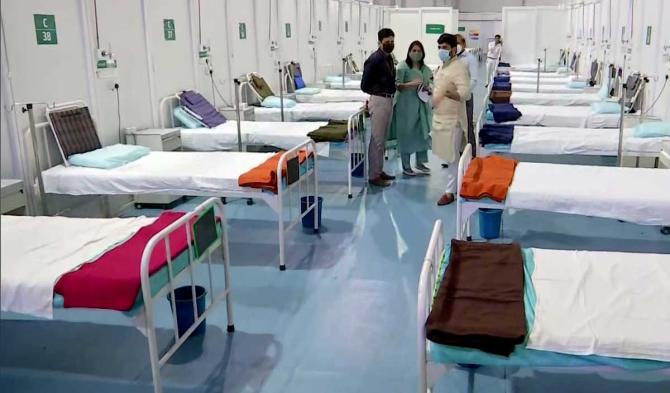 But still, why would Pune be leading it? Any other reason? Is there more movement of people in and out of the city?
Pune is leading it, probably because the virus entered here. When the virus came into India, the higher cases were first in Pune and Pune lead the whole thing.
I think it's just an example. Because people have not been social distancing. The virus has changed in its nature and it has become more infectious. See the numbers coming from Tamil Nadu, Kerala, Delhi, UP.
Today is April 5.
Look what happens April 20 onwards in the country for the next one-and-a-half months. It is going to explode, it is going to explode.
There is, as you just said, and other experts have told me, a variant in operation. Is the variant somehow more active in Pune?
The virus has mutated and is spreading. Obviously, it is more infectious in nature.
But people have been moving out a lot (from their homes). There have been a lot of religious functions. Lots of marriages. Lots of people gathering together for marriages in the thousands. I have seen a few marriages where there were a thousand plus people.
No marriages took place for six to eight months, from April to September. When the (restrictions reduced), people thought COVID-19 is now under control. The vaccine is there.
So, there were huge marriages and so many marriages, which had not taken place for the past six months. I think marriages were one of the biggest contributors of COVID-19 spread in Maharashtra -- a large number of marriages, a large number of gatherings -- is responsible.
The rule in place was not more than 50 people at a marriage. But, I think, it was broken at all places where marriages (were being hosted) by people with political influence or from the higher classes.
I still remember one or two marriages, which by courtesy I had to attend -- they had no restrictions of 50 people. The COVID-19 appropriate behaviour was not there.
But it has to be understood by the authorities that you cannot induce COVID-19-appropriate behaviour for years together.
Look at what's happening today in the Kumbh Mela. Look what's happening in West Bengal. That is going to be a worse situation than Pune. Wait only for a month.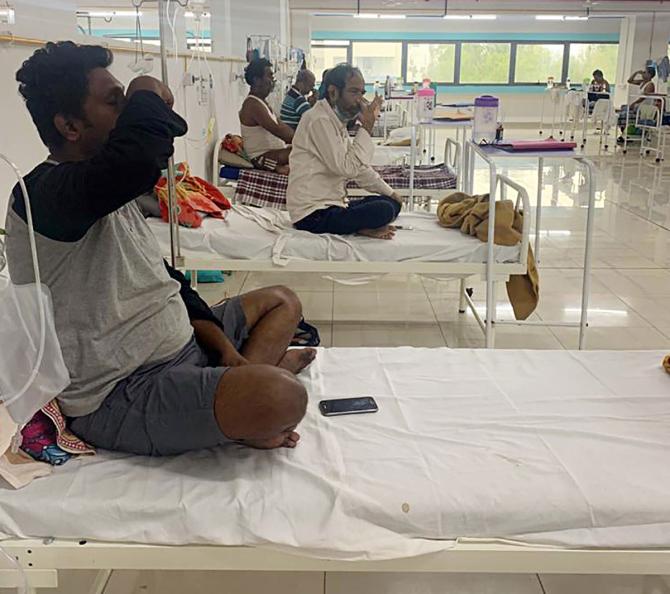 What is the solution then?
I want to put it on the record: The government had a vaccine from the month of January. The government should have given the vaccine to all population above the age of 45, right from the start.
I really didn't understand why there was a delay in clearance of the vaccine, once the vaccine was cleared elsewhere.
Second, the vaccine should have been used for our country only.
Third, there should be very fast clearance. This is a pandemic. You only look at the safety. Efficacy maybe a little bit here and there, because we have to prevent people dying from COVID-19.
Fourth, they should have known that there are two or three candidates of vaccines now available and the production capacity of each manufacturing company. They should have allotted the vaccine to every state.
Now look at Maharashtra. Today, we had Covishield first and then we had Covaxin. Now they are looking at Sputnik V and now they are looking at one more coming from Zydus Cadila.
So how are they going to roll out these four vaccines through a government programme? They should have given state-wise one vaccine and concentrated on the states where the disease is there.
Look at the US today. Look at the UK. Look at Israel. They have been able to get the control over the disease only because of the vaccine. It is proved that in those countries, where they have vaccinated more than 40 per cent of their population, the COVID-19 incidence has come down.
Let's be very, very clear: We are not going to have a COVID-19-appropriate behaviour in our population like the government wants.
Only 15 per cent people will follow the COVID-19-appropriate behaviour. And 85 per cent of them will not follow it for month after month, year after year.
We are trying to tell our patients. There are so many advertisements. So many TV media messages. So many banners. It doesn't have any impact on the behaviour of the population at large.
The government should review the vaccination situation. We have companies like Pfizer, Moderna, Johnson & Johnson licensed. The US FDA and the European FDA are far stricter than the Indian FDA.
If these vaccines have been licensed in the European countries, in the developed countries, those companies should be allowed to market their vaccines in India in the open market. What type of bureaucracy is this, I have failed to understand.
If it is available in the open market, whoever can afford it will take the shot. In any case if I get the COVID-19 infection, I may land up paying Rs 40,000 to Rs 50,000 or maybe even lakhs in hospital bills.
I understand the country is complex. We need control. Each state has its own problems. But as far as vaccine coverage in India is concerned, I think there have been some mistakes and I will be very fair and bold about saying it.
One understands what you are saying that Pune may be just like the tip of the iceberg. But are there differences let's say between Mumbai and Pune administratively, in how this pandemic situation was handled?
I personally think the government authorities, who are controlling the COVID-19 epidemiological part (that predicts the course of the disease and peaks and waves) also have been lax.
Initially, there were frontline workers, there was the police, there was quarantining, there was monitoring.
The whole system and the government bureaucracy has been relaxed from the month of September. The contact tracing has stopped.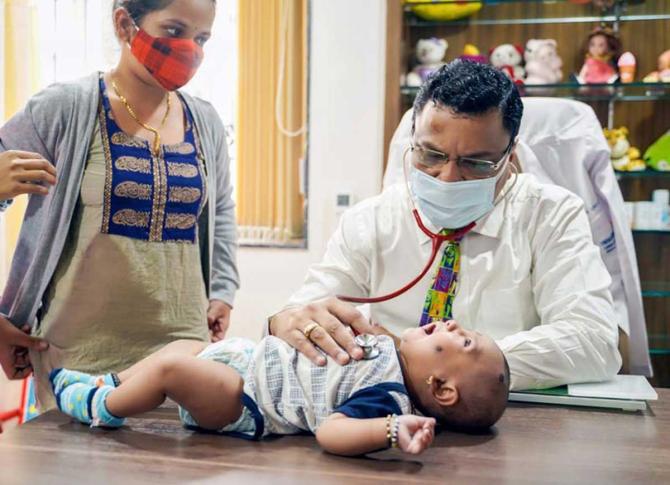 You are saying this about Pune specifically? Or for the whole state?
I can talk of Pune only because I come from Pune. I don't know what is happening in the whole state.
*According to worldpopulationreview.com
**Source: ANI figures for April 6
***Reverse transcription polymerase chain reaction test
Feature Presentation: Ashish Narsale/Rediff.com