'There are only two bottlenecks for universal vaccination.'
'One, is availability of the vaccine.'
'Two, is the logistics for administering the vaccine.'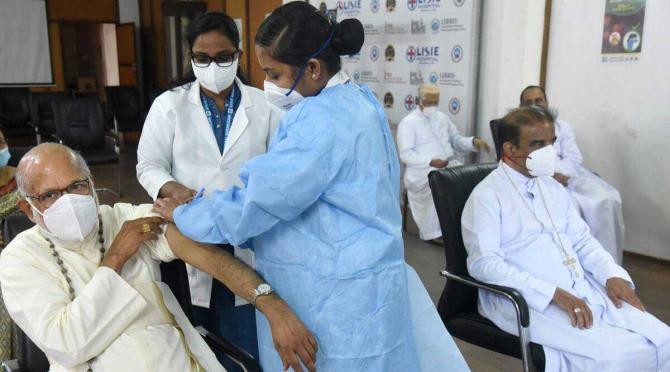 Dr Anup Warrier, consultant for infectious diseases at the Aster Medcity Hospital, Kochi, who has been untiringly warring with SARS-CoV-2 since January 2020, predicts that a second peak or second wave is now imminent in Kerala, especially since the election season has ended and precautions are at an all-time low.
But the behaviour of the COVID-19 virus in Kerala has often defied predictions, as Dr Warrier himself has observed.
"Actually, it's a bit strange... In Kerala, I find, somehow the height of the peak has been much less compared to what was expected," he says. "If you remember, everyone including the state health minister, had come out with scary predictions, 10,000 per day, 30,000 per day etc, etc. That did not happen."
Even when cases were at their highest, in autumn last year, Kerala's infrastructure was never "overwhelmed" and Dr Warrier points out "we didn't have an overflowing of ICUs or hospitals. Between the private and public hospitals, it's been reasonably managed, unlike in the metros of Bombay, Chennai or Bangalore, where you had a tough time finding beds and or difficulties getting admission etc."
Post the election run, though, even Dr Warrier, wonders what the second peak will bring.
Can it be a tough situation for the state?
Or will Kerala weather it reasonably capably, as it has in the past, especially since, as Dr Warrier states, there is no vaccine hesitancy, a high numbers of vaccine centres and everyone is "eager" to be vaccinated?
"A lot of the fear and untouchability has disappeared. In terms of suspecting COVID-19, identifying and handling COVID-19, starting from nurses to doctors, all of them have gained much more experience and confidence," Dr Warrier tells Vaihayasi Pande Daniel/Rediff.com.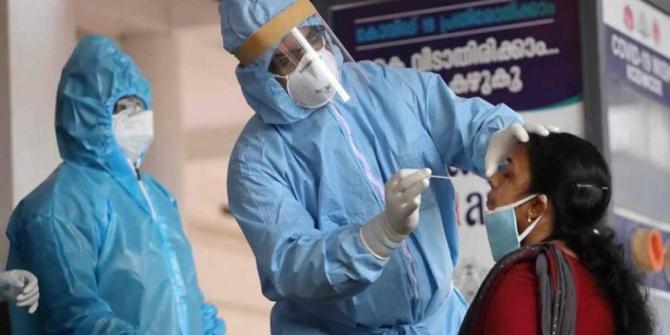 Since caseloads are high in states like Kerala, Maharashtra and Punjab, at the moment, are you of the view that they should inoculate all the age groups?
Absolutely.
But there are only two bottlenecks for universal vaccinations.
One, is availability of the vaccine.
Two, is the logistics for administering the vaccine.
Only if you have enough vaccines and you are confident of the logistics, then can you vaccinate everybody.
Why is the case load much higher in states like Maharashtra, Punjab and Kerala in January? Is it because these states are developed and communication links are better and that facilitates the spread of COVID-19? In Europe and America, one sees, the more developed the country the more the cases.
Then what about Singapore, Hong Kong, Malaysia and southeast Asian countries? There are other countries, which are developed in Asia - Japan.
Maybe because these are developed countries that are very strict about public behavior?
Correct.
But if you talk about differences between Indian states, states that have large rural populations like Madhya Pradesh, Uttar Pradesh etc, the possibility of identifying and testing for mild or moderate cases is minimal. They will not be detected because they have poor access to healthcare.
If someone who has a cough and cold, he will not go and get himself tested for COVID-19.
The more testing, the more the COVID-19 cases uncovered and these states test less?
Yes. If access to health care is there, then definitely there is access to testing.
In Kerala for example, with ease you can get yourself tested. Every 20 to 25 km you have a lab which is doing it. Obviously, the government has capped the price. In government facilities it is free. In private, it is Rs 500 for an RT-PCR* test.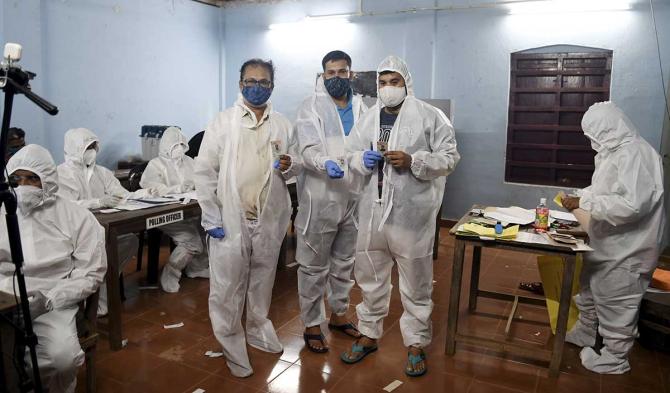 COVID-19 has become a fixture in our lives. As a doctor do you feel any differently now about this disease and the handling of it?
I am not talking about me personally, but if I talk about the healthcare workers and their attitude to COVID-19, I will say that a lot of the fear and untouchability has disappeared.
In terms of suspecting COVID-19, identifying and handling COVID-19, starting from nurses to doctors, all of them have gained much more experience and confidence.
Initially, there was a lot of fear in engaging with a patient with COVID-19 -- seeing and examining them. They were petrified of doing a health examination or physical examination.
People were afraid to sit in the OPD (outpatient department) and everyone was wearing a facial shield, gown, gloves, even while going to the outpatient or for the ward rounds.
All that drama has gone away.
Why I am saying not for myself: I have never worn that overall PPE (personal protection equipment). We do the COVID-19 ward and ICU rounds in rotation, six of us consultants -- I have been doing this weekly, since June when we had the first serious number of cases. I have never worn this PPE at all.
The reason is very simple: If you google the PPE recommendation from WHO or CDC, none of them require full PPE at all and what you need is just the plain overall gown and the gloves.
The Indian government, and even the state government in Kerala, have unnecessarily hyped and made a lot of drama about this PPE, so much that it is funny. A politician who is going to give his nomination or the polling booth officer -- they were wearing PPE!
Would you attribute the recent spurts or higher numbers to mutated strains or variants?
Not really.
The reason I am saying this is: Now, for the last two to three months the Kerala government has sent, from each district, 100 viral strains to the NCDC (National Centre for Disease Control, New Delhi) for sequencing. We are one of the states with highest percentage of strains being sequenced,
No possible new SARS-CoV-2 virus strain activity that's changing the figures?
No, no, as of now, we have not seen any change in the percentage.
Whatever we saw in January-February was pretty much similar to what we saw in September-October.
Some Kerala experts have said that because the control over COVID-19 case rise was much better in the early part of last year, a lot of Keralites didn't have much immunity and that explains the higher spurts in October and then in January. Would you agree?
To some extent that is true.
The state government did a sero-prevalence and it was only 11 per cent. That's much less compared to Delhi, Maharashtra, Tamil Nadu, which have sero-prevalence of between 30 to 50 per cent
Definitely, the earlier exposure was significantly contained, so to a great extent it is true -- we have proof because sero-prevalence was only 11 per cent.
Has treating COIVD-19 patients been quite exhausting? Doctors like you have been working with this disease since January 2020.
It is.
Especially the difficulties in handling the family, because of the isolation. When the patients are in isolation, they are alone.
The normal thing is that, when you do rounds, the patient is there, you talk to the patient, discuss with the family and that's it.
With COVID-19 what happens is: You do the rounds, you see 20-30 patients, all of them alone, you spend time with them, come back and then you need to have an alternative way of communicating and conveying the situation to the family.
The treatment is therefore much more time consuming?
Very time consuming. It is like doing the rounds twice. Once you have to see the patient and then you have to call and talk to the family again,
Double the work effectively?
Yes, that's the exhausting part of it.
The fact that the patient is alone and families want to be with the patient. That must be very stressful for the doctors, the family and the patient?
Absolutely.
*Reverse transcription polymerase chain reaction test
Feature Presentation: Ashish Narsale/Rediff.com