'I will feel peaceful when she is back in India even if she has to be in a prison.'
'After all, she will be back home, in her own country and safe.'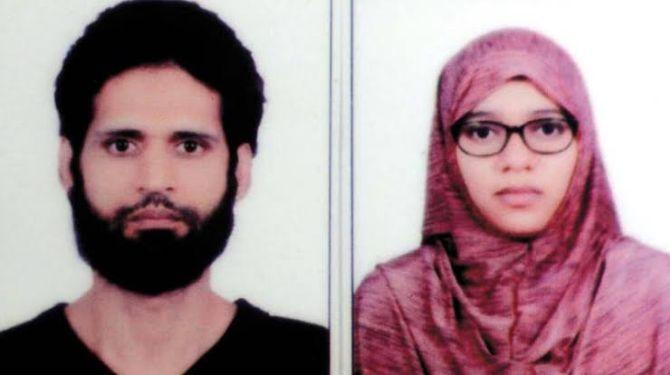 Bindu Sampath, a beautician from Thiruvananthapuram, is the voice of all those mothers who have lost their children to ISIS.
It came as a rude shock to her when her daughter Nimisha, who went to study dentistry in Kasargod, changed her religion, name and attire one day.
Within four days of meeting a man named Bexin, she married him. Both of them converted to Islam. Bindu's daughter Nimisha became Fathima and started wearing a burqa.
In July 2016, Bindu filed a habeas corpus petition in the Kerala high court, but the court deemed it fit to grant Nimisha permission to live with her husband as she was an adult. Protests from her mother did not have any effect on the daughter, and the couple left for Sri Lanka.
That was the last she heard from her daughter.
It was recently reported that out of 900 ISIS members who surrendered in the eastern Afghan province of Nangarhar, where the Afghanistan national security forces are conducting operations against ISIS, 10 were from India, mainly Kerala.
When the National Investigation Agency revealed the photographs of those who had surrendered, Bindu identified her burqa-clad daughter Nimisha with her daughter on the lap and also her son-in-law.
"There are laws in this country and let her face them. Let the NIA decide what she should face," Bindu Sampath tells Rediff.com's Shobha Warrier.
When we spoke in 2016, you were hopeful that your daughter would come back to you. When did you come to know that she was in Afghanistan?
I still feel it was because of my ignorance that they left India. It was from government officials that I came to know about their whereabouts.
As a mother, what I was concerned about was when my daughter would come back, and not where she was. It didn't matter to me where she was, but it mattered a lot to me as a mother that one day, she would be back home.
After she left India, was she in touch with you?
It was on June 7, 2017 that I got the first message from her on (the messaging app) Telegram. The first message started with, 'Amma, Chinnu here'.
Chinnu?
We call her Chinnu at home. The whole country knows her as Nimisha and later on as Fathima, but she will always be my Chinnu. She also feels the same. Otherwise, she would not have started the message with, 'Amma, Chinnu here'.
Then, we started talking about many things.
What did you two talk about?
Like any mother and daughter would talk. I asked her whether she was getting food, whether she had any difficulties there, how the weather was.
We only talked about ordinary, mundane, things.
Was she in Afghanistan at that time?
Yes, she was in Afghanistan.
As a mother, did you ask her to come back?
Why should I ask her? It was not necessary at all.
If I don't behave like a clever mother, my daughter who left the country would never come back.
I knew I could not bring her back that day or the next day. I had no such power.
But what I did was, from that day till today, I have been in touch with the Kabul government.
I told them that my daughter was in such a place and what should I do to bring her back.
They wrote to me that because it was such a sensitive issue, they needed some time to help me and they asked me to wait.
I was doing only the things that are practical. I did not do anything to upset or anger my daughter.
No mother would do that and I also did the same.
How did you get in touch with the Afghainstan government?
I found the contact details of the government on the Net and I wrote to them.
I am not a mother who lives in a dream world. I am not doing just the talking. I am a practical person and I have been doing all I can following the law of the country so that my daughter comes back home.
You mean, you never dealt with it emotionally?
If you ask me whether I didn't feel emotional at all, I don't know what to say. I am, after all a mother. I would feel emotional about my daughter.
One of the first questions my daughter asked me was, 'Amma, you had to spend ten lakhs for my studies. Could you pay off the debt?' Unless she was a concerned daughter, she would not have asked me that. I could see a simple loving daughter in that question.
It is her fate or my fate that the whole world is looking at her from a different angle. It is our fate that we had to listen to all this.
But what angers me is,the people who were responsible for this are roaming around free here.
I told everyone then also that my daughter would come back. That was the intuition I had.
There are rules and laws in this country, and let her face them. Let the NIA decide what she should face.
Did you regret sending her to Kasargod to study?
If I were to think that way, the first thing I should ponder over would be why I was born. My daughter was born only because I was born. So, what I always think is, why was I born?
When I look at it practically, the question that comes to my mind is where were the rules and regulations of this country that did not prevent my daughter from leaving the country?
I had a high court judgment with me. It was written clearly in the judgment that the authorities should report to the court about the whereabouts of Bexin and Nimisha every month.
What can I do if I am in a nation that gives no value to a court judgment? Did anyone follow up on the judgment?
I got this judgment in December 2015 and they left the country in 2016.
Had this judgment been followed up properly, they would not have left the country at all.
I don't think why I sent her to Kasargod to study, but I think about the lapses in the laws in this country. There is no point in regretting sending her to Kasargod.
I am not the mother who hid the fact that my daughter changed her religion, got married and then left the country.
While the others chose to hide themselves, I came out in the open to talk about my daughter. I ran around to bring her back home.
That is why even today, I am being abused by everyone in our society. Even people from the community I come from look at me contemptuously.
Ignoring all the insults, if I am running around shouting loudly, it was because I thought I would get help and justice from the law.
Unfortunately, I did not get any help from the laws in this country.
You mean you did not get any help from the state or central governments?
I am talking about the high court judgment I had with me. What more do I need?
If a high court judgment has no value in this country, what else has? What can mothers like me do then?
Most mothers would have broken down in a situation like this, but you have always been strong. From where did you get the courage to think practically?
Who said I haven't broken down?
Just now, I am back from hospital. For the last three years, I can't sleep without the help of sleeping pills. For the last three years, I am on anti-depressants.
I have been doing all I can. But at the end of the day, the only aim I have is to bring back the girl I gave birth to.
I will feel peaceful when she is back in India even if she has to be in a prison.
After all, she will be back home, in her own country and safe. The thought that she is safe here is enough for me.
Did you ever ask her what she was doing in Afghanistan?
Why should I ask what she was doing?
When you know she is in a country like Afghanistan, you know what they would be doing.
The only thing I asked her was whether he was with her. She said, yes. Then, she sent a voice message from him.
I felt he was feeling guilty about ending up in a place like Afghanistan.
Did Nimisha also feel that way?
I have been telling everyone a thousand times that she is not that type of girl who would kill people.
My Chinnu is not a girl who would do anything bad or evil.
It was Bexin's brother who made him change the religion. It was Sajad Salim, a doctor, who made Nimisha convert to Islam.
But why is it that nobody from the media is questioning them?
How come this doctor is still untouched by the law?
Can anyone from the media find out what exactly the doctor did to my daughter when he is very much here?
Nimisha has a daughter now.
Yes, she is three years old.
My daughter sent me a picture of the little one and also a voice message. I am eagerly waiting to hold her.
It was reported that the NIA showed you pictures of the people who surrendered and you recognised your daughter, granddaughter and son-in-law.
Yes. Even after that, many people are asking me whether I was sure.
What more am I, the mother of that girl, supposed to do? I feel so helpless sometimes. Won't I recognise my daughter?
I do not know what the NIA would do after this. They went back after I identified my daughter. I am waiting.
If I could wait all these years, I can wait some more time.
---
Shobha Warrier covers news and business for Rediff.com. She can be contacted at shobhaw@rediff.co.in