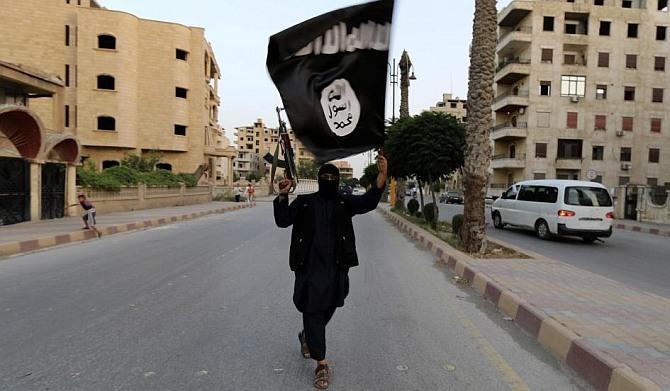 'These young men have become religious fundamentalists and gone to lead the life of Salafis somewhere.'
Rediff.com's Shobha Warrier reports on the mystery of Feroz Khan, arrested in Mumbai for alleged IS links.
Media reports say 24-year-old Feroz Khan from Trikaripur in Kerala's Kasaragod district was arrested in Mumbai on July 10 by the Intelligence Bureau for his alleged links with Islamic State.
His step brother Kunjabdullah says nobody from the government has confirmed his arrest to the family.
"News reports say that he has been arrested, but when we ask the police here, they do not confirm the news. We have no idea what the truth is and where he (Feroz) is," says Kunjabdullah.
After Feroz's family filed a complaint, the Kerala police started searching for him.
Feroz is one of the 15 young people who went missing from Kasargod. He is said to be quiet and introverted, someone who kept to himself. He had been working in a Mumbai guesthouse after he did not complete his graduation in commerce.
The common link in the Kasaragod youth is the Mujahideen mosque.
All the missing were closely associated with the mosque. Feroz is said to have been influenced by the Mujahideen group from the time the mosque came into existence in the village.
Kunjabdullah says Feroz changed after he started going to the mosque. All the young men who went to the mosque, he adds, became so refined that the villagers felt it had a good influence on the area's youngsters.
"if we were to say that there were changes in him in the last few years," Kunjabdullah says, "the changes were only positive."
Two months ago, Feroz came home to be with the family during Ramzan. When he told his parents that he was going to Kozhikode to pray in a mosque the whole day, they were flabbergasted. 'Why do you want to go to Kozhikode to pray when we have mosques here?' his elderly parents asked their son. He said he wanted to pray with his friends there.
His parents expected him to be back for Eid. But a day before Eid, his mother got a call from Feroz, saying he was in Mumbai.
"He told his mother he wouldn't be coming home for Eid, or anytime soon. After that, there has been no news from him," says Kunjabdullah. "As he is a quiet guy, we were not much worried about not getting any calls from him. We didn't give much importance to him not calling from Mumbai."
News reports of so many young people associated with the Mujahideen mosque going missing got Feroz's family worried. That was when they met Kasaragod MP P Karunakaran and gave him a petition.
Then came the news of Feroz's arrest in Mumbai, though the police have not yet confirmed his arrest to the family.
"Whenever we ask the (local) police," says Kunjabadullah, "they do not confirm the news. They tell us they have not been informed about the arrest. We have no idea whether Feroz has left India or he is in Mumbai."
Kunjabdullah does not believe that the 11 people who went missing from Kasaragod have joined Islamic State.
"Different news reports say they have gone to Sri Lanka, Tehran and Tel Aviv, but none of these countries support Islamic State. Iran and Israel are anti-IS. If they had any intention to join IS, they would have gone to countries that are pro-IS, and not to Iran or Israel," says Kunjabdullah.
"That is why I feel these young men have become religious fundamentalists and must have gone to lead the life of Salafis somewhere, far away from all," he adds.
The Mujahideen mosque followed the Salafi movement, says Kunjabdullah. (Salafis are described as fundamentalists who believe in a return to the original ways of Islam. The word 'Salafi' comes from the Arabic phrase, 'as-salaf as-saliheen', which refers to the first three generations of Muslims, starting with the Companions of the Prophet, also known as the Pious Predecessors.)
"Before the Mujahideen came, there were some other groups here who believed in rearing goats, living on agriculture and not doing any business. According to them, the way we lived was not right, and everyone would have to change to make a better world," says Kunjabdullah.
"It was reported after the bombing in Yemen that they found many such groups there and among them were many Malayalis." he adds. "Sometimes we wonder whether these people also have gone missing to live like the Salafis. None of us had any idea what was going on inside the group as they were a very small minority from the village."
The villagers are sure about one thing -- that everything changed after Abdul Rasheed's arrival in the area as a school teacher at the Peace International School.
Kunjabdullah feels you need just one person with such an outlook to influence other young men.
"Look at the profile of this minority. They are all young, educated and from well to do families," he says. "They went missing not alone, but with their wives and children. Some of the women were pregnant too. The impression we get is that they have gone to live a peaceful life somewhere far away from civilisation, and not to fight any war."