Events in America have strengthened the hand of those leaders there who wish India well, but think of India as being a collection of Indians.
If Indians are mistreated, they will object, asserts Aakar Patel.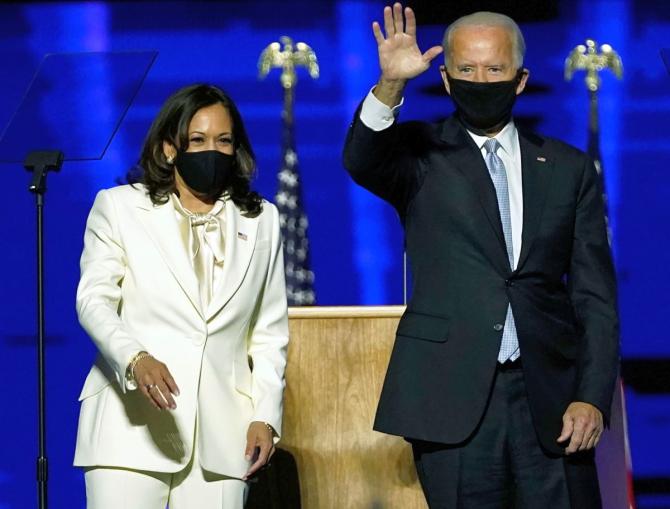 An American from Chennai won re-election this week. Her name is Pramila Jayapal and she heads the US Congressional Progressive Caucus.
A few months ago, External Affairs Minister S Jaishankar cancelled a meeting with the United States House Foreign Affairs Committee, which included its Republican chairman and Democratic members.
Jaishankar refused to meet them because the group included Pramila Jayapal who had pushed a resolution demanding that India end the communications blackout in Kashmir.
Jaishankar told the Americans he would meet them only if they dropped Jayapal from the group.
Of course, the Americans refused.
Jaishankar is paid by us to defend India abroad, but chose instead to duck the meeting because it would involve a difficult conversation or perhaps just case he is afraid of confrontation.
After his running away was reported in the American media, US Senator Kamala Harris of California tweeted: 'It's wrong for any foreign government to tell Congress what members are allowed in meetings on Capitol Hill.'
Jaishankar felt he could afford to do this because the US administration was headed by Republican Donald Trump who doesn't care about human rights.
It will not be possible for Jaishankar to do what he did in December 2019 again.
The Bharatiya Janata Party has invested a lot in doing what no other Indian government did before: Meddle in US elections and try and get Trump elected again.
A group called the 'Overseas Friends of the BJP' registered itself officially as a foreign agent in the US in September.
After this was discovered, the party instructed these Indian Americans to help Trump in their 'personal capacity' and to not use the BJP's name, but it is clear that they are all BJP supporters.
Modi himself asked Indians in the US to vote for Trump at the Howdy Modi rally in September last year.
Or at least that is one interpretation we can give to his line 'ab ki baar Trump sarkar'.
What happens now that Trump is on his way out? The BJP has started to back-pedal from its recklessness.
It trotted out in-house intellectual Ram Madhav to write in The Indian Express on Saturday under the headline 'US-India ties stand on a bipartisan and strong footing'.
Madhav wrote: 'Some in India believe that Biden-Harris would be bad news for US-India relations.'
Actually, nobody believes that. Madhav is confusing the BJP with India.
There is no question that US-India relations run deep and at times there is a civilisational connect between the two nations.
This is not such a time. India has taken a turn towards majoritarianism. The Indian State is bullying and harassing its own citizens at a scale which has alarmed the world.
Pramila Jayapal and Kamala Harris did not casually take up the issues that they chose to.
They will not stop taking them up now because the previously partisan BJP now pleads for bipartisan support.
Events in America have strengthened the hand of those leaders there who wish India well, but think of India as being a collection of Indians.
If Indians are mistreated, they will object.
The Democrats fought the current election on a very liberal platform.
On the question of human rights, the most powerful message they were aligned with was Black Lives Matter.
This part of the Democratic party (which includes Jayapal) has become stronger inside because of the success of the human rights messaging.
Indians may not know that in April India was marked as a Country of Particular Concern by the United States Commission on International Religious Freedom.
Its report said that 'India took a sharp downward turn in 2019' because the Modi government 'instituted national-level policies violating religious freedom across India, especially for Muslims'.
It said of the Citizenship Amendment Act that 'this law is meant to provide protection for listed non-Muslim religious communities -- but not for Muslims -- against exclusion from a nationwide National Register of Citizens and the resulting detention, deportation, and potential statelessness'.
It said India had seen .nationwide campaigns of harassment and violence against religious minorities to continue with impunity, and engaged in and tolerated hate speech and incitement to violence against them'.
It names Amit Shah and Adityanath and reproduces their statements.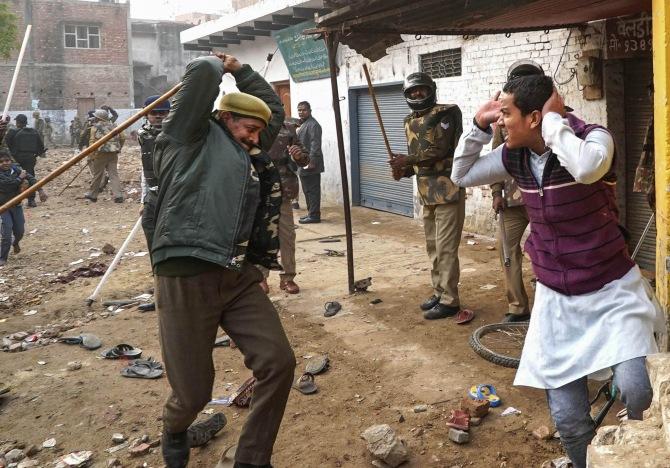 Most importantly ,it has recommended that the US administration act and impose 'targeted sanctions on Indian government agencies and officials responsible for severe violations of religious freedom by freezing those individuals' assets and/or barring their entry into the United States under human rights-related financial and visa authorities, citing specific religious freedom violations'.
India was able to ignore this till now because Trump was running the administration and he was the one who would decide.
India put out a statement which said: 'We reject the observations on India in the USCIRF Annual Report. Its biased and tendentious comments against India are not new. But, on this occasion, its misrepresentation has reached new levels.'
This was also a form of running away.
If you think you are friends with America you have to convince them that their findings are wrong.
Refusing to engage with them is not a solution.
It worked when Trump was in charge. It will not work now.
Aakar Patel is a columnist and writer.
You can read Aakar's columns here.
Feature Presentation: Aslam Hunani/Rediff.com